While it may come as a surprise to some, purebred cats can and do end up in shelters and as strays.
Breeds such as Persians, Himalayans, Siamese and Ragdolls are often victims of their own popularity, and over-breeding results in many of these purebred cats being neglected, surrendered to shelters or abandoned on the streets by owners who were not willing or able to deal with the health, grooming and behavioural needs of these cats.
But thanks to breed specific groups like Specialty Purebred Cat Rescue, purebred cats are being taken in and fostered by knowledgeable families and volunteers who are specialized in caring for rare and exotic breeds.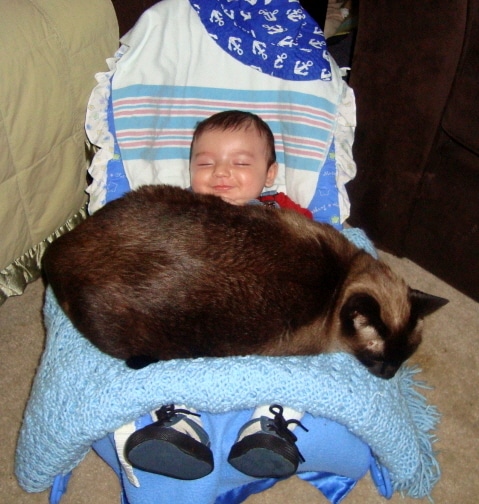 SPCR is a 501c3 nonprofit, foster-based organization in Wisconsin and is the largest purebred cat rescue group of its kind in the Midwest. Founded in 1999 by Kirsten Kranz, the rescue, which is funded solely by adoption fees and donations, is capable of caring for and rehabilitating up to 40 cats at one time, spread out among approximatively 15 foster families in the area. But despite its dedicated foster network, SPCR always has a considerable waiting list of purebred cats to be taken in.
Kranz began fostering and rehabilitating purebred cats while volunteering at local animal shelters prior to 1999 and she says SPCR grew from that experience.
"I saw over and over again how long-haired breeds like Persians would come into the shelters in terrible condition needing grooming and vet care that the shelters could not provide. As a result, they were often euthanized immediately," she laments.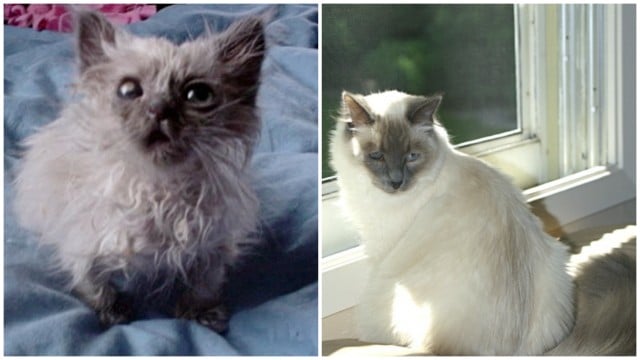 But special grooming needs are not the only problems facing certain purebred breeds who wind up in shelters.
"High-strung breeds like Siamese or Abyssinians would frequently become aggressive or severely depressed in a cage and were also put down with no hope of being adopted," Kranz explains.
And where are these purebred cats coming from? In Kranz's experience, many of them are owner-surrenders; owners who must part with their cat due to allergies, moving or financial hardships. Other cats come from shelters, often in rough shape, and from what Kranz calls "breeder dumps" — backyard breeders who become sick, too old or pass away leaving a household of often poorly cared for and intact cats who end up at local shelters or abandoned outside. And some cats are simply left at shelters when the "new kitten cuteness" has worn off and people are not willing to care for high-maintenance breeds such as the Sphynx or the Persian.
"The most common breed we get in is Siamese," Kranz says. "Tons and tons and tons of Siamese. They are closely followed by Persians, Himalayans and then Ragdolls, and we have seen an upsurge of Sphynx in the last few years."
Sphynx cats like little Nellie Bean who had been taken to a vet clinic by her former owners to be euthanized, nearly starved to death and with a horribly infected eye.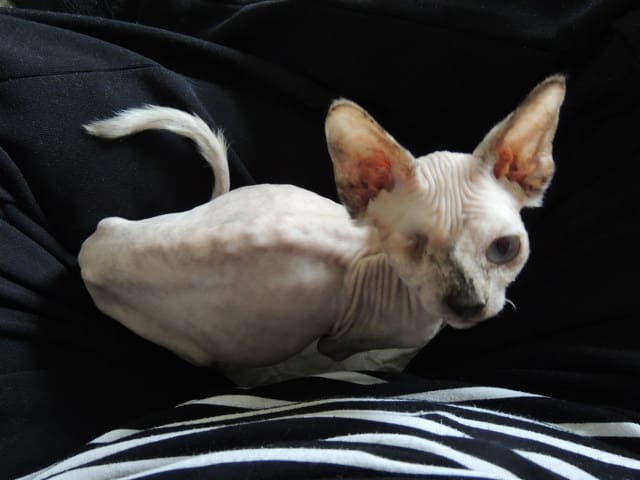 Clinic workers wanted to give Nellie Bean a chance at survival, so they contacted a local rescue group who took her in. But soon realizing that Nellie Bean would need more care and rehabilitation than they could afford or provide, the rescue contacted SPCR and Kranz personally nursed Nellie Bean back to health. When Nellie Bean was ready to be adopted, Kranz got in touch with Leslie Riegel Cully who had already adopted a Sphynx cat, Homer, from SPCR in 2012. Riegel Cully drove from Springfield, Illinois, to Kenosha, Wisconsin, to pick up the petite, one-eyed Sphynx, who now spends her days playing with Homer and delighting her fans with regular photos and progress reports on SPCR's Facebook page.
"It's amazing to see an organization so devoted to rescuing purebred cats with such utter determination and love," says Riegel Cully.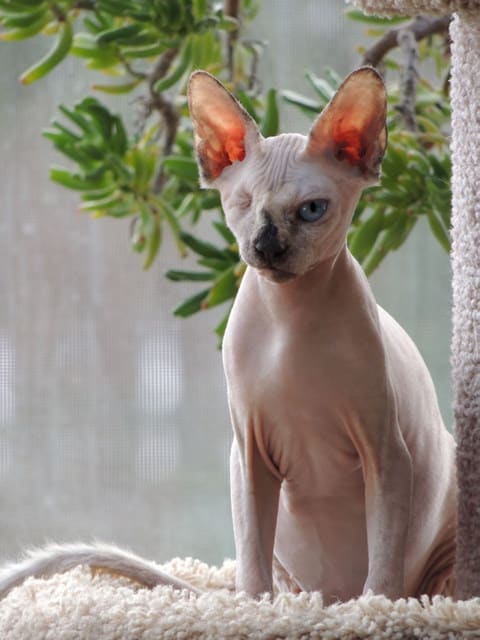 Unfortunately, when a particular breed becomes popular or fashionable, over-breeding by backyard breeders results in cats plagued by health and behavioral issues, and sadly, these cats almost never have the chance to live a long and happy life.
Benny the Siamese started out as one of those cats. He was found running the streets in one of the worst areas of Chicago with a painful bite wound to his face. One of SPCR's dedicated volunteers put her own safety at risk to go in and rescue poor Benny, whose eye injury had gone septic and would have surely killed him. Benny was taken to a vet in Kenosha who was able to save his eye, and Benny was later adopted by an SPCR volunteer in Oshkosh, WI. He is now part of the "welcoming committee for folks who come to her house to adopt one our cats," Kranz says. "He's a wonderful cat."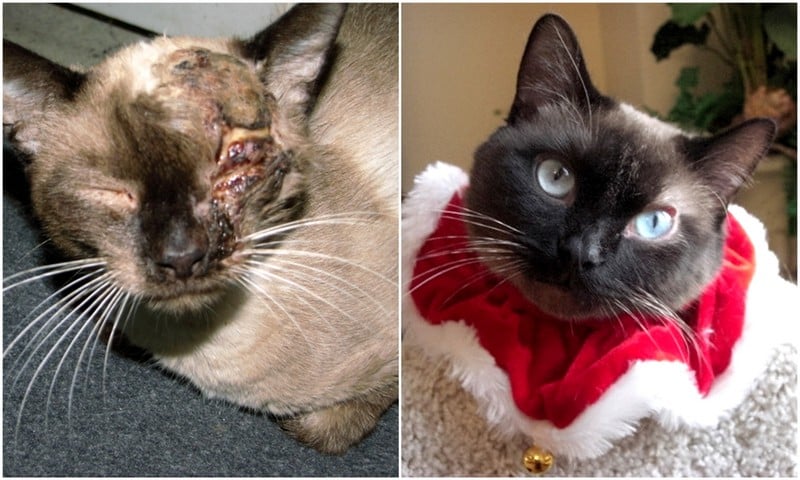 SPCR is also very active on Facebook with over 3,400 fans of the group's page. Photos of cats in foster care and those ready for adoption along with news about SPCR adoptees are all updated regularly.
Kranz remembers Theodore, a Sealpoint Himalayan who was rescued from the home of a mentally disturbed hoarder in Illinois. "He was a solid ball of feces-encrusted hard mats when he came into the rescue. He weighed only three pounds, had a mouthful of infected teeth and was absolutely terrified out of his mind," she says.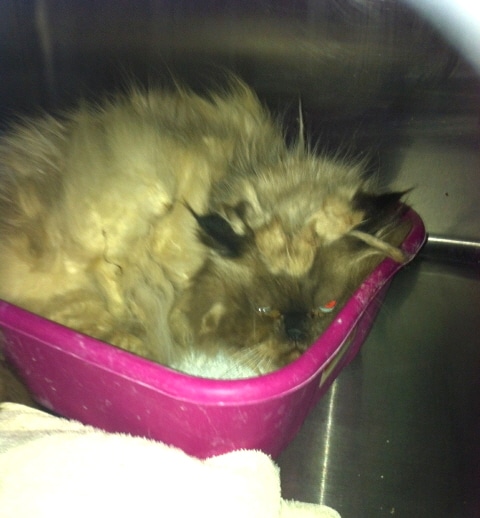 Theodore had to be shaved down, and SPCR volunteers discovered a little skeletal frame under all that filthy and matted hair. "Our website groupies sent him an electric warming cat blanket because he was so cold after being shaved. Our fans are wonderful," Kranz adds.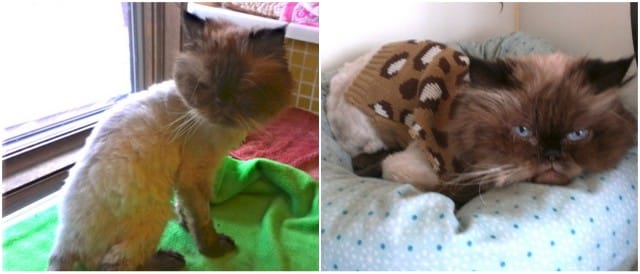 After many weeks of rehab, special food and lots of TLC, Theodore slowly blossomed into a shy but friendly cat. Kranz knew that he would need the right adoptive home in order to thrive, and eventually found it all the way in Minnesota. "I hear they are doing just fine together," she says.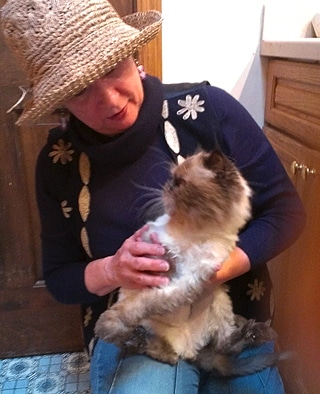 And while SPCR will accept mixed purebreds from time to time depending on space, they remain focused on rescuing purebred cats, as foster families and volunteers are carefully chosen to be able to handle these breeds' more specific needs. But with so many high-maintenance cats to care for, and a growing waiting list of purebred cats, SPCR appreciates all the help they can get.
"Our rescue currently spends about $7000 a month in vet bills (including dental, spay/neuter and medication) in addition to regular supplies for our cats. We keep afloat purely through adoption fees and donations, and we are also always in need of new foster families to be able to take in more rescued cats," Kranz says.
If you'd like to help, please visit Specialty Purebred Cat Rescue's Facebook page and website for more information about donating, fostering or adopting.
All photos courtesy of Kirsten Kranz for SPCR unless otherwise noted.
Read more about purebred cats:
About Crystal Gibson: A child-sized Canadian expat in France who is fluent in French and sarcasm. Owned by a neurotic Doxie mix, a Garfield look-alike, and two needy Sphynx cats. An aspiring writer and pet photographer with a love of coffee and distaste for French administration, she can be found blogging over at Crystal Goes to Europe.