Here's a double dose of plush fluffness for our Social Cat(s) of the Week entry as we turn the spotlight toward a couple of Siberians living in the Netherlands. They're called Odysseus and Penelope, they've quickly become Instagram favorites, and at least one of them has an advanced degree in the esteemed art of cardboard box destruction.
Let's get hip to Odysseus and Penelope's story.
What's in a name?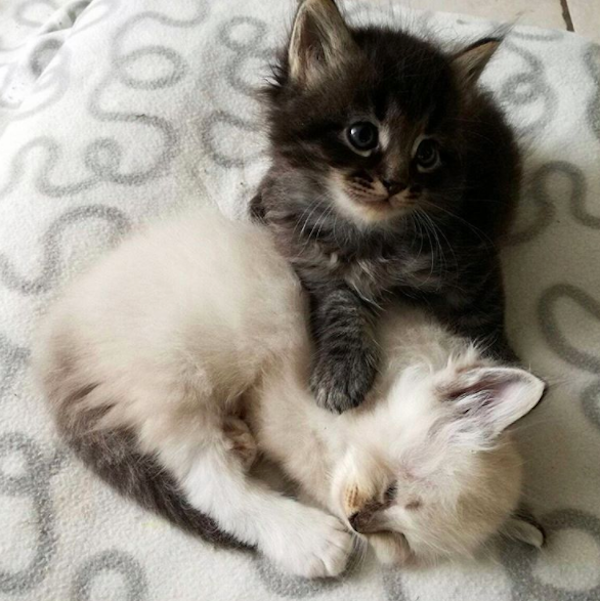 Curious about Odysseus and Penelope's classical sounding names? Well, according to their erstwhile human, Daniël, the monikers hark back to a Greek story.
"Odysseus is the great explorer and Penelope stays at home awaiting his return," he explains, before introducing the twist. "In truth, this is the other way around: Penny was the first kitten of her litter to escape the playpen and has remained adventurous ever since; in contrast, Odysseus pretty much slept the entire drive home when we picked him up."
Profiling Penny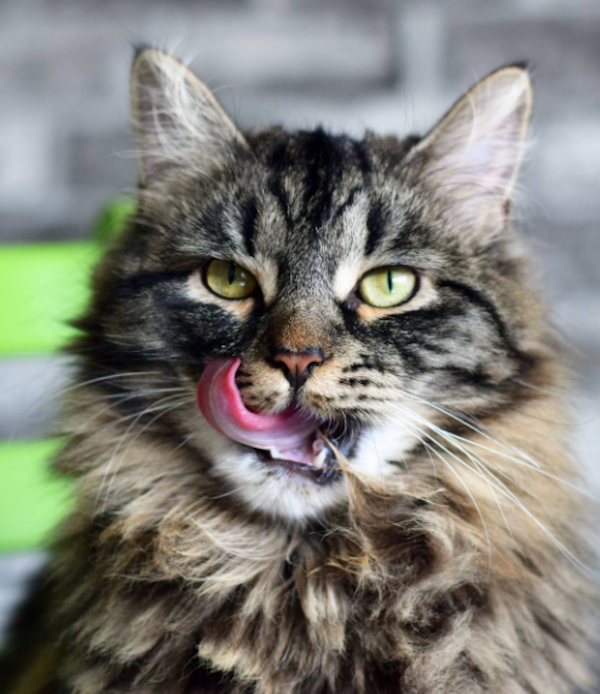 "We established that Penny was a daredevil from the start," continues Daniël, talking about her personality. He adds that she loves to court cuddles and become the center of attention whenever guests come over to visit.
It also turns out that Penny is one smart cookie when it comes to playtime, as she'll patiently wait for her toy prey to make a mistake, at which point "she strikes just once."
Make way for Odysseus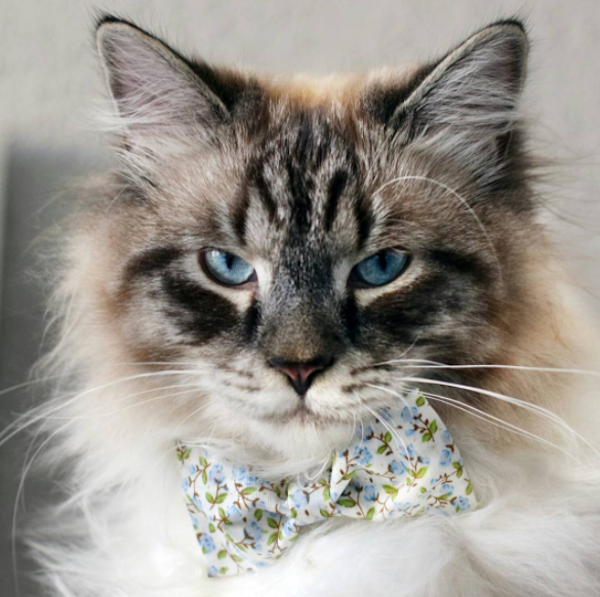 Once Odysseus wakes up from his naps, he's all about demanding constant play sessions.
"He'll often make his presence known by loudly meowing while stampeding on the stairs," says Daniël. Good-naturedly he adds, "He's not subtle and graceful like his sister. We can only imagine him shouting: 'Okay! I'm awake! Time for play! Get ready! I expect all toys to be out when I'm downstairs!'"
Also, Odysseus really really enjoys eating his cat greens.
When two become one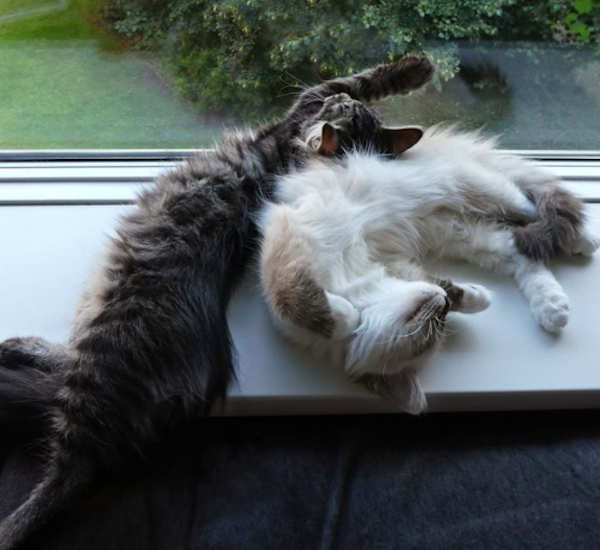 In day-to-day life, Odysseus and Penelope are confirmed best friends. After they've chowed down on breakfast, they like to take snooze sessions together in their humans' bedroom, wash each other, and engage in mutual play sessions that often involve wrestling or bombing around the house.
Who's the boss?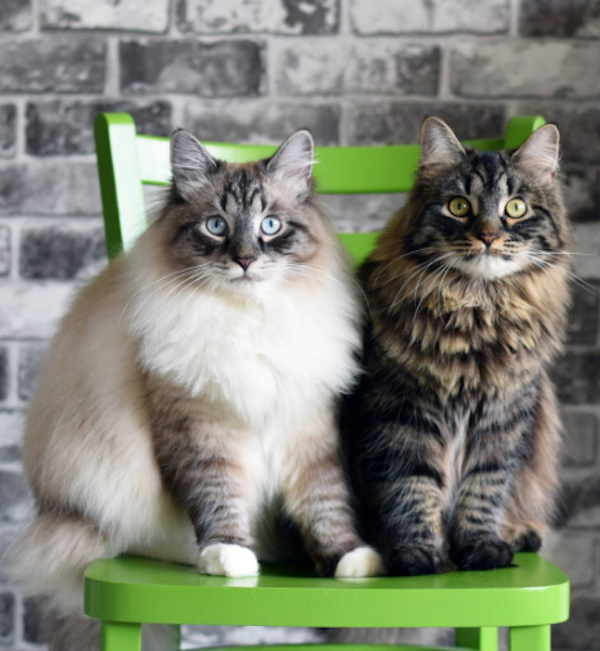 Talking about feline bragging writes in the house, Daniël admits "it's hard to say who's really the boss." While Odys is "a bit bigger and probably stronger than his sister," Penny is the skilled hunter "who knows how to land a punch if needed."
But in a pinch, Penny likely takes the top cat title: "We've seen Odys run away after just a stare from Penny during play — I guess that pretty much says it all."
Time for your close-up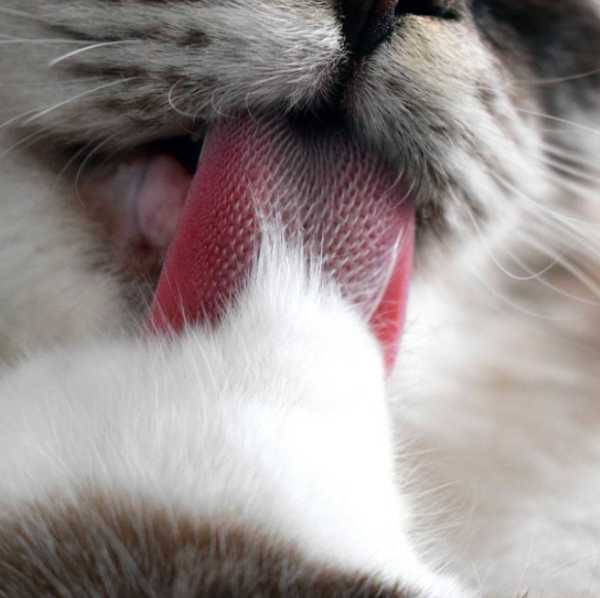 When it comes to Odysseus and Penny's Instagram photos, Daniël says he's detected something of a formula for success: "With closeups and pics showing tongues out, it seems that the amount of response is directly related to the surface area of the eyes or tongue."
Also, pics of both cats seem to muster up more likes than solo shots — although "it's pretty difficult to get them together in the frame."
Box in hand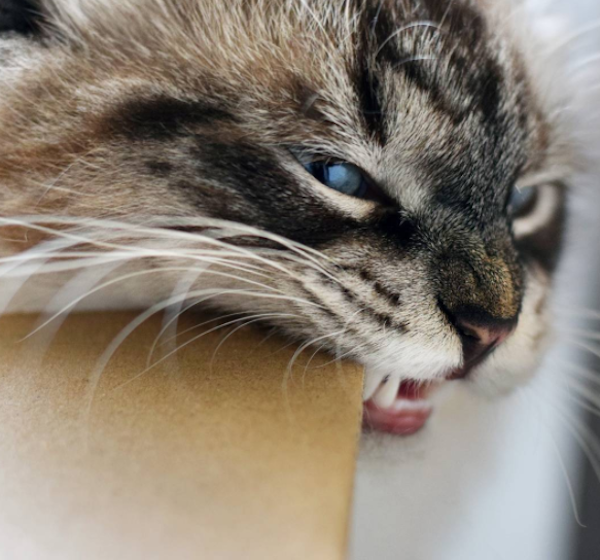 Finally, let's get to the all-important cardboard box talk. Odysseus is apparently quite the pro when it comes to destroying boxes of all dimensions.
Breaking down his tactics, Daniël says, "Odysseus has developed a pretty effective sink-n-rip technique. This can be best described as opening wide, sinking your teeth in deep and as far to the edge as possible, and finally ripping the cardboard using his neck muscles.
"This seems to work best when sitting in the said box," continues the analysis. "I guess this weighs down the box, keeping it in place for maximum ripping results. Just last week Odysseus set a new record by ripping off a 10 by 15 cm flap of a box at once… twice."
Follow along with Odysseus and Penelope on Instagram.