Shakespeare called jealousy the green-eyed monster, but it's my Ghost Cat's baby blues that have me coveting cuddles.
My sky-eyed kitty likes me well enough when it's time for a shoulder ride, but when she's looking for couch comfort my lap just won't do. When it's time to relax in the living room my little Ghost Cat prefers to do her purring on my husband.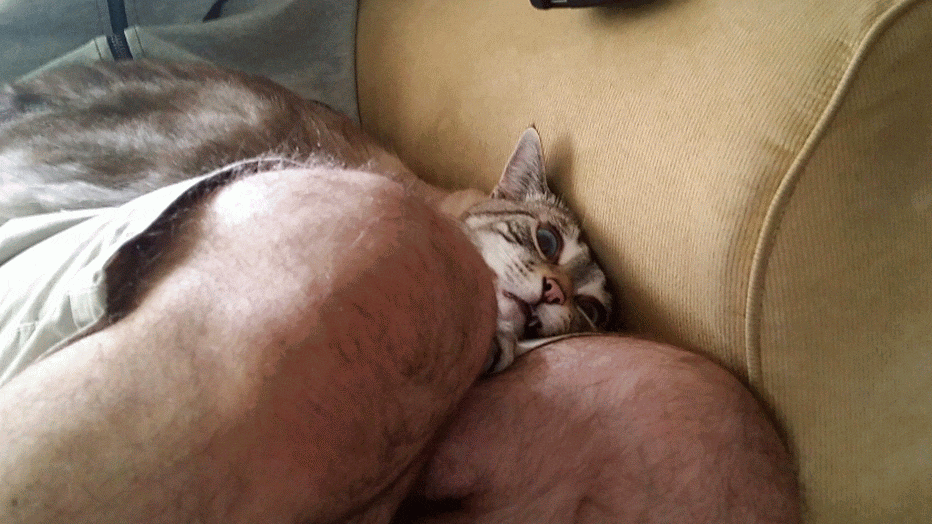 She's gotten so comfortable on him that she even missed greeting me at the door once last week, content to stretch out on his apparently comfortable legs, watching Investigation Discovery instead of going through her regular routine of welcoming me home.
Normally when I approach the house her sweet little head pops out of the cat door and she purrs, crouching into the best position from which to spring up onto my shoulders as I come through the door. When she failed to come find me I honestly thought something was wrong. I rushed into the house calling "Ghosty Giggles?" only to find her couch potatoing with my guy. She didn't even get up.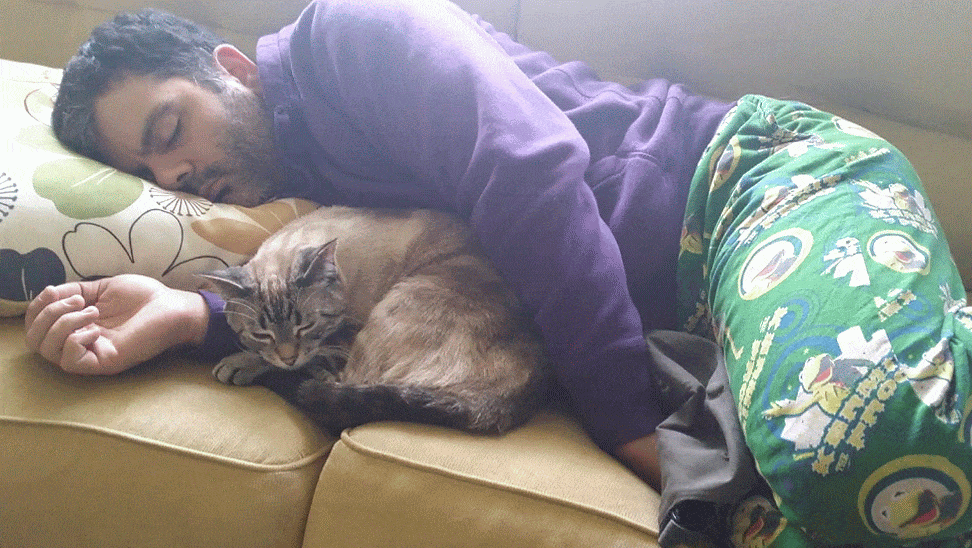 I can admit I felt a little pang of jealousy. Ghost Cat occupies a special position among my pets in my heart and in my house. She was the first pet of my adult life, and I always tell her that she is my special little cat queen.
My husband always makes sure to mockingly scold me when when I seem to favor Ghost Cat front of the other pets.
"Don't say that in front of Specter," he says. "You'll give her a complex."
Despite his protests of the sweet nothings I whisper to Ghosty, he's the one that's more likely to be doing physiological damage with his comments. My husband routinely ranks our pets in order of who is annoying him the least at the time.
"Specter, you're my favorite pet because you don't whine," he'll say if Ghost Cat is meowing.
"GhostBuster," he'll say to the dog, "You're my favorite pet because you because you let us sleep through the night."
While Ghost Cat and my husband have always had an off-and-on relationship, lately it's been more on than off, and she's been leading the rankings consistently for a solid couple weeks now.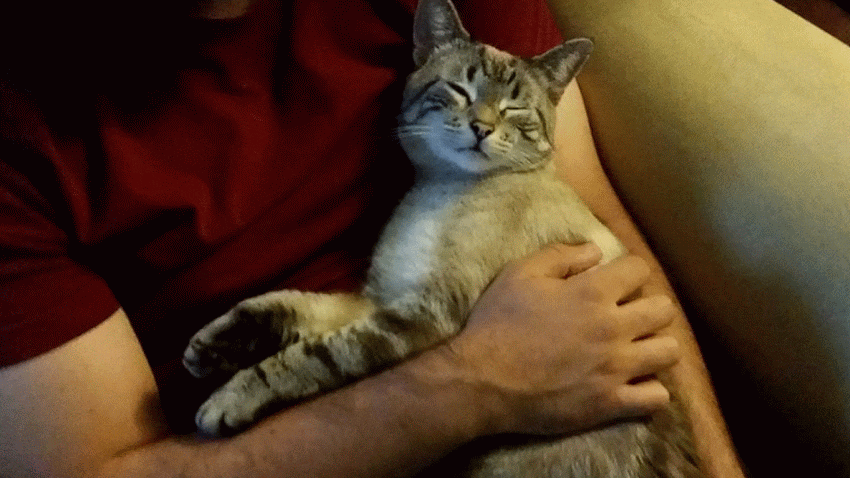 "Ghost Cat, you're my favorite because you're so affectionate, and you're not a jerk like the other two," he jokes.
"She's just really low-maintenance," he says, more seriously. "If you let her lay in your lap it's all she wants."
And all I want is for Ghosty to come lay in my lap like she used to, but as long as he's on the couch I just won't do. I remember a time when Ghost Cat seemed to prefer my lap and my love, but there's just something about my husband's outstretched legs that draw her away from me.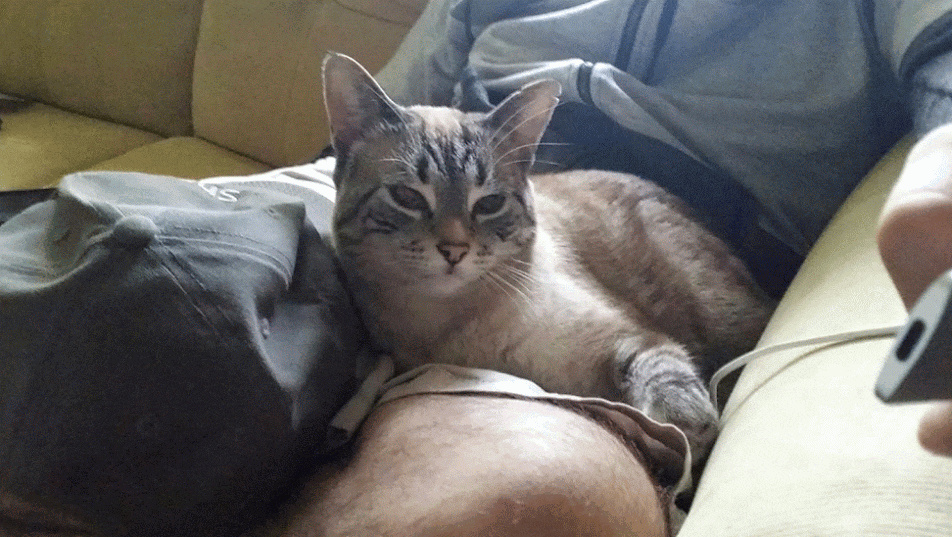 Then one day this week, my husband was working late, so I decided to watch TV from his usual spot on the left side the couch. Without even realizing it, I assumed his usual position – feet up on the coffee table – and soon Ghost Cat was laying on my legs, purring away. I was so happy, treasuring this special moment in which Ghosty had chosen to lay on me above all other available surfaces.
We sat like that for an hour, until my husband's car pulled in the driveway and Ghost Cat leapt up to go greet him.
For a second I was jealous again, but the feeling faded as I watched my husband walk in the house, scooping up Ghosty to say hello.
I guess there's enough Ghost Cat love to go around.
Does your cat's need for affection cause stress, jealousy, or hurt feelings in your relationship? Let us know how you manage to keep the balance between you, your partner, and your cat(s).

About the author: Heather Marcoux is a freelance writer in Alberta, Canada. Her beloved Ghost Cat was once her only animal, but Specter the kitten and GhostBuster the dog make her fur family complete. Heather is also a wife, a bad cook and a former TV journalist. Some of her friends have hidden her feed because of an excess of cat pictures. If you don't mind cat pictures, you can follow her on Twitter; she also posts pet GIFs on Google +.