JD Samson fronts up the electro-pop-tastic band MEN. The band has a new album, Labor, ready for release later in October. But more importantly, JD is the proud owner of an awesome-looking tuxedo cat that she's fond of exhibiting to the world via the wonders of the Instagram machine. Naturally, I thought it prudent that Catster get the backstory on this distinguished new addition to the exclusive musicians-with-cats scene.
It turned out that not only does the ex-Le Tigre member JD's cat claim fine musical pedigree, but that she's also named after a dearly departed member of the Wu-Tang Clan. Read on for the melodious scoop. (Warning: Also includes an anecdote about a fearsome dog balloon.)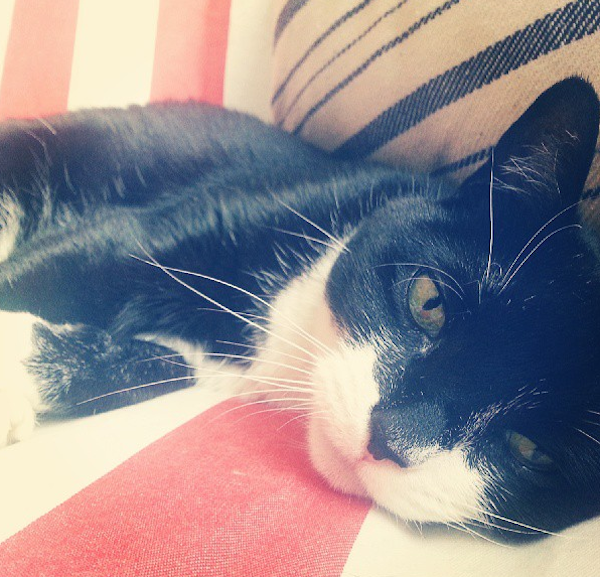 Dogster: You've been posting pictures of your cat on Instagram. What's the cat's name?
JD Samson: Dirty!
What's the story behind the name?
So, I didn't name her, but when I adopted her she was named Dirty apparently after Ol' Dirty Bastard, which was a name given to her by Bianca from the band CocoRosie. It's funny because I think someone used to call her ODB and then it got shortened to Dirty and some people spell it with a "u" and some people spell it with an "i."
Does she share any personality traits with ODB?
Well she can be really bitchy! She meows a lot. So, yeah, she's kinda vocal; she's a professional vocalist. The thing is, sometimes I think it's because she's been passed around so much that she has this fear of being left, so if you're not paying enough attention to her she'll just meow in your face until you chill out with her for a second. It's kinda cool too because it keeps you on track with being relaxed and kinda like grounded. She's like my meter letting me know I need to chill out.
So how did you come to adopt Dirty?
After [fellow musician] Kim Ann Foxman had her she was employed as a mouse-slash-rat killer for my friend Holly, and Holly lives in the same building as I do. I moved in last year and Holly was getting ready to leave the building and she couldn't take Dirty so we kinda baby-sat Dirty for a couple of weeks while she was out of town, and then we decided that we couldn't let go of her. She completed our family.
Was Dirty any good as a mouse killer?
I think it did keep them away but I'm not exactly sure whether she was a good murderer of mice. It's funny, because during this conversation she got up and went to the door because she thought she heard something. She's kinda like a watch cat and she'll run over to something if she hears it and she always wants to prey on stuff.
I saw on your Instagram account a picture of Dirty fascinated by a very large cardboard box.
Yes! She likes all kinds of boxes. The other day I had a box from a book from Amazon and she got in even though it was tiny and small. Basically, any bag or book that you put on the ground she goes into and it becomes her favorite place. She's very curious.
What was in the very large box?
That was from Peggy Noland and it was the outfit that's on the cover of my new record. It's like a mascot uniform of myself.
Did Dirty get to go inside the box once it was open?
No! Because it was so completely full of the costume and then I took it somewhere else to get photographed. So unfortunately she didn't get to go in that one.
What's the ribbon she's wearing in another picture?
I don't remember but I think we had a gift and we just put it on her. It's really funny because if you put ribbons or anything on her — like the other day we tried to put a party hat on her — then she can't walk! It's like she's so freaked out that something is on her body and she doesn't understand how to use her body and she like limps!
Is she tolerant of being dressed up?
Well, she's tolerant of everything; she's never scratched me and drawn blood. But she's super playful. She'll let you do it but then she'll hate it and you'll start to feel guilty because she can't walk.
What's the most flamboyant outfit you've ever tried to dress Dirty up in?
Well, we haven't really put that many outfits on her, although sometimes I'll put my underwear on her back or we'll put hats on her and stuff. But this year for Halloween we've been talking about getting her an outfit.
Do you have any idea what Dirty's Halloween outfit will be?
We saw some outfits for dogs at Kmart because we were there meeting someone — long story! — but then we were like we have to go look for an outfit for her later.
Have you ever had to leave Dirty alone for a few weeks while you're on tour?
Well I live with my girlfriend and she doesn't go on tour with me so she's never really by herself. Even if we go out of town my girlfriend's brother comes and feeds her. I think she needs a lot of attention.
Has Dirty formed a stronger bond with your girlfriend being that she's around her more?
You know it's funny because she goes back and forth. I think that some days she's really into me and some days she's really into her. With me, this week, I'm sitting on the couch working on my computer and I want to go and get a glass of water and she'll follow me into the kitchen and back. So right now she's obsessed with me.
What's the story behind the dog balloon that scared her?
Oh, yeah, that's the best! For my birthday my girlfriend got me this balloon that's like a French Bulldog. It's really funny because it walks around, it has these accordion feet so it makes it look like it's walking, and I guess there must be a little bit of helium inside it because it comes up off the ground six inches, like just enough for the feet.
So when I walked home from dinner all these dogs were sniffing its butt because it looked so real. We brought it in the house and Dirty just freaked out. Her tail got huge and she wouldn't come in the room it was in. She would slowly walk up to it and then run away. We had it for like a week and she was still afraid of it; if we brought it down and made it look like it was walking she would freak out. Then one night we saw her chewing on the ribbon that it was attached to so we thought she was over it but once we pulled it down she still freaked out.
Do you still have the dog balloon?
No, we don't.
So Dirty won in the end?
Yeah, I guess so.
Does Dirty show any interest in any music you play around the house?
When I'm making music she likes to be in the studio and sit on the desk where all the gear is. She just really likes to be around us no matter what we're doing. She's pretty awesome.
Is there any particular music she seems to enjoy hearing?
It's more there's some music she doesn't like, but it's usually the type of music you'd assume a cat doesn't like, so usually the really industrial sounds or something really screechy. Sometimes she looks at me like, "What is that?" Then I just generally keep away from that music for the moment.
Have you tried playing any ODB or Wu-Tang Clan to her?
No, but I should. Maybe she'll have a spiritual connection to it.
Did you have any cats as a kid?
Yeah, we did, but we always had cats where you could let them in and out of the house. This is the first time I have a cat who doesn't go outside. I think it's hard for her because sometimes she looks like she wants to go outside — I think she has been outside at times in her life before. We actually built her a catio …
What's a catio?
Well, there's this show called My Cat From Hell and this guy trains your cat to not poop or pee all over or scratch everything. He suggested that if your cat is anxious you should make your cat a catio. In a normal house that's like a fenced-in area outside where a cat can go and feel like they're in charge and smell the wildlife and not run away or whatever it is. So we have these bars outside one of our windows that's the shape of an air-conditioner so I just lined it with a screen and then put some wood on the bottom and she has a blanket that she can sit on out there. She goes out there and just looks out at everything in the street. She's in charge of the street basically. We don't always leave it open all the time but generally when we do she goes out there. She loves it.
You could sell a lot of catios like that in New York City.
I know, it's funny, because we were so surprised that we'd never seen that before. But it's funny how we did it as a way to alleviate anxiety!
Talking about yourself for a minute, what music are you working on at the moment?
I have a record coming out October 22 and it's the first time I've self-released a record. It's called Labor and it's with MEN, the band I've been in for the last seven years.
Is anything on the album that's inspired by Dirty?
No, I pretty much wrote it before I had Dirty. But I have many songs to come and maybe they'll have Dirty singing back-ups in her ODB voice.
Is there any chance of Dirty appearing on a future album or single cover?
Maybe, yeah, probably. She's really photogenic.
About Phillip Mlynar: The self-appointed world's foremost expert on rappers' cats. When not penning posts on rap music, he can be found building DIY cat towers for his adopted domestic shorthair, Mimosa, and collecting Le Creuset cookware (in red). He has also invented cat sushi, but it's not quite what you think it is.
Read more about celebrities and cats: