As a cat volunteer at San Francisco Animal Care and Control (ACC), I work with homeless cats usually referred to as "feral," who have been humanely trapped or brought to the shelter as strays. There are a lot of kittens who have been separated from their moms, and obviously these babies are particularly fearful of people. They have only known outdoor living, perhaps in a feral colony or even fending for themselves on their own.
Because these kittens are so young and wild, they need a lot of socialization before they are ready for adoption. It's important to gain their trust and teach them how to interact safely with humans as well as feeling safe. They hate being handled, and also need a day or so to adjust to being confined to a cage.
If you want to teach a terrified feral kitten that you aren't a diabolical predator, it may be time for the burrito wrap! This is a great, humane way to teach your kitten that hands and the big scary creatures attached to them will not hurt them.
1. Approach the kitten slowly and calmly. This little guy, Finnegan, was extremely scared and hunched down inside his bed at the rear of his cage.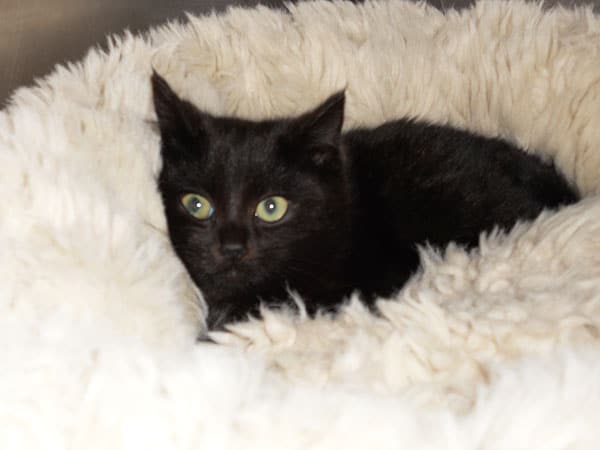 2. With a hand towel in one hand, reach into the cage with your other hand and slowly and gently lift the kitten out by the scruff of his neck.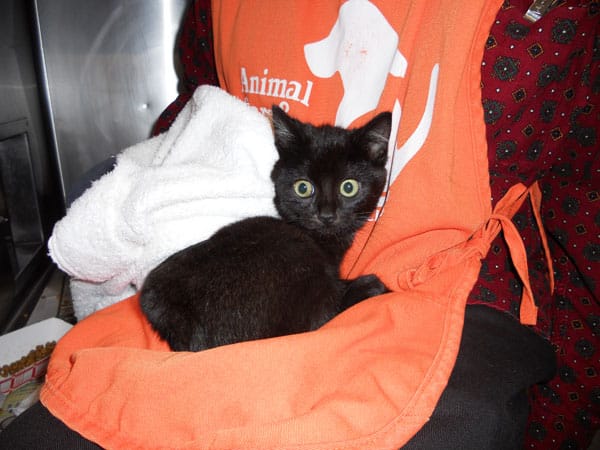 Put the towel across his back and hold him against your chest. Speak softly and reassuringly to the kitten. Take a moment to gently stroke his chin, cheeks, the top of his head, or the back of his neck. He will still be scared, but feeling your heartbeat and your finger stroking his forehead will remind him of mom and feeling safe.
If you meet a lot of hissing at this stage, reposition kitty if necessary to better prepare him for burritoing. Fold the towel so it is flat and kitten-sized, or give him a time out to calm him with gentle cheek rubs and soft talking.
3. Loosely wrap the towel around the kitten's back, draw him away from your chest, and continue to wrap the towel across his front, as if you were drying him after a bath. You should wrap him tightly, but not so tightly that he cannot move and his breathing might be affected.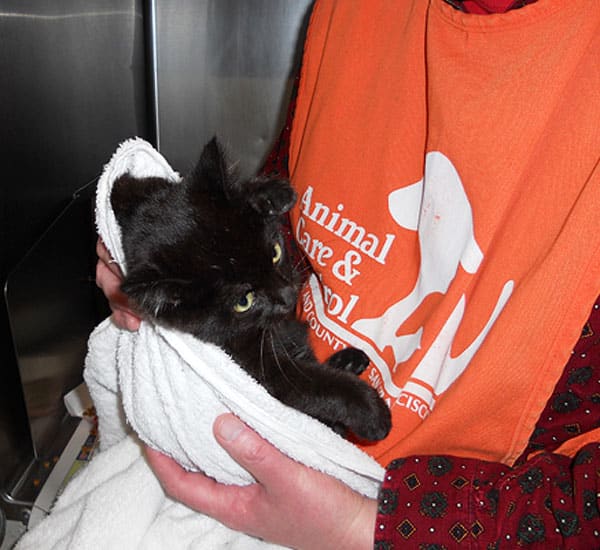 4. Gently but firmly hold the kitten on your lap. The burrito is a success if the only part of the kitty you see is his head sticking out of the wrap!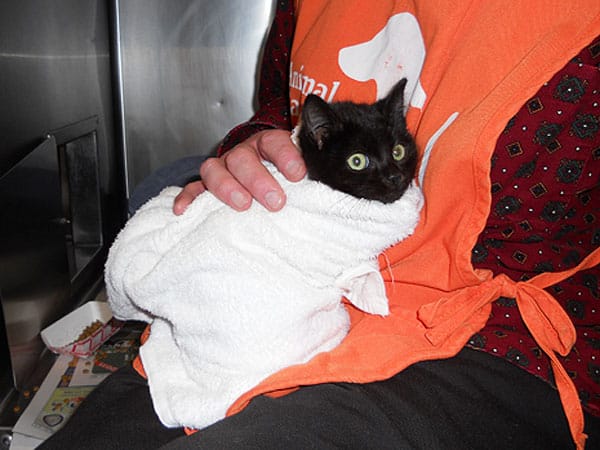 5. Hold the burritoed kitty up against your chest so he can feel your heartbeat and continue to gently stroke him and talk to him. Because he's securely wrapped, he won't be able to fuss, swat, scratch, or flee.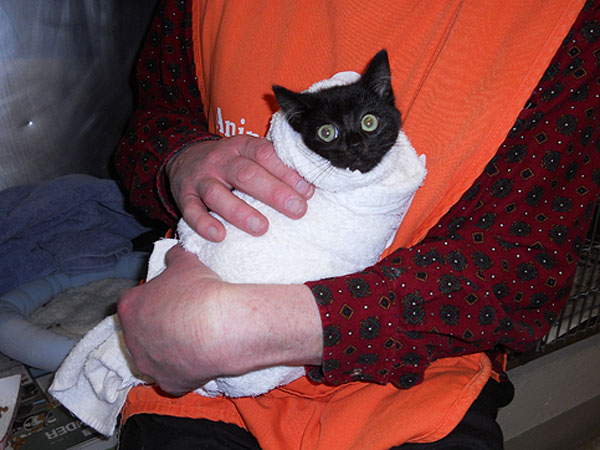 At this stage, many scared kittens begin to accept the attention and handling, and some of them even break out into purring. Note: Never force a kitten, wrapped or unwrapped, onto his back for more than a few seconds.
6. If the kitten seems to have relaxed after a couple of minutes, unwrap him a little and pet him gently on your lap. The sensation of being wrapped can be uncomfortable, and you want them to relax as much as possible.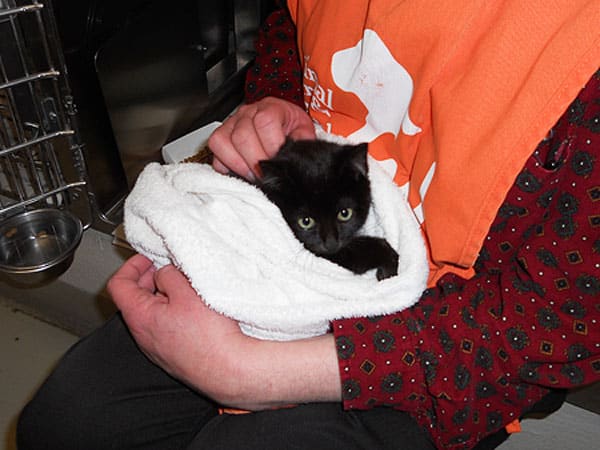 7. If the kitten is really struggling, howling, hissing, or spitting, keeping him burritoed may distress him further and make him even more fearful the next time he sees you. Never force it; if he is too overwhelmed, gently place him back in his bed and let him rest. The point is to teach him that people aren't going to hurt him — so you don't want the towel associated with terror.
You may need to use the burrito approach for a few minutes a day for a few days in a row, but you shouldn't rely on a wrap as the only way to socialize a frightened kitten. Gentle petting and talking, both inside his cage and out, will help him get used to people.