Capricorn cats are born between December 22 and January 19. If you aren't certain of your cat's birthday, see if this profile fits.
Capricorn is the 10th sign of the zodiac and is ruled by Saturn. The element is earth. The symbol is the goat and the colors are purple and brown. The Capricorn cat is grounded and calm, steady, stubborn and cautious. These down-to-earth cats tend to look mature. The young ones seem wise beyond their years while the old kitty goats sometimes grow more kittenish with age.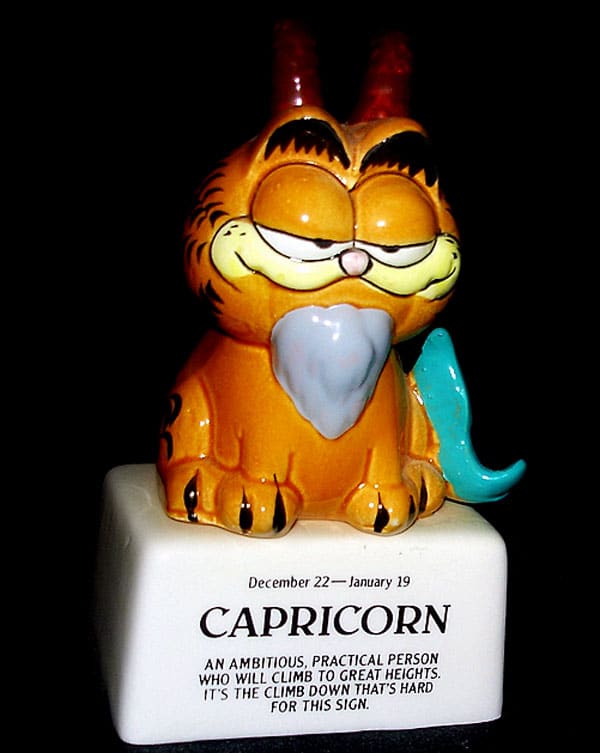 The first clue your cat may be a Capricorn is the expression on her face. Sour-faced or peeved like Grumpy Cat comes to mind, as does existential-loving Henri le chat noir famous for his ennui. Matilda, the blas├® resident cat at the Algonquin Hotel in New York City, appears to be a quintessential Capricorn kitty.
Regardless of the gender or breed, a Capricorn cat is serious and sensible. You don't have to worry about them wrecking your place or having wild parties while you're out. They have many notable traits; above all, patience and persistence. They will patiently wait for a mouse, a treat or for their tardy human to get home. If you're looking for a mouser, keep looking. They'd rather wait for you to serve them dinner. Capricorn felines live to eat and tend to be on the plump side. It's up to their caregivers to make sure they don't grow obese.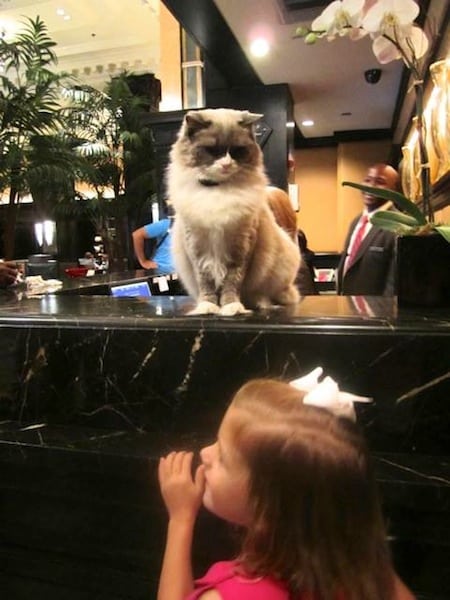 Being naturally stoic, Capricorn cats won't whine or complain but that's not always to their advantage. If ill, they'll go out of their way to act normal, fooling their owner. Annual wellness vet visits are a must.
These earthy cats aren't overly demonstrative but give the affection you deserve. No more no less. If they choose you, and you treat them well, you'll be rewarded with loyalty and a good solid cat. They adapt quickly and easily to new homes but if things are not to their liking they have no qualms about finding a better situation. To make them happy, they thrive on a consistent schedule of healthy meals, play (with or without you) and some kind of work or purpose. If you work at home, they will happily be your office assistant, but expect treats and plenty of nap breaks.
Matilda is a good example of a working cat who plays her part of hotel ambassador to a T. She extends her gracious and earthy energy to all those who appreciate it. But always practical, she hides when she's done. At the hotel she can be found napping off duty in the baggage room.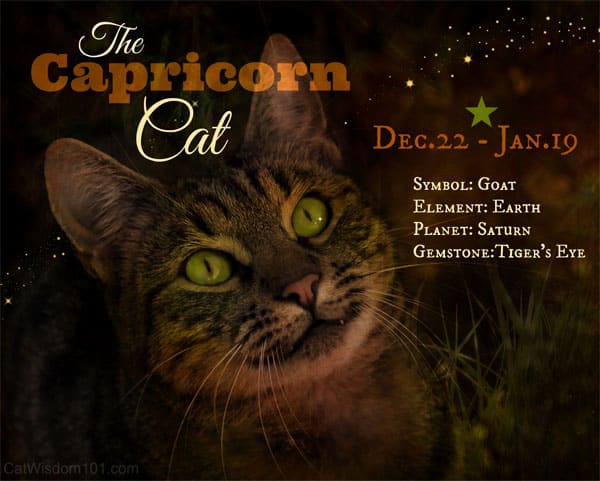 Capricorn cats like to be well-groomed and told how beautiful they are despite any flaws. They appreciate this flattery since they aren't the most glamorous showstoppers of the feline world. But no BS — they'll know if you're lying. They're highly intuitive. You won't find them jumping on precarious ledges or other dangerous situations. They are more lazy and indolent than adventurous. They tend to prefer beds and cozy lounging spots close to the ground.
Capricorns like material things in luxurious fabrics. They assume every room in your house and every thing in it belongs to them. That Persian rug, leather armchair, cashmere throw, silk duvet and velvet drapes you bought with your hard-earned money? Theirs. They can be trained to walk on a leash if you're patient, quiet and methodical, but they are just as likely to train you to do their bidding.
The calming earth signs of Capricorn, Virgo and Taurus are good for nervous types. They aren't wild thrill seekers like Geminis, social butterflies like Leos or super-sensitive Scorpios. If you like a no-nonsense cat with a slight selfish streak, the queen of serene Capricorn cat may be for you.
Top image: Goat and kitties by Shutterstock
Learn more about your cat with Catster:
Read more by Layla Morgan Wilde:
About the author: Layla Morgan Wilde is a holistic cat behaviorist, an award-winning writer/photographer and founder of the premier online magazine Cat Wisdom 101. A passionate advocate for cats, she founded the Toronto-based Annex Cat Rescue in 1997. In addition to her blogging at Cat Wisdom 101, she blogs at Boomer Muse and contributes to Petfinder.com and Nordic Spotlight. Wilde is a professional member of the Cat Writers' Association. She lives in Westchester County, NY with four cats.