In this time of social distancing, many of us are revisiting our enjoyment of simple things like gardening. Even if you don't have a large yard it's possible to grow window gardens, but unfortunately, a number of plants commonly available are very dangerous to our cats. Only select plants that will be safe if your cat takes a little nibble. Here's how to create a cat-friendly backyard garden or window box garden.
Why do cats like plants?
It is no secret that many cats are attracted to plants which can cause health concerns if they are eaten. Dr. Tina Wismer, DVM, MS, DABVT, DABT Senior Director of the Animal Poison Control Center at the ASPCA Animal Poison Control Center says to "Make sure to keep all plants out of paws' reach.
Related: Why Do Cats Like Catnip?
Cats are good climbers, so it's best to move plants to a safe place they cannot access. "You know your cats best and what shelves or window sills they are able to access and where is safe to have plants." Dr. Wismer says, adding that cat owners should think not just about plants they are growing, but also the flowers, as many flowers can also be dangerous to cats.
These plants are dangerous for cats
Unfortunately, a lot of plants are toxic to cats, and a cat's natural curiosity can get them into trouble, as they are likely to ingest plants and flowers brought into the home. Here are few common plants, Dr. Wismer advises gardeners to be especially careful about around your cat:
"Lilies: Cats are most at risk when it comes to ingesting true lily plants, and the symptoms are serious. Ingesting both types of true lily plants (Lilium and Hemerocallis) can result in severe kidney issues and even death for cats, so make sure to be mindful when planning your garden. Additionally, other plants that can pose serious threats to your pet's health are cycad palms. They can cause liver failure if ingested.
Tulips, hyacinths and other bulb plants are considered toxic to cats and can cause vomiting, diarrhea and drooling if ingested. All parts of these plants contain toxic components. However, the bulbs are especially concentrated — making it the most dangerous part.
Daffodil is another toxic spring plant to keep an eye out for. The Daffodil bulb is especially toxic, and can cause depression, hypotension and even seizures in cats in addition to the gastrointestinal problems."
Related: Plants and Foods that are Poisonous to Cats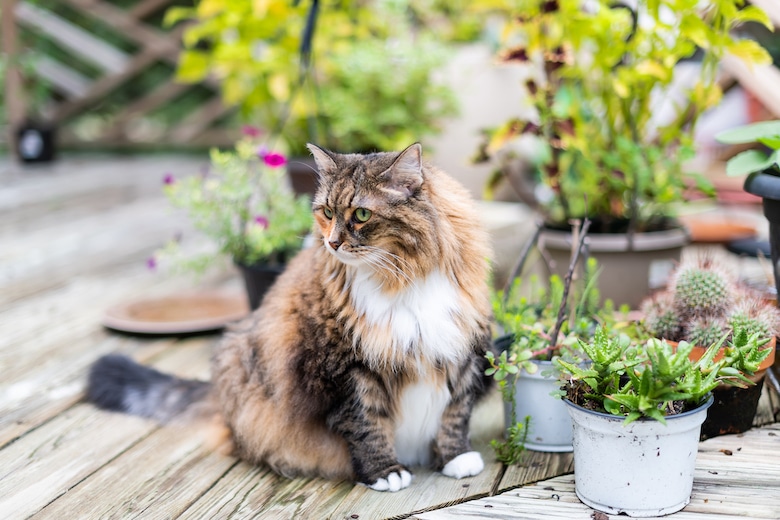 Grow these safe plants in your cat-friendly garden
Although a number of plants are dangerous for cats there are some safe options. Dr. Wismer says good options include:
African violets
Petunias
Gerber daisy
Bromeliads
Orchids
Snapdragons
Polka dot plant
Maranta
Peperomia
Related: Let's Talk Non-Toxic Plants for Cats — What Plants Can Your Cat Eat?
Your cat won't be able to resist these plants 
If you're looking to add some enrichment and variety into your cat's day you could use "cat grass," or catnip to create a cat-focused window garden. They're both sold either as seeds or as started plants in gardening centers and pet stores. But while cat grass is safe to give to cats, Dr. Wismer points out that "eating almost any plant or flower can cause gastrointestinal upset in pets."
If you create a grass-filled kitty window garden, monitor your cat to make sure she isn't making herself sick by eating the grass.
Do your research before starting your pet-friendly garden
If you are going to be planting a garden it's important to do your research before purchasing any plants and seeds.
"It is in a pet owner's best interest to research the plant they are looking to purchase whether it is for indoor or outdoor use. It is best to familiarize yourself with the list of toxic plants and keep these types of plants out of your home or garden for the health and safety of your pet," Dr. Wismer advises.
She suggests that if you are going to have any toxic plants in your home garden that you need to create a physical barrier to keep your cat away, as other deterrents aren't necessarily going to be effective and "with some plants, a single exposure could be life-threatening."
Top photograph: Alexa-photo/Getty Images
Want more information on creating a cat-friendly garden? To support cat guardians with their gardening plans, the ASPCA Animal Poison Control Center has posted comprehensive lists here and here.