When I was a kid, I just loved Looney Tunes. My Saturday morning ritual was a bowl of cereal on the couch and the Bugs Bunny and Road Runner show. But the first time I saw one of these cartoons in which a dog and cat hated each other, I was confused: I grew up in a home with dogs and cats who were friends and sometimes even snuggle buddies. Our cat, Iris, gave birth to a litter of kittens about a foot away from the end of our dog's run.
Here are some ways you can help cats and dogs be the best of friends.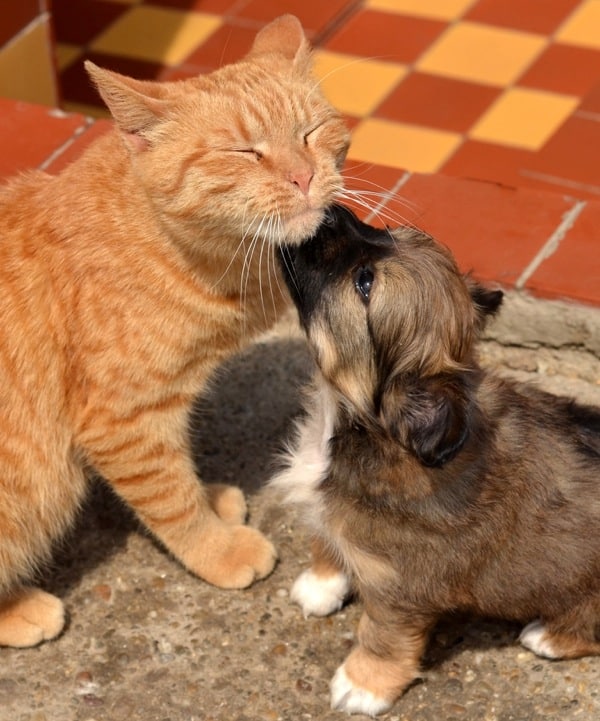 1. Start when they're babies
Cats who are socialized in an environment with dogs learn early on that canines are not to be feared. They also learn how to wrangle overeager playing pups — a good claws-out whack on the nose does wonders! If you can have dogs in your home, consider fostering shelter puppies with your cats so they'll have a better chance of being adopted into a multipet home.
2. Be sure the dog is well-trained, too
If you're bringing a cat into a home with a dog, make sure your buddy is responsive to your commands, particularly "stay" and "leave it."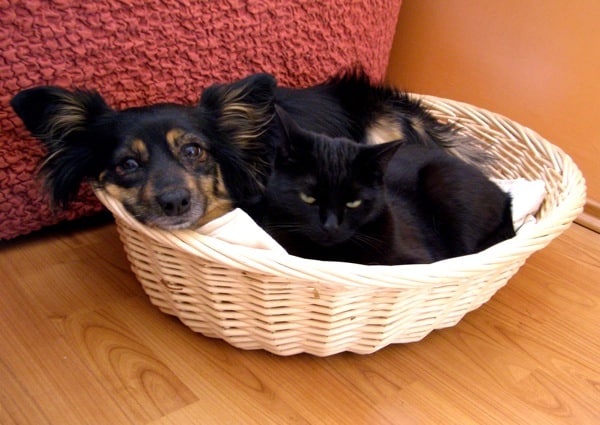 3. Get the right kind of dog
If you're bringing a dog into a home with cats, there are some important things to consider, the first of which is, "Is this dog inclined to chase?" If the answer is yes, that's probably not a dog you want, no matter how gorgeous or adorable he is. Cats tend to run away if they're really scared, and adopting a chase-oriented dog could lead to tragedy. Shelters usually test dogs to see if they're good with cats before adopting them out, so be sure to ask about that first.
4. An older dog might be a good fit
Middle-age and senior dogs are more sedate than pups and young adults, and therefore less likely to behave in ways that aggravate or scare cats.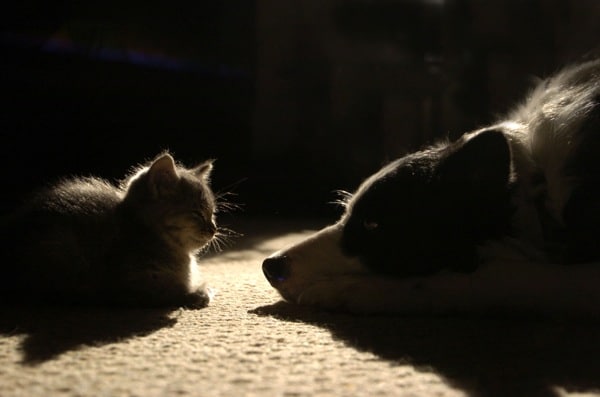 5. Use proper introduction techniques
When introducing a dog to a cat, be sure the dog is on a leash, so that if he does get rowdy, you can control him. Be sure the cat has safe areas such as rooms with baby gates that the cat can jump over but the dog can't, and that the cat's litter box and food dish aren't in places where the dog can get to them.
6. Most of all, relax
Be aware of what's going on with the dog and the cat, but try not to be anxious about it. Just as with an introduction to another cat, an introduction with a dog will have its moments of feline growling and hissing as the dog learns his place as second-in-command.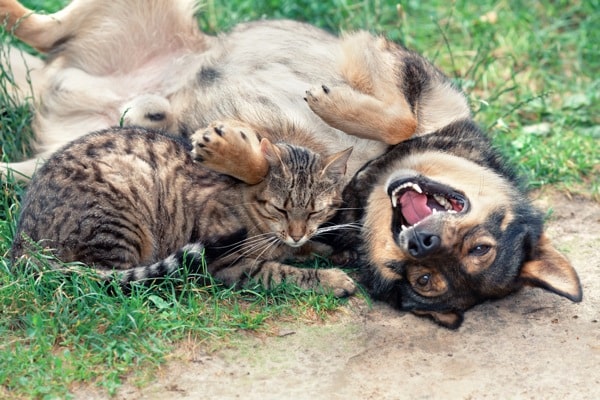 Do you have a dog-and-cat household? Have you introduced dogs and cats? How do your canine and feline housemates get along, and what did you do to help the process along? Please share your tips (and photos of cats and dogs together!) in the comments.
About JaneA Kelley: Punk-rock cat mom, science nerd, animal shelter volunteer, and all-around geek with a passion for bad puns, intelligent conversation, and role-play adventure games. She gratefully and gracefully accepts her status as chief cat slave for her family of feline bloggers, who have been writing their cat advice column, Paws and Effect, since 2003. JaneA dreams of making a great living out of her love for cats.
Read more about interspecies love: