I'm not only a cat lover, I'm also a yoga practitioner and a yoga teacher. Imagine my delight when I came to realize that cats do yoga on a number of levels! Yes, it's true. And my cats help me with my yoga practice. What is a yoga practice? Think of a practice as a really good, repeated habit. If someone has a yoga practice, they're doing yoga on a pretty consistent, likely daily basis. I do yoga daily. And guess what? My cats love yoga.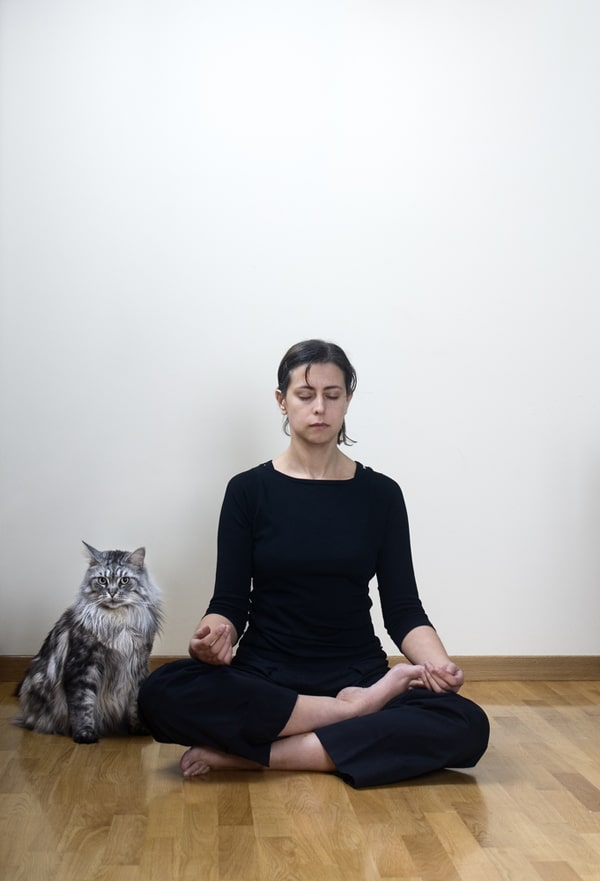 First, let's figure out what exactly yoga is. Merriam-Webster defines it as:
"A Hindu theistic philosophy teaching the suppression of all activity of body, mind, and will in order that the self may realize its distinction from them and attain liberation."
and
"A system of exercises for attaining bodily or mental control and well-being."
In the Western world, we tend to focus more on the "system of exercises," though that is changing. But regardless of what yoga is to you, your cats will love it when you do yoga! Here's how my cats and I share the love of yoga — and also what they teach me.
1. You're down on the floor at cat level!
Lots of the yoga poses (or asana, as they're called in yoga) can be done on the floor. I'm sure you've seen a yoga mat. These give you just enough traction to do some of the standing yoga poses without slipping. But many poses can be done seated or on your back. When I roll out my mat to start practicing, my cats come running.
A supine twist or a supine hamstring stretch will bring your cat right to your mat, where they can blissfully pad your belly and stare soulfully into your eyes.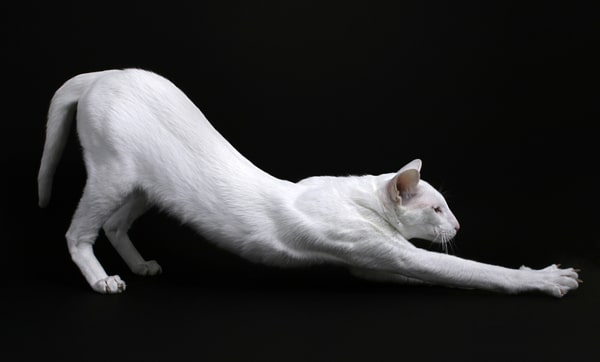 2. Cats can teach you how to stretch
Cat enthusiasts know that cats move gracefully and are always stretching. Just think how great we'd feel if we took the time to stretch throughout the day. Our cats have a lot to teach us, if we know how to see their lessons. Watch your cat move — then try to stretch a little. Seriously, you don't need to be able to put your foot behind your head. Stretching your arms in the air or doing something simple will suffice. Move like a cat! See how happy and healthy you start to feel. Your body will inform you.
3. Cats can teach you how to breathe
In much of yoga, the poses are done with deep, diaphragmatic breathing through the nose. This type of breathing helps us relax, oxygenates our brains and blood cells, and experience movement in a whole new way. But even if you don't want to do the yoga movements, try this instead: Get still and stroke your sleeping or sedentary cat in a very relaxed fashion. Just watch and see if your breath doesn't get smooth and easy. Soon you'll be relaxed in no time. You're doing a form of yoga, and your cat is helping you. And we all know that petting our cats is good for our health. Try it!
4. Cats can teach you how to meditate
Meditation is not necessarily "emptying your mind" — it might be more accurately described as bringing your mind back (and back again) to a single point of focus. Cats do this all the time. Watch your cat stalking a mouse. She waits and waits, staring at that corner, door, leaf pile, or wherever the mouse is hiding. She has one thing on her mind. Humans meditate in much the same way. They might repeat a phrase or a mantra to themselves; they might stare at a candle flame. Watch your cat's single-pointed focus and get inspired!
5. Cats can teach you yoga's ethics … well, maybe not
Yoga has ethical guidelines, called the yamas and niyamas. Do cats follow these? Hmmm, it's debatable. Nonviolence? Probably not, although a cat's violence (if you could call it that) is instinctual and not premeditated. Non-possessiveness? Probably not! (Ever witness a cat getting what they want?) Truthfulness? Probably! I find cats pretty honest.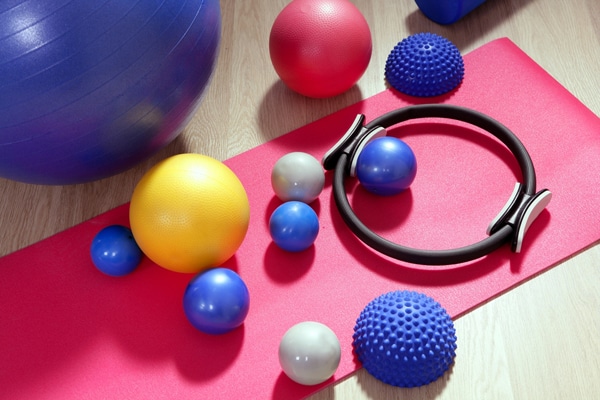 Warning — protect your yoga props and accessories!
Unfortunately, my cats love the texture of my mat and of my yoga blocks. There's something about the softness of the mats or the slight squishiness of a block that seems to invite enthusiastic cat teeth and claws! I have several blocks that have been chewed by my cat Dyson. I can't bear to throw these nondegradable things away, so I use the blocks in my classes, and explain that my cats loved the texture of them. My students laugh and don't seem to mind. A better solution if you're serious about yoga is to get wood blocks.
Do your cats help you with yoga? Let us know in the comments!
Photo: Young woman on yoga mat in Yoga posture by Shutterstock