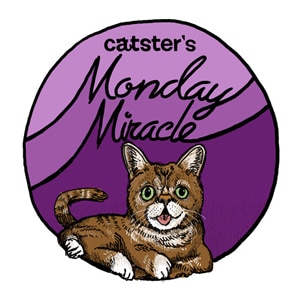 You might have heard about this year's meoworal race happening in San Antonio. It's a heavyweight political showdown with two cats duking it out to become the city's official meower, which is basically like a municipal mayor but obviously much better. Well, it turns out that one of the candidates is a special needs kitty. His name is Wonky.
You can take a look at this sterling contender below, all dressed up in his finest campaign outfit.
Three years ago, this distinguished looking gent was cruelly dropped off at his local animal services compound. Apparently, his owner wasn't too enthused about dealing with his physical issues, which include a combination of cerebellar hypoplasia and deafness. He also has to wear a diaper at times due to some incontinence quirks. Thankfully, the good people at the Wayward Whiskers Cat Rescue organization stepped up to save Wonky.
Wonky's name comes from his condition. Due to the cerebellar hypoplasia, he has a little trouble with his motor skills to the point that he can give off an appearance of noble wonkiness. This also means that he's not the most coordinated when it comes to cat athletics — although it's said that he's actually an exceptional climber. Just don't mention the times he falls off the bed.
Addressing his political motives, Wonky says, "When people go to a shelter they are usually looking for a purrfect cat — one with all four legs, both eyes, and no disabilities. My goal as Meower is to encourage adoption of a special needs cat."
Wonky goes on to say that he has a brother named Gobble who was left with only three legs and not much of a tail after a car accident.
"He's a better jumper than most four-legged cats!" Wonky says.
We'll keep an eye on the meoweral race, but in the meantime visit the Wayward Whiskers Cat Rescue Facebook page to keep up with Wonky's power moves.
Read more Monday Miracles on Catster:
About Phillip Mlynar: The self-appointed world's foremost expert on rappers' cats. When not penning posts on rap music, he can be found building DIY cat towers for his adopted domestic shorthair, Mimosa, and collecting Le Creuset cookware (in red). He has also invented cat sushi, but it's not quite what you think it is.