There was obviously something wrong with the black kitten walking down the sidewalk. He was wandering aimlessly, like he did not know where he was going, and he was extremely thin. It was more than 100 degrees in California's San Joaquin Valley, and the cat was very sick. He probably would not make it another day.
Tiffany Dean and her husband, Kells, were on their way home from the pool with their one-year-old daughter when Tiffany spotted the cat. She was worried about the way he was walking, as though he was lost or confused. Kells insisted the cat was fine, but Tiffany did not listen. Her instincts said otherwise, so she pulled over to check on him.
"I began walking after him and calling, 'Here kitty, kitty,' but he just picked up the pace and wouldn't even turn around to look at me," Tiffany says. "I finally cornered him by a fence, and I thought he would turn around and hiss or try to scare me off, but he just kept bumping face first into the fence."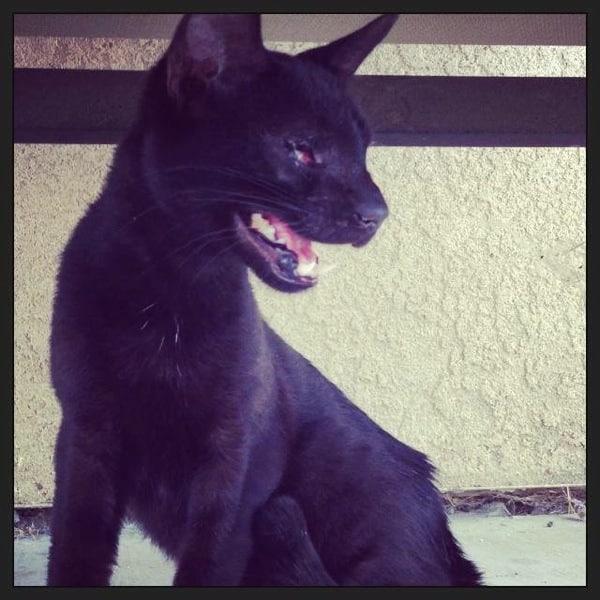 That's when Tiffany realized the cat, who she later named Valor, must be blind. He darted past her again and ran face first into the tire of a parked car — and Tiffany knew something was definitely wrong. She kept up the chase and was finally able to grab the terrified cat.
"He was so scared, and I was almost completely positive I was about to have my arm torn apart," Tiffany says. "But surprisingly he suddenly became calm and let me hold him."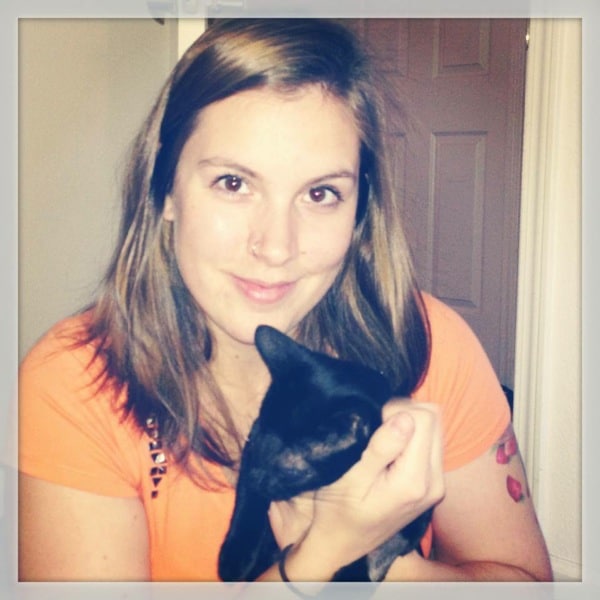 The fact that Valor immediately warmed up to Tiffany indicated that he'd come from a home where people had loved him. She had no idea how he'd ended up on the street — or what had happened to his eyes. When Tiffany got Valor home that first day, she had Kells examine his eyes, and they were shocked to discover he didn't have any.
"His eyes were gaping holes," Tiffany says. "The left eye was oozing with infection. He was so thin I could feel every bone in his body. When I would reach down to pet him, my wrist was wider than his body. Nothing about him seemed healthy."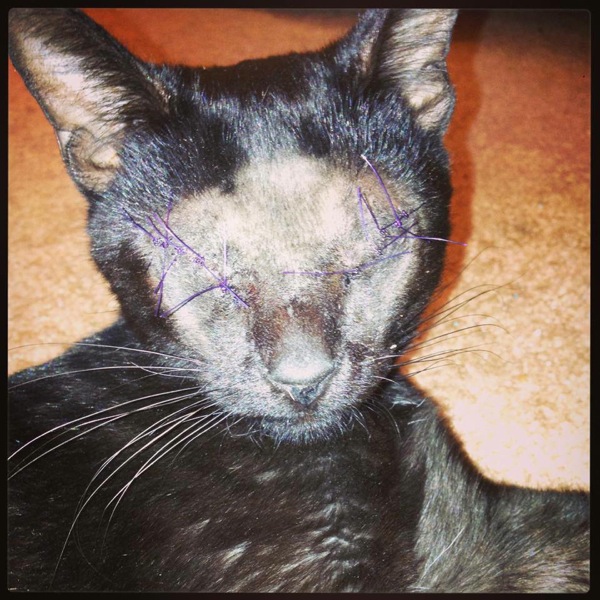 Valor needed veterinary care, and he needed it fast. Tiffany took him to Hanford Veterinary Hospital, where they estimated his age at one year old. The vet said that Valor most likely contracted a virus as a kitten that caused an infection and ulcers in his eyes, which eventually caused his eyes to burst. His left eye was completely gone, and only a portion of his right eye remained. To prevent further infection, Valor would require surgery to remove what remained of his eyes and have his eyelids stitched closed.
The only problem: Tiffany and Kells have two other cats, one of whom miraculously returned home this month after being missing for a year. They also have four dogs and several fish — not to mention a one-year-old daughter. They could not afford to pay for Valor's surgery on their own. Still, Tiffany knew she had to help.
"I thought about just taking him to the SPCA and letting them handle it, but he had such a beautiful soul," she says. "I was so afraid if I took him somewhere he would automatically be put down … because it would be cheaper than treatment."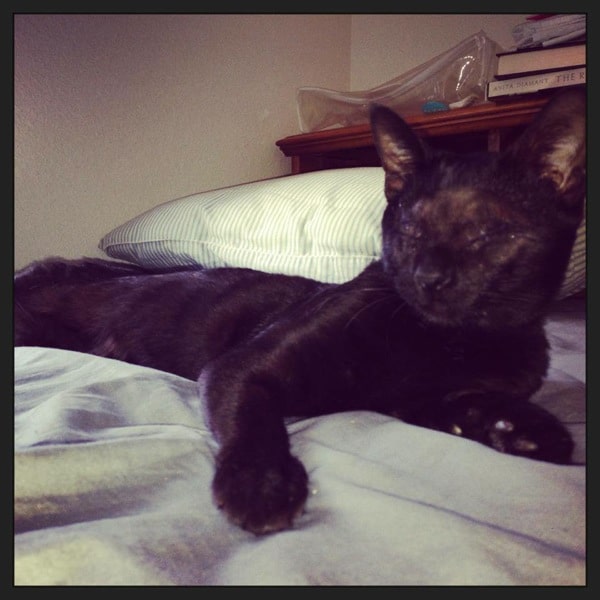 Luckily, human kindness intervened. When Tiffany's friends and family heard about Valor, they offered to help pay for his veterinary care. This gave Tiffany the idea to start an online fundraiser. The cost for Valor's surgery was estimated at $850, so she made that her initial goal. She was shocked when, after only a couple of days, donations had exceeded that goal.
"It was absolutely amazing to see so many people share our story on Facebook and help us raise the money," she says. "I just can't thank everybody enough who donated, shared, or prayed. It's nice to see the good that is still out there in the world … to see that people still have good hearts and care."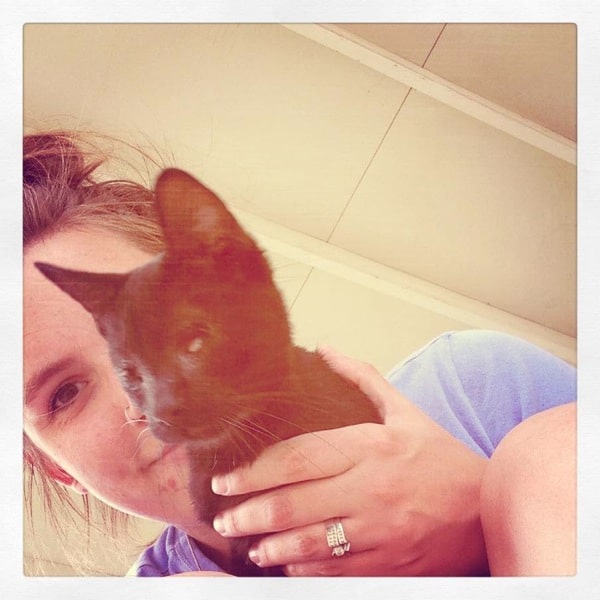 Valor recently had surgery on his eyes, and he continues to recover and gain strength. Tiffany says he purrs constantly, and he is always seeking out love and affection. It is Valor's continued determination and will to live that Tiffany says earned him his name.
"We don't know his life story, but we do know he was dealt a pretty rough hand," she says. "After all he's been through, he still trusts people. He still wants love. He still wants to play. He still wants to be somebody's friend. If I lived his life I would be afraid of everybody and everything. We chose to call him Valor because it means 'boldness or determination in facing great danger.'"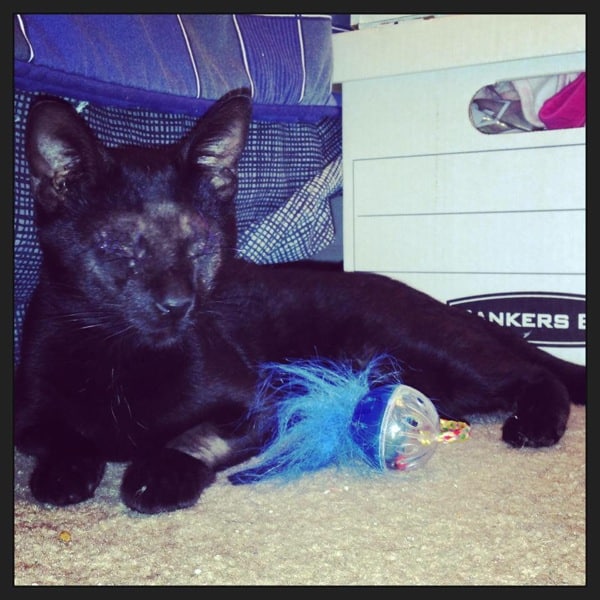 Tiffany is fostering Valor until she can find him the perfect forever home. If you live in the San Joaquin Valley and are interested in giving Valor a forever home, you can get in touch with Tiffany via Valor's Facebook page. He needs to be kept strictly indoors in a home with no small children or hyper or temperamental pets — and he needs lots of love and attention.
Read about more rescue heroes on Catster:
Do you know of a rescue hero ÔÇö cat, human, or group ÔÇö we should profile on Catster? Write us at [email protected].