Editor's note: Have you seen the new Catster print magazine in stores? Or in the waiting area of your vet's office? This article appeared in our November/December 2016 issue. Click here to subscribe to Catster and get the bimonthly magazine delivered to your home.
Admit it. It feels good to hand over a treat or two to your cat, especially when he turns on his purr machine and makes sweet eye winks at you. The challenge: to not let him dictate when and how often.
To help you deal with your treat-seeking tabby, Catster interviewed one of the nation's top feline experts, Dr. Elizabeth Colleran, a veterinarian who operates cat-only practices in Chico, California, and Portland, Oregon.
The Chico Hospital for Cats is also home to Domino, a former stray once mistaken for a skunk, who now lounges on the lobby counter and greets clients at the clinic in northern California. Colleran adopted this likeable, mellow feline who has been the hospital cat since 2006.
"He has one bad habit," Colleran said. "He has an overly enthusiastic interest in food. We toss treats down the long hallway in keeping with Michelle Obama's Let's Move program. Chasing food gets him acting out his normal chase/ pounce behavior along with his other toys."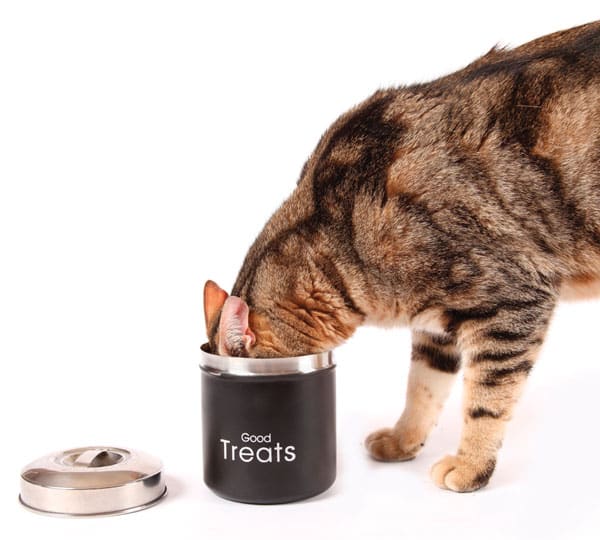 Inside her clinic is a small retail area that features an assortment of treats all passing her requirements for putting the capital H in healthy. Among them are Domino's favorites: Life Essentials freeze-dried chicken made by Cat-Man-Doo and Kitty Kaviar, made of dried Bonito fish filet flakes. Neither have additives and preservatives.
"I reach for 100 percent protein treats made in the USA," Colleran said. "The recall of so many pet foods with outsourced ingredients keeps me avidly a label reader."
Pet Safety Cat Casey, my long, slender, orange tabby who delights in finding the treat bag buried in the bottom of my pet first-aid kit during class, sports a nondiscriminate palate. I help keep him trim by making him work for his treats. He must come, sit, and give me a soft paw hello before I hand over his favorite treats.
But for some cats, like Kruzer — a big Bengal who has slimmed down from 24 to 18 pounds and now loves life as an office cat for a pet sitting company in Dallas — the days of enjoying treats are gone due to a medical issue. After the need for surgery to correct urinary problems, he dines only on Royal Canine SO, a therapeutic diet.
But the staff at the Park Cities Pet Sitter, Inc. make Kruzer's day by giving him small dabs as treats. And to help him on his steady slim down, the staff lures him over to a feline circular treadmill that he happily strides on to receive the food reward. They adopted this once-obese cat last year and share his weight-loss campaign with weekly posts on their Facebook page.
As a result, the only thing Kruzer has blossomed into is that of a lovable office cat with greater mobility and fewer health issues, reported Joette White, PCPSI owner, adding, "The staff learned a valuable lesson not to go overboard on giving out treats early on. And, Kruzer is benefitting by this."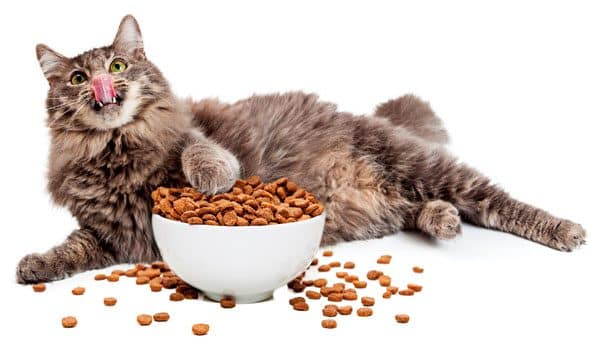 If it is treat time in your household, heed more of Colleran's advice:
Never substitute treats for meals: "Treats are for training and exercise," she said. "Pairing a high-value treat with tolerance of some unpleasantness like medication to be taken can be a great help, too."
The label: "Make sure you can pronounce and identify the ingredients," she said. "Some extras are fine, like mixed tocopherols, which is Vitamin E, a natural preservative."
Don't be pressured into becoming your cat's personal chef: Instead of making time-consuming homemade cat treats, offer bits of broiled chicken breast, tuna fish, and dried fish instead. "All of these are 'treats' to your cat and therefore, command high value to your cat," Colleran said.
Don't forget to bring out the food puzzle or treat ball: "I use a feeding toy that makes him have to work for treats," Colleran said. "You can use treats to teach cats to come, sit, stay — all the basics — as well as even leash training and other skills."
Treats by the numbers
Q: How many treats each day? "Treats should only be given for desirable behavior or training. Each one should be no bigger than one half of a 'pinkie' fingernail so during training they can be useful without satisfying hunger."
Q: How many calories are in the average treat? "Small treats of the size I describe should be in single digits and nearly or entirely animal protein."
Q: How many calories total should a cat have each day? "At ideal weight, 30mg/kg. 180 to 200 for a healthy young adult a day, divided into multiple small meals. But that depends upon at least 40 to 45 percent protein and activity. A busy indoor/outdoor cat needs more energy than an indoor cat without much to do."
About the author: Arden Moore is a pet-behavior consultant, author, and master pet first-aid instructor who often teaches hands-on classes with her cool cat, Casey, and very tolerant dog, Chipper. Each week, she hosts the Oh Behave Show on Pet Life Radio. Follow Arden on Facebook and on Twitter. For Catster print magazine, she promises to give advice about healthy eating habits for your feline. Email your questions to arden@fourleggedlife.com