It has been a particularly harsh winter for most of the United States. In the South where I live, it's been a complete roller coaster. There will be snow and ice for a few days, followed by temperatures in the low 60s, followed by more snow and ice. It's enough to drive you mad!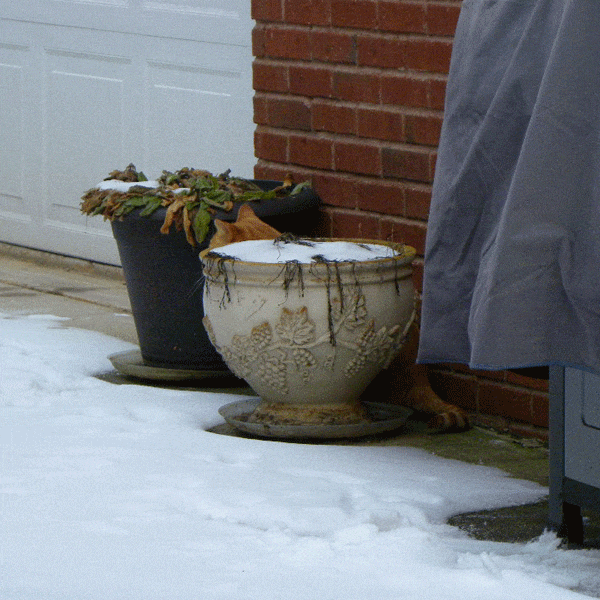 Most of my semi-feral cats have had enough of the crazy weather as well. Most of them spend the day inside our garage and lounge in their heated beds. We even purchased a small (and safe) space heater for their use. Of course, we made sure that they couldn't stick their paws inside the heater and it was cool to the touch. The heater has a tip-over safety feature as well.
Having a relatively warm and comfortable garage is appreciated by all of the cats. However, they are starting to go a little stir crazy. They are exploring more of the boxes and items in the garage, climbing on our truck with their wet and muddy paws, and getting into more disagreements with each other and any other stray neighborhood cats who come by for a quick meal.
Rusty is about the only cat in the colony who doesn't seem to mind the snow and ice, although of course he still takes advantage of the heated beds after a long day of exploring and playing. He likes to find a small hole in the ice where the water has collected. He will then paw at the hole a few times before sticking his nose inside. This is followed by a quick shaking of the head to disperse the cold water and ice which is now on his nose.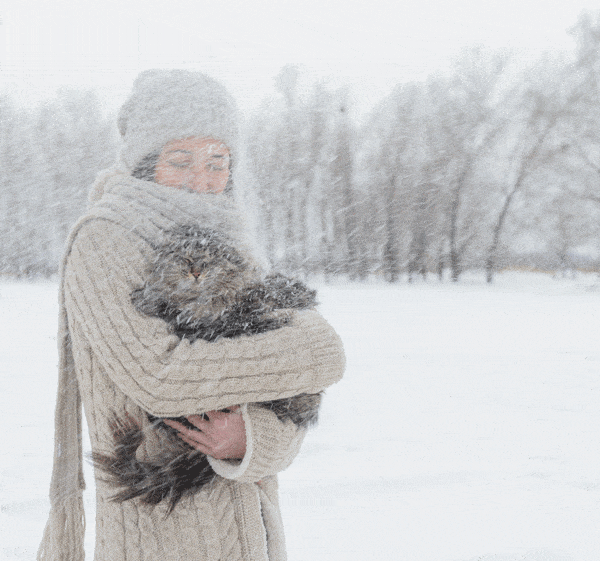 You can usually find Rusty in the driveway batting around a stray ice clump. He'll chase it around like a professional hockey player and smack it into the wall or barbecue grill. Yes, he is the Wayne Gretsky of our kitty kingdom.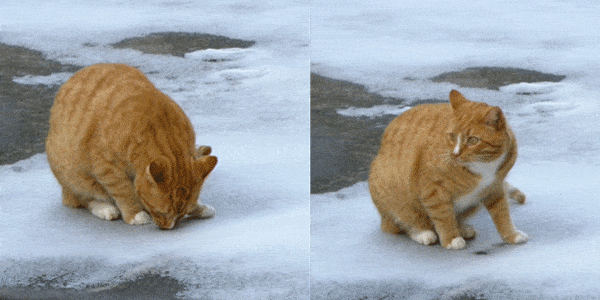 My friends tell me that their indoor kitties have had enough of the snow and ice as well. They are no longer allowed on their back decks for their afternoon sunning due to the ice and snow everywhere. The days are usually cloudy, with nary a ray of sunshine peering through the window blinds. Even the constant running of the gas furnace has resulted in static electricity building up on their fur. It's literally quite shocking when the cats rub up against each other or try to cuddle.
Catster has a lot of wonderful cat cold weather tips. Some explain how you should keep them away from cars that have warm engines. Cats love to make their way under the hood and lounge near the warm engine. You also need to watch out for antifreeze that may have dripped on the ground, since it is extremely poisonous. Also, it's important to keep their legs, paws and stomachs free from any salt or de-icing chemicals they may have collected while walking through the snow and ice.
Indoor cats, as well as outdoor cats, can develop Seasonal Affective Disorder (SAD). SAD is a form of depression that impacts cats due to a lack of sunshine and activity. If your cat develops SAD, they may want to sleep more than usual, show little interest in activity or food and abandon their normal routine. If you notice this in your cat, you may need to provide them with as much sunlight as possible, even if it is from an artificial source designed for this purpose. Get your cat up and active by playing games or introducing new treats and toys. A wonderful article on Catster tells you more about SAD and what to do. Also, check out this article to keep your indoor cats happy.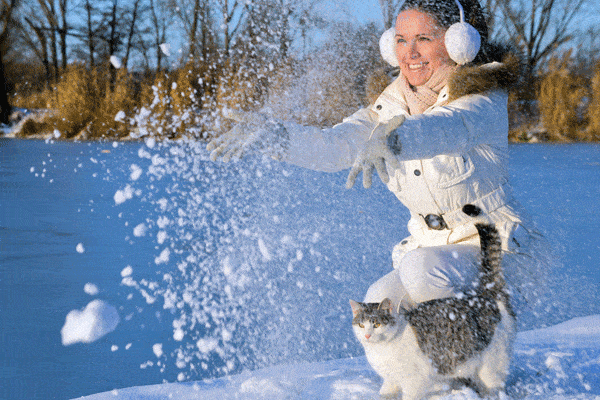 I'm sure that we all will be thankful when winter is finally over. I can't wait to get outside with my kitty family. Rusty (Gretsky) kitty can wait until next winter to work on his hockey skills!
How do your cats handle the snow? Share your stories in the comments.
Learn more about your cat with Catster:
Check out these other great Catster articles:
About Tim Link: All-American guy who loves to rock out to Queen while consuming pizza and Pinot Noir and prefers to associate with open-minded people who love all critters. Considers himself to be the literal voice for all animals. Author, writer, radio host, Reiki Master, Animal Communicator and consultant at Wagging Tales.