We have all known wonderful, endearing felines that have enhanced our lives and that, sadly, have succumbed to one of several deadly diseases that plague cats. Fortunately, ongoing research has made great strides to find cures for illnesses such as chronic kidney disease, feline infectious peritonitis (FIP), hypertrophic cardiomyopathy (HCM), diabetes, cancer and more. The festive season is a time for giving, and there are various cat charities, funds and research studies that can benefit from a financial gift in honor of a favorite feline. Here is just a snapshot of the work being done to improve the lives of cats.
The 9 Cat Charities That Support Important Feline Research Studies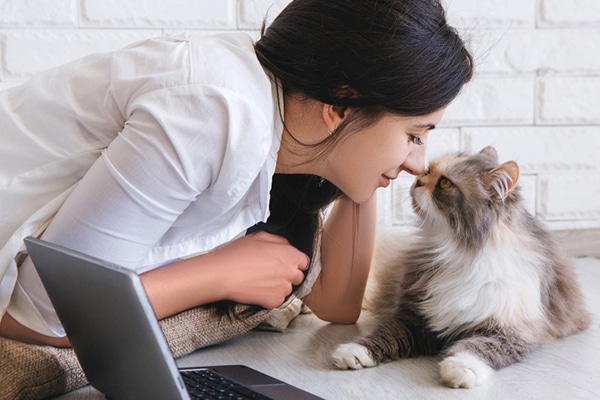 The Winn Feline Foundation is a public charity 501(c)(3) and the only nonprofit funding cat health studies worldwide. Winn oversees special funds such as the Ricky Fund that supports hypertrophic cardiomyopathy, the Bria Fund for feline infectious peritonitis, the Speckles Abdominal Cancer Campaign and other various breed-specific funds. According to WFF, donations sent to these funds are used for research done specifically in the study of these diseases.
The foundation also has what it calls general research project funding. "We look at the research proposals we receive and then we fund the best studies on a health issue we feel will have significant impact on cat health," explains Vicki Thayer, D.V.M., executive director of WFF. For more details, go to winnfelinefoundation.org.
This fund was started by feline behaviorist and media personality Steve Dale and named after his Devon Rex, Ricky, who passed away from heart disease.
Dale has helped raise in excess of $150,000. This has funded research to produce a simple and inexpensive cheek swab that can identify a gene defect causing HCM disease in Ragdoll or Maine Coon cats. "Some cats with this disease lead a normal life and ultimately succumb at a ripe old age of something unrelated," Dale explains. "But many cats with HCM die of the disease; it's the most common cause of sudden death in cats. HCM can be a hereditary illness. This is not a perfect test, but it has helped to lower incidents of HCM in those two breeds."
Speckles The Cat and The Magical Blarney Fish, by Emelyn Smith and illustrated by Elissa Marie, is a delightful children's book available on Amazon.com. It makes a great gift at any time — plus the proceeds go toward the Speckles Abdominal Cancer Campaign, which was started by an anonymous donor.
This fund, as well as the Lung Cancer Research Fund — established by cat lover Dorothy Chao in memory of her cat, Kitty Dots — also fall under the Winn Feline Foundation umbrella. While different cancers are not as prevalent in cats as in dogs, many practicing veterinarians believe lung cancer in cats may be more prevalent than currently diagnosed.
This fund is named after Bria, a 9-month old Birman kitten who died from FIP in April 2005. Bria's bereaved pet parents were Susan Gingrich, sister of Newt Gingrich (former Speaker of the U.S. House of Representatives), and her husband, James Shurskis, who established the fund to assist research studies into FIP.
Niels Pedersen, B.S., D.V.M., Ph.D., Professor Emeritus of Medicine & Epidemiology at the UC Davis School of Veterinary Medicine, has been studying FIP since 1964.
"The quest for a cure has been slow, but scientists around the world have built a solid base of knowledge of FIP that is finally yielding some exciting breakthroughs, especially in the area of anti-viral drug therapy," Dr. Pedersen says. "If ever there is a time to invest in FIP research, it is now."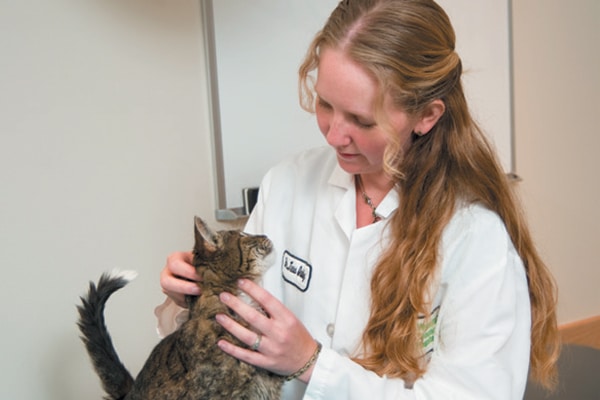 Initiated by cat lover and animal activist Tom Jackson, this fund is named after his cat, Buttons Duh Cat, who passed away from chronic kidney disease. The fund was initially linked to research being done by Jessica M. Quimby, D.V.M., Ph.D., DACVIM, at Colorado State University. While this university has ongoing research studies that Quimby still oversees, she is now Associate Professor, Department of Veterinary Clinical Sciences at Ohio State University Veterinary Medical Center, and the Buttons Fund now supports her research on this campus.
The goals include looking for new treatments and supportive care strategies to improve the lives of cats with CKD. And, of course, the ultimate cure to eradicate the disease altogether. Dr. Quimby led the groundbreaking research that demonstrated how the appetite stimulant and anti-nausea and anti-vomiting drug mirtazapine helps in improving appetite and stimulating weight gain in CKD cats.
Because it's difficult to administer pills to cats, the study focused on the effectiveness of applying the drug in the form of a transdermal gel applied to the skin of the ear. "The initial results showed the drug's effectiveness for treating a lack of appetite, and I consider this to be a real breakthrough!" Dr. Quimby says. Dr. Quimby and her researchers are continuing to study the drug and the dosage needed and currently have three different studies underway. More information at giveto.osu.edu/makeagift/?fund=315869.
Under the direction of Dr. Craig Webb at Colorado State University, Frankie's Fund is named for a Seal Point Siamese cat with chronic kidney disease whose owners sought treatment from the CSU Veterinary Teaching Hospital. Frankie's treatment pointed the way to innovative stem-cell therapies for cats with chronic kidney disease. People who want to support
the quest for this new treatment can find out more by visiting advancing.colostate.edu/frankiesfund.
The Morris Animal Foundation has funded 360 various feline studies since 1950. While the foundation doesn't have specific funds for different diseases, it recently funded seven new studies in cats, including one in feline diabetes. A clinical trial started in January 2017 and will continue for three years.
Researchers led by Chen Gilor, D.V.M., University of California, Davis, will investigate the effectiveness of a novel drug called exenatide to maintain and extend diabetic remission in cats. With initial insulin and dietary treatments, approximately 30 percent of diabetic cats enter a state of remission in which they no longer require daily insulin shots. Unfortunately, in most cats, remission only lasts a few months, and insulin injections are required again for disease control. Exenatide is a medication used to treat people with Type 2 diabetes.
9. Breed-Related Research With the Winn Feline Foundation
Some breeds have certain health issues. There is ongoing breed-specific research such as hypertrophic cardiomyopathy research in Persians and Norwegian Forest cats, plus amyloidosis (a bone marrow disorder) in Siamese cats. More specific information is available on the Winn Feline Foundation website.
---
Feline Diseases Defined
Hypertrophic cardiomyopathy is a heart disease in which the heart muscle becomes abnormally thickened. Symptoms include labored or rapid breathing, open-mouthed breathing and lethargy.
Feline infectious peritonitis is a fatal feline viral disease caused by a mutation of a virus called the feline coronavirus. Symptoms include fever that doesn't respond to antibiotics, anorexia, weight loss and lethargy. If the kidneys are affected, excessive thirst and urination, vomiting and weight loss are seen; jaundice is seen if the liver is affected. The eyes and  the neurologic system are frequently affected as well.
Chronic kidney disease causes severe damage to the kidneys. Currently there is no cure, with common symptoms like excessive drinking and urination, weight loss, lack of appetite and nausea.
Diabetes mellitus is a condition that occurs due to insulin deficiency within the body. Increased water consumption and urination are the two most common signs. Cats with a good appetite still lose weight.
Want to donate?
Because research is truly a work in progress, new studies are continually being funded. For cat lovers keen to get involved financially, there is a lot of useful information and details on how to donate to the specific funds and research studies featured on the Winn Foundation site as well as the Morris Animal Foundation website. If you have a personal link to a particular university that has a veterinary school, it's worth checking to see what they are working on as well — such as the ongoing work at Colorado State University, University of California Davis and Ohio State University.
Before donating money, thoroughly research the organization and/or fund. Ask questions like how your donation will be used and what the research hopes to accomplish. Check if your donation is tax deductible, and get a receipt, plus discuss with your tax professional or financial planner to get expert advice. Just a little extra time, and you'll be ready to spread the cheer! After all, giving the gift that gives back to all cats — what could be more purrfect?
Tell us: What cat charities do you support?
Thumbnail: Photography ©cyano66 | Thinkstock. 
Ziggy and Tory "work" as feline muses for Sandy Robins, an award-winning multimedia pet lifestyle expert, author and pet industry personality. They like to disrupt the workflow by playing fetch with wand toys and directing food operations in the kitchen. Learn more about Sandy at sandyrobinsonline.com.
Read more about doing good on Catster.com: