Feline vaccines are easily the most contentious subject in veterinary medicine. So we consulted with Catster vet Dr. Eric Barchas, DVM to find the simplest vaccination guide veterinarians can agree on.
According to Dr. Barchas, all cats – indoor and outdoor – should have the following vaccines every three to four weeks, beginning at six to eight weeks of age, and ending at 16 weeks: feline viral rhinotracheitis, calci and panleukopenia or FVRCP for short. These should be boostered when the cat is a year old and repeated every three years thereafter (or less, be sure to discuss this with your vet).
Your cat should also get a rabies shot at 16 weeks, one year and then every one to three years after as required by law and determined by vaccine type.
For outdoor cats, our vet recommends two feline leukemia vaccines separated by at least 14 days, administered between eight and 16 weeks. Booster at one year, and every three years thereafter (note: some leukemia vaccines must be boostered annually).
Please take note: rabies and leukemia vaccines have been occasionally linked to cancers in cats. The vaccines only valid for one year may be less likely to cause the cancers, but nobody knows if a cat who gets these annually is three times less likely to avoid cancer than those who get the vaccines every three years. Always talk to your vet about vaccine-associated sarcomas (cancers) before getting the vaccines.
Also, the following are not recommended by most experts: FIV vaccine (dubious efficacy, leads to false-positive FIV tests), ringworm vaccine, FIP (feline infectious peritonitis) vaccine, Bordetella vaccine, Giardia vaccine.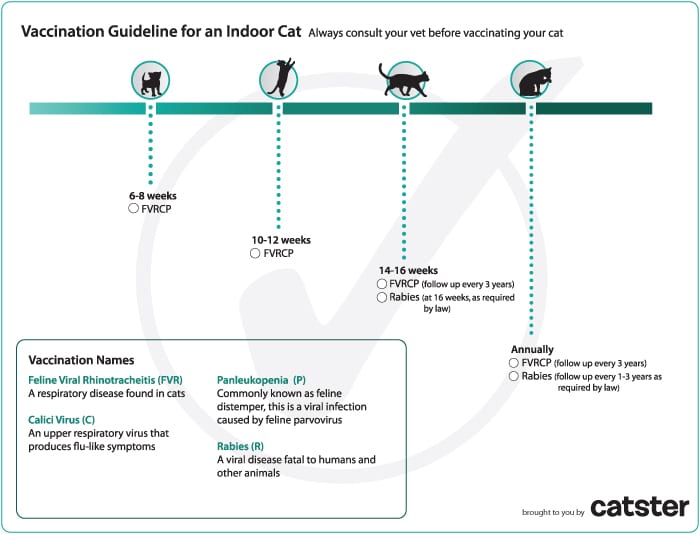 Click here to download a .PDF copy of our cat vaccination guide.