My boys think that I do not know what has happened, but the signs are glaring. I'll come home after an outing and find tufts of long black fur here and there throughout a room, and I know what has taken place. "Have you guys been picking on your sister again?" I ask them. They smile coyly and I give them all love, including their sister, Joan of Arc, who is usually keeping a cool distance.
The "pieces" of Joan, as I call them, are evidence of my cats, Forest and Jack Sparrow, reaching out to grab Joan's tookus as she walks by them. It takes one swipe of a claw and they can extract precise tidbits of her beautiful fluff. The boys do not hurt her, since all they can gather is fur on these playful swings. But I know that they have been picking on her. Now and then I'll find a trail of tufts scattered around the living room or across the bedroom floor and into my office.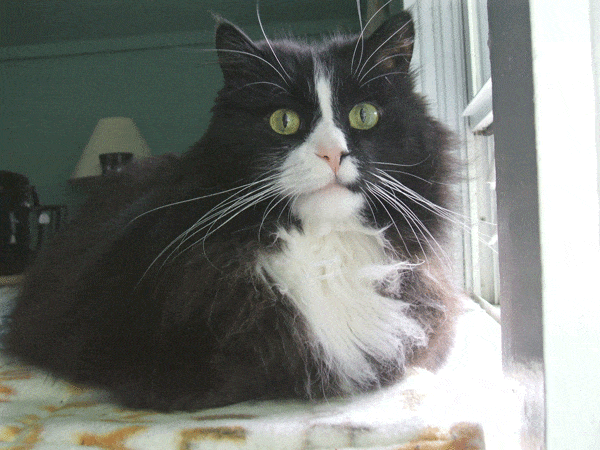 Joan is a beauty with long black and white fur in a tuxedo pattern and large green eyes. Her looks, however, can be deceiving. From this beautiful mound of fur comes a deep, guttural growl whenever my boys try to pass her closely. The sound is so intimidating that they — and my 60-pound dog, Trucker — keep a safe distance when gliding by her.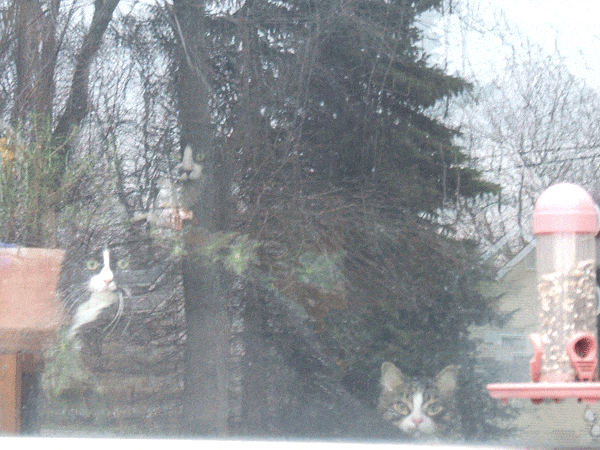 In an effort to strike fear into their hearts, she has been known to reach out with one paw and grab them just as they pass. I think this is why they retaliate with the same maneuver and leave me little pieces of Joan as evidence.
These telltale signs remind me of other instances where I have known by bits of evidence before me exactly what has happened and which pet has committed the crime.
My beloved cat, Desdemona, used to walk around the house and open cupboard and closet doors with her front paws. At first I thought a ghost was roaming through my house until I saw her one morning on a door-opening expedition. From that point forward I knew when I came home that if doors were open, Desi was to blame.
After a lengthy search for Joan one afternoon before heading to work, I found her sleeping in the back of my bedroom closet. I now know why I often find my closet door open halfway into the room. Joan seeks a special place behind a storage container, lying stretched out along the closet wall where it is warm, safe and quiet.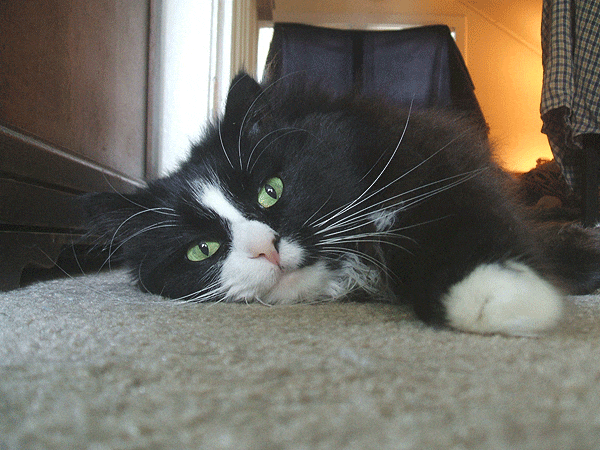 My mom has a litter of four black cats (Iris, Pokey, Blue and Tulip) who are now two years of age. The little black squirrels, as we call them, are into everything. Each has a unique habit we laugh about.
When my mom finds cotton swabs on the floor she knows that Iris and Pokey have been digging them out of trashcans. Pokey is also to blame if my mom finds the toilet paper roll unwound in the bathroom and paper scattered about the floor.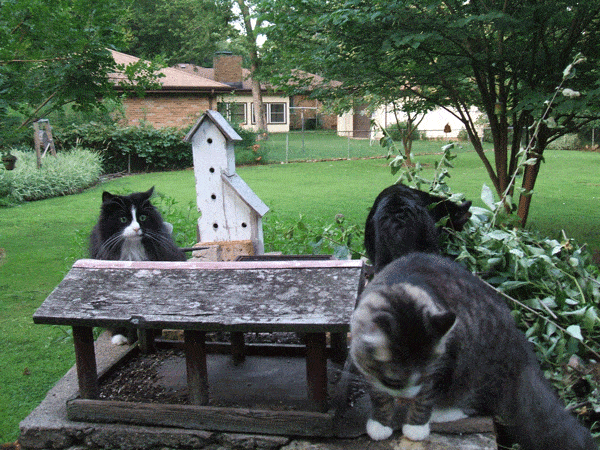 If my mom finds chicken bones tossed on the kitchen floor, she knows that the black-cat posse has been exploring the trashcan. Heaping mounds of clumping cat litter around the litter box is a calling card that Pokey has been "playing in the sandbox," as we call it, intentionally digging in the litter and then dashing off through the house. Lately my mom has found little pieces of cardboard around a box in her sewing room, a sign that the black cats have been pulling pieces of the box off with their teeth, trying to get inside.
And then there are Pokey and Iris, two sweet-lovers who inevitably find donuts or cakes and add decorative tongue and teeth patterns to the treats.
No matter what the signs and which pet is to blame, it always makes me smile. Their innocent faces, I believe, hide a little voice, laughing. I never scold them. We have a "talk" and I always say, "I love you."
Do you find evidence of your cat's misdeeds? Does it make you mad or does it make your heart melt? Let us know in the comments!
Learn more about your cat with Catster:
About Tracy Ahrens: A modern-day Tasha Tudor with a pen as an eleventh phalanx, Tracy is a magnet for small children and creatures, along with strange mishaps and writing errors in need of correcting. Her mind is akin to a 24-hour bustling liquor store and prone to late-night inspiration. She's most happy planting or pruning something, drinking tea, throwing a tomahawk, drawing or napping. Her obsessive compulsions include planting a peck on each of her pets' heads before leaving home and brushing/flossing her teeth before bed. Add her book, "Raising My Furry Children," to your collection.