A reader asks:
While trying to lure another cat into my yard with food (he's been abandoned and I got him a spot in the shelter), I discovered a tiny female. She is 7- to 10-month-old kitten, or could be full-grown, I can't tell. Light, 5 to 7 pounds. Spine easily felt and ribs, too. Her hips stick out, dirty feet, small cut. Doubtful of her stray status because she is so affectionate and purrs.
I would have kept her inside, but she either has kittens or is about to (nipples large and showing). How do you identify a stray with certainty? If she is a stray I will take her in.
There is no sure way to prove a cat has no owner. However, there are several ways to prove that there is an owner. Any person interested in adopting a cat under the sort of circumstances listed above should make an effort to find out whether the cat has a home.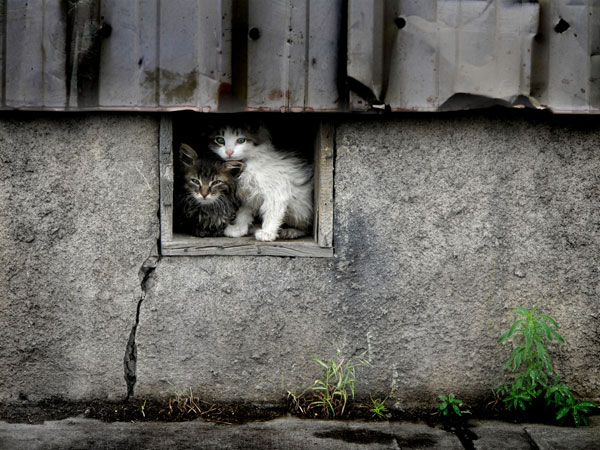 First, I agree that the cat was probably owned at some point. Cats who have never had human contact will not be affectionate at 7 to 10 months of age — they will be feral. Any person who has worked with feral cats knows that although they are still somewhat socializable, they do not generally purr and act affectionate when a stranger handles them.
Also, although the cat might have been owned at some point, and may in fact have an owner today, it does not sound like anyone (except for you) is taking care of her. She is underweight, dirty, injured, and pregnant. She definitely doesn't have a good owner, if she's owned.
If you're interested in adopting this cat, I recommend that you take her to a vet. Her age and health status can be more definitively assessed, and she can be scanned for a microchip and checked for tattoos or other features that might indicate someone is looking for her. If the results are negative (and, based upon my experiences, I'll bet they will be), then contact your animal control office to ask about local laws on ownership of stray animals.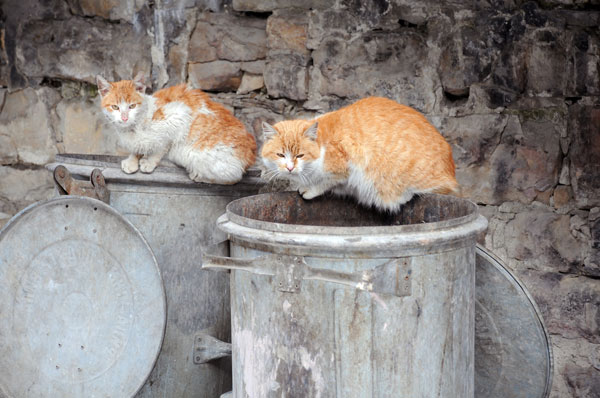 Many states stipulate that a person who has cared for a stray animal for one month officially becomes its owner after that time period. I believe that many states require would-be owners to make a bona fide effort to find the original owner. Such efforts include scanning for a microchip (and calling the chip maker if one is found), creating and posting "found cat" posters, and contacting animal care and control with the cat's information.
I have heard tales of people placing collars on stray cats with tags that say, "If you own this cat, please call me at XXX-XXXX." I don't like this idea. The cat in question is currently neglected and at-risk. I think she'll be better off indoors and under the care of a good person while ownership is investigated.
Got a question for Dr. Barchas? Ask our vet in the comments below and you might be featured in an upcoming column. (Note that if you have an emergency situation, please see your own vet immediately!)