Do you ever find yourself wondering why there is not a dedicated cat-centric news outlet? Ponder no more, as Breaking Cat News is here.
The brainchild of the illustrator Georgia Dunn, the comic strip presents a series of all-important geo-political events as reported on by a crack team of feline reporters. Anchored by the stately Lupin, intrepid field agents Elvis and Puck bring breaking updates on world-shattering events, like the presence of a new plant on the dining table, an errant bee caught in the bathroom, and the mysterious appearance of sunbeams.
Getting the — ahem — scoop on Breaking Cat News, I called up Georgia to talk about the nuances of her fine feline broadcast.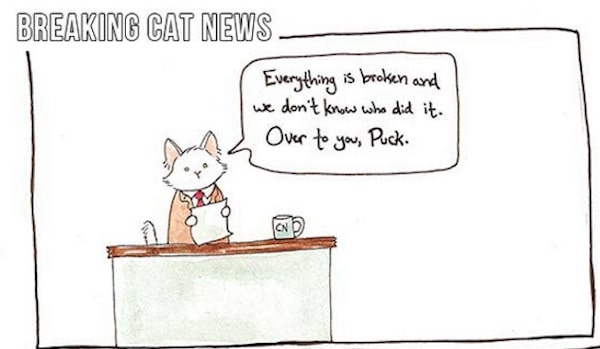 Catster: Where did the idea for Breaking Cat News come from?
Georgia Dunn: It came about when I saw Lupin, one of my cats, knock something over, and I decided to have him talking about what had just happened in what I thought his voice would sound like. It seemed a little like a news reporter's voice, and I ended up illustrating the scenario into what became the first comic strip. I posted it for friends just to see on Facebook and Twitter, and immediately some of my friends asked to see more of it. So Breaking Cat News picked up from there, really.
Is that first comic strip on the website?
Yes, it's actually the very first strip that I posted and it's still there. That one's more like a series of news stories versus one actual news story.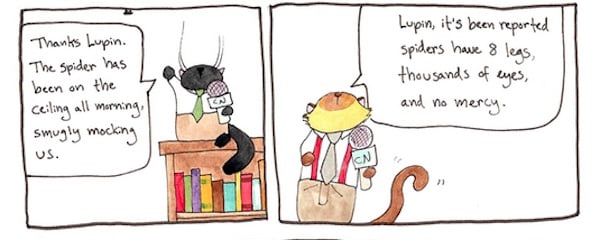 Why did you decide to make Lupin the news anchor?
Well, he's quite the cat! Lupin gets into a little more trouble than the other two. The real Lupin is actually deaf but he's incredibly curious and absolutely fearless — he'll sit in the shower with you while it's running; he's gotten into the dishwasher and the dryer before. So Lupin is the bravest and the one who is always investigating everything. When people come to our home, he's the one who's greeting them. He's super friendly and all about people.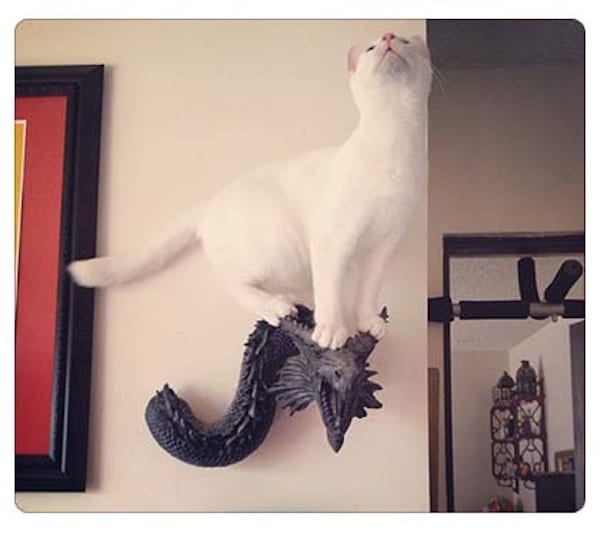 How did you decide on reporting roles for Puck and Elvis?
Puck is far more shy than Lupin, and Elvis is very accurately depicted as Elvis in the comic — he's really temperamental and he's not a fan of a lot of things.

Elvis also covers the weather report, right?
Yes, I want him to keep on the weather, and I also have plans for the weather report in the future to be much more about him reporting on birds — like how many birds are in the yard or whether a robin or a cardinal turns up in the yard.
What's Elvis's most feared weather report to give?
He's definitely not a fan of hail. We were living in Seattle where we got much more hail, but now we're living in New England he won't have to deal with that as much.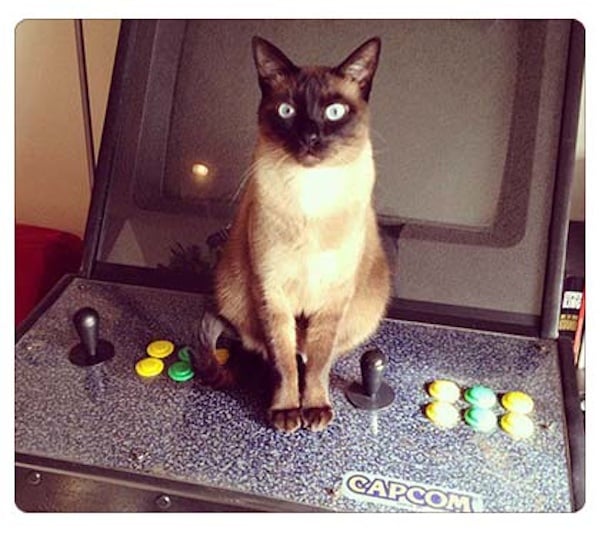 How does Elvis feel about global warming? For a cat it's definitely going to increase the chances of sunbeams …
Oh, yes, I think he'd be really excited for more and more sunbeams, but I also think he'd be incredibly outraged about the other side to global warming. Elvis is really for any kind of conspiracy theory and getting to the bottom of the truth, so he'd be really excited about the global warming debate and working out what it's all about.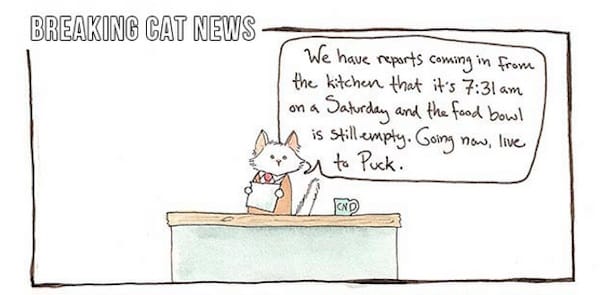 What makes for a good cat news story?
I try to keep the reports as universal as possible for cats. Each of our cats has their own individual quirks, and as I go along I do want to bring more of that personality in — for instance, Puck loves fabric and will go nuts at any kind of fabric you give him, but that's not possibly a universal cat story. I want anyone who has a cat to read it and relate to it.
For example, the one about bacon really took off. I think anyone who cooks bacon has her cat trying to be all over it! Actually, that bacon strip is based on an old, fat Siamese we had as a child who'd go really crazy over bacon.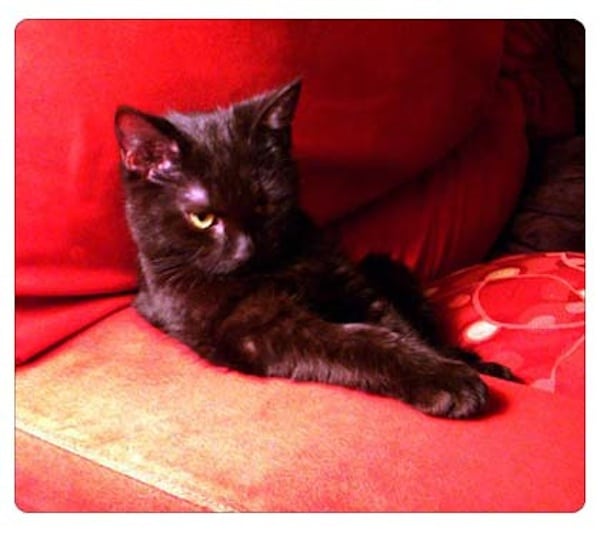 Do your cats get in the way when you're drawing the comic strips?
Constantly! It's as if they know. From the beginning to the end, they're there with the pens and the brushes. I will say all of them have become very good painter kitties. I do watercolor illustrations as my job, and they've all learned to leave the paintbrush alone and not chase it so much. The problem gets to be that once I've scanned the strips and I'm working on the laptop they're all over me.
Do you have any tips to solve the universal problem of keeping a cat off a laptop?
If another person is running interference with a toy on a string, that's the best preventative measure. They're just drawn to laptops for some reason!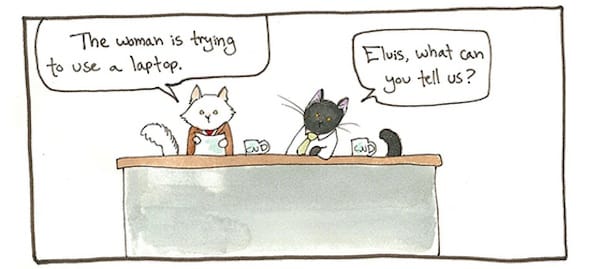 Do any of the cat reporters have plans to break out and go solo or perhaps report on less serious issues?
If any of them did it would be Elvis. I think he'd be really funny for a conspiracy theory show. I wanted to possibly do a fine-dining spinoff, like a gourmet critic's corner, which would be Puck's thing. But I think ultimately they'll just be segments on the site.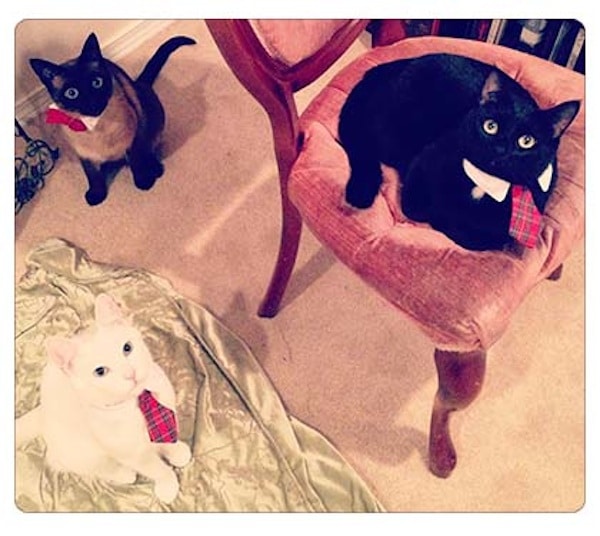 What would be the ultimate cat conspiracy theory for the Breaking Cat News team to investigate?
I think definitely something revolving around why the food is not constantly available, why the food is rationed, why the humans only do food at certain times of the day, and where the food is kept otherwise. Also, off the top of my head, I think other cat conspiracy theories would revolve around the mysterious red dot and exactly what the vacuum cleaner is.
Check out Breaking Cat News here.
Laugh with us:
About Phillip Mlynar: The self-appointed world's foremost expert on rappers' cats. When not penning posts on rap music, he can be found building DIY cat towers for his adopted domestic shorthair, Mimosa, and collecting Le Creuset cookware (in red). He has also invented cat sushi, but it's not quite what you think it is.