The author, Jane Weems, became famous in San Francisco for painting the Beatles Mural that adorned her family's Precita Avenue home in 1974.
My parents, Clarence and Claudia Weems — who actually started out as my foster parents, then adopted me when I was a child — had more than 130 foster kids pass through their home from 1960 to 1984. In those 24 years, we also had a vast array of cats, dogs, and even a parakeet named Rebel. Every stray animal in our San Francisco neighborhood somehow found its way to our doorstep, and we quickly gained a reputation as "the animal people." People would ring the doorbell to ask if we were interested in a stray cat or dog they had found. Our old photo albums have tons of pictures of just as many cats as kids.

During the early '60s, I remember the wife of a local barber walking her pet ocelot up and down Mission Street in a big beautiful rhinestone collar and leash. She looked like a glamorous movie star. And there was yet another lady who showed up at our door, asking if we might be interested in purchasing her pet ocelot, which she couldn't keep. My mom said no, despite my tearful objections. At one time, we had 11 foster kids living there and eight animals: our cats, dogs Apollo 13 and Shep, and a rat named Ederika, who belonged to one of our foster boys (he originally named her "Ed" after Ed Sullivan, when he thought she was a boy).
A lot of our cats started out as strays I carried home, constantly asking, "Can we keep it?" I was infamous for that. But they were also coming on their own, lured by the food left on our back porch for our own indoor-outdoor cats.
One was a smoky-gray feral male I named Pepe. He was very skittish and completely wild, and would only come in to eat a few bites then race out again. Other strays would usually start to purr or weave around my mom's feet as she opened their cans of delicious wet food, which she fed them all twice a day, but not Pepe. One day, he showed up with his tail broken and dangling in half, caked with dried blood. We tried to pick him up, but he would have none of it. His poor tail really started to smell bad, and the best my mom could do was to quickly treat it with a few drops of peroxide while he was eating, which would just make him run away. He came in almost every day, getting the unwanted medicine and running back out, for a couple of weeks.
One day he showed up and his broken tail was gone! It had fallen off somewhere in the urban jungle, leaving him with a really cute-looking stub. The icky infection and smell were also gone. He seemed quite content as he ate his supper, enjoying every bite of his food, until our other cat, Tigress, came meowing down the hall. She was carrying a fuzzy gray thing in her mouth, which we thought at first was a rat or mouse. She marched over to Pepe and dropped it right next to his food dish — it was poor Pepe's tail! Incensed, he hissed at her, backing away and running out the window. She looked bewildered at his reaction, as she seemed quite proud of having found his lost tail for him!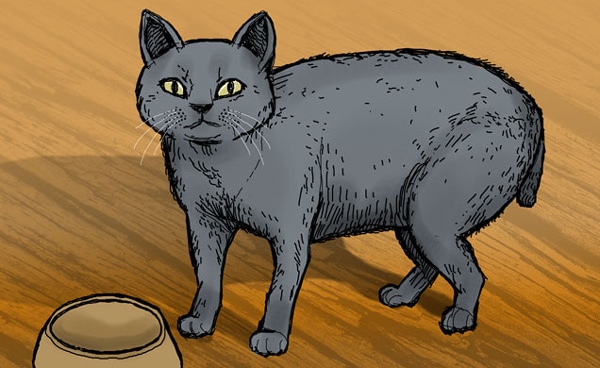 A week or two after that, Pepe was in the kitchen when I got a spanking from my mom. As I was crying, he suddenly jumped up onto my lap! He began to purr very loudly, rubbing his old scarred-up face next to mine, seemingly trying to comfort me and dry my tears. I was so shocked that I stopped crying and started to pet him as he purred louder and louder, enjoying the attention.
One of the other kids had crept into the living room and told my mom to come see what was going on. As she looked, a change came over Pepe. He got very angry, fuzzing up and growling loudly, hissing and flashing his mad old eyes at her, trying to protect me! It made everyone laugh, and after that he became my hero, and would only let me pet him and feed him. He also began to sleep on the foot of my bed, watching over me. He was a great old guy.
When I grew up and lived in my own flat downstairs, I was able to get some cats of my own. My white Siamese, Cotton, had two babies, Miss Pearl and Lala. They were, like all of our cats, indoor/outdoor cats and enjoyed hunting for treasures around our neighborhood, presenting them to us with much pomp and circumstance. Lala was the most aggressive huntress, bringing in mostly large peach-tree or magnolia leaves and leaving them on the living room floor for us to find. It was cute and much nicer than discovering a pitiful dead thing there, like many cats before her had done.
One morning we were surprised to discover a tiny baby sock in her "treasure box" storage area. Soon after, she brought in baby toys, a shoe, and even a teeny plastic purse! But the really cool thing she brought was a pair of black stretch baby tights printed with a tiny skeleton, which she really seemed to be proud of.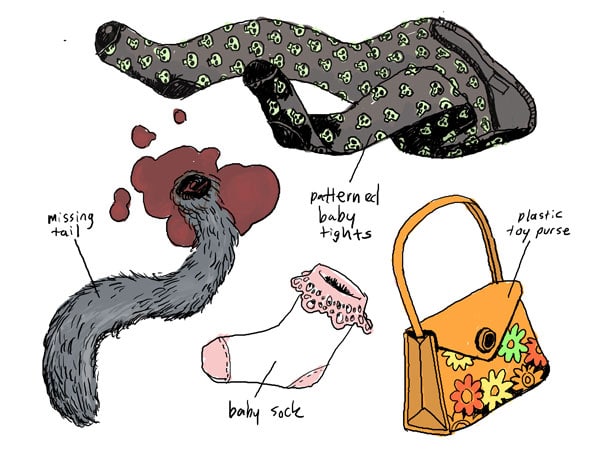 We couldn't figure out where all these things were coming from, until a few months later when we were talking to our neighbors from down the street. When I started telling them about Lala and her treasure trove, they realized that those things were from their back laundry room. Lala had been stealing their cool baby clothes and toys!
We still have Lala and Pearl, but they don't really hunt much here anymore. Thank goodness, because there are loads of little critters around here in the boonies of Lake County that we enjoy seeing, alive and well, every day. We have huge wild turkeys, frogs, bats, snakes, possums, skunks, and probably a lot more critters than we'll ever see or know about, but Lala just cuddles on my bed at night and sleeps there, dreaming of carefree days, content to be my purring pillow pet.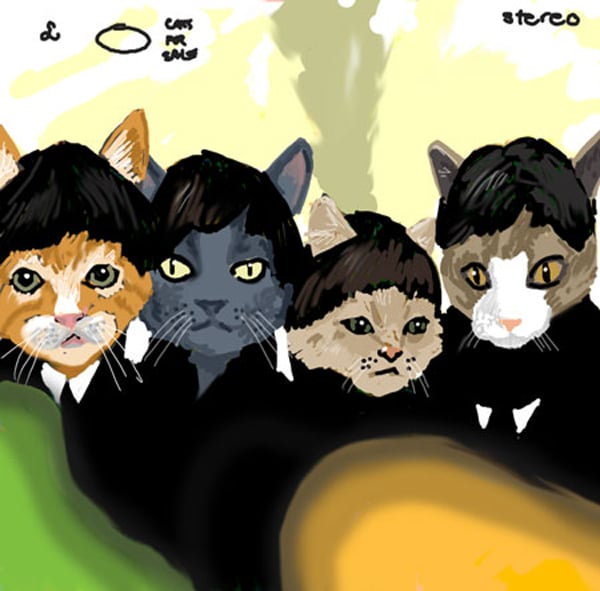 All illustrations by the talented Nigel Sussman.
Got a Cathouse Confessional to share?
We're looking for purrsonal stories from our readers about life with their cats. E-mail [email protected], and you might become a published Catster Magazine author!