Let's shine a spotlight on a frisky Bengal kitty who likes to think of herself as a "home leopard." Her name is Angel, and she's proud to be a "citizen of the world" and an Ed Sheeran superfan.
Without further ado, here's your introduction to Angel's corner of the internet.
A Bengal beginning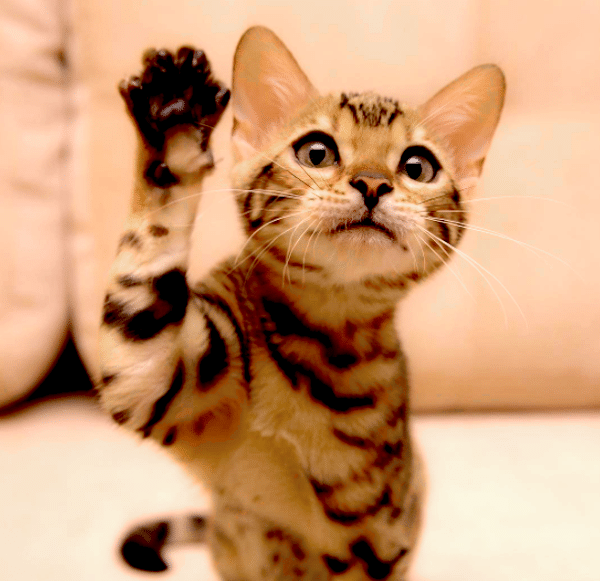 Angel's human, Maria, had always wanted a Bengal since her university days. When she saw a photo of Angel with her paw up, she says "my heart melted." Angel officially entered her forever home on Dec 1, 2016 — a day that just so also happens to be her human's birthday.
Angelic at heart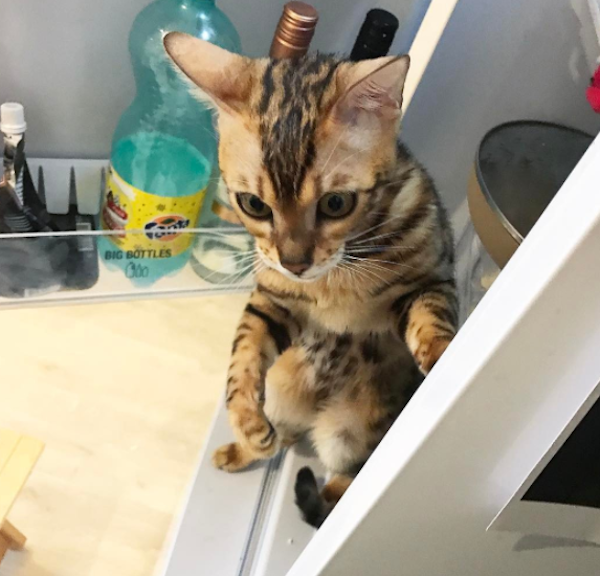 When it comes to Angel's personality, Maria says she's literally like an angel: "She's very sweet and affectionate. Angel loves cuddles and loves kisses. She follows me everywhere, and we do everything together: cooking, cleaning, showering."
Cuddle bunny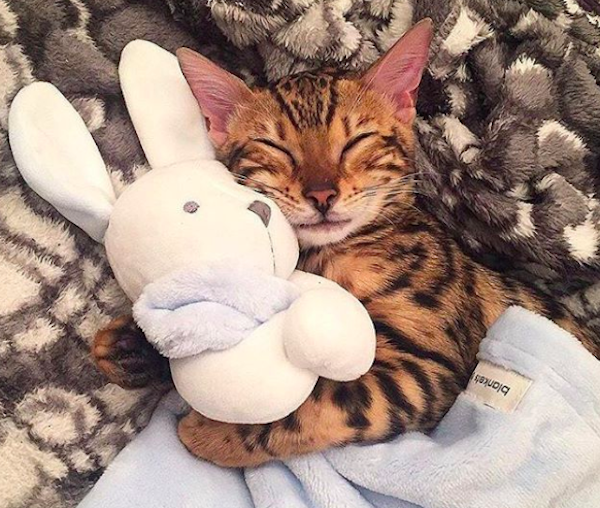 About that cuddling: Angel has her own cuddle buddy, who happens to be a stuffed toy rabbit. Pictures of the two of them all snuggled up have clocked up many likes on Instagram.
Official home leopard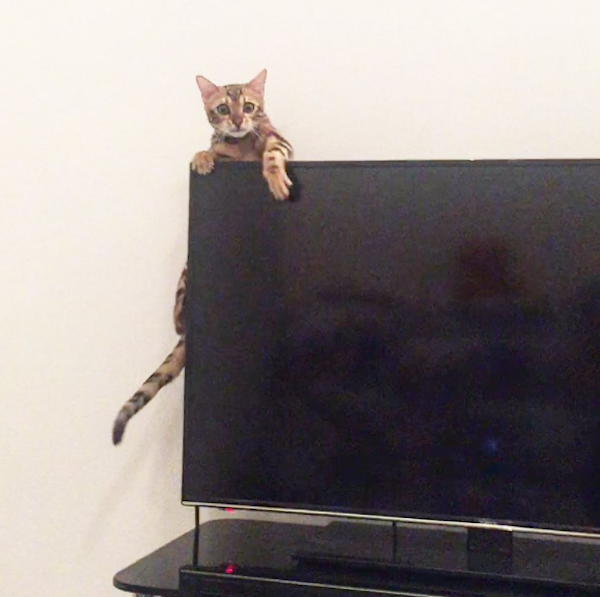 Angel likes to bill herself as a "home leopard." This comes about because, according to Maria, "She has the habits of a wild Asian leopard that she was bred from."
This means that Angel is one energetic kitty: "It seems like she has a little engine inside — she can run all over the house for hours without stopping, and she loves to jump and climb high.
"That's why for a Bengal it's better to get a couple of cat trees — the higher the better, if you don't want them to climb over everything at home like the walls or TVs."
Angel's water world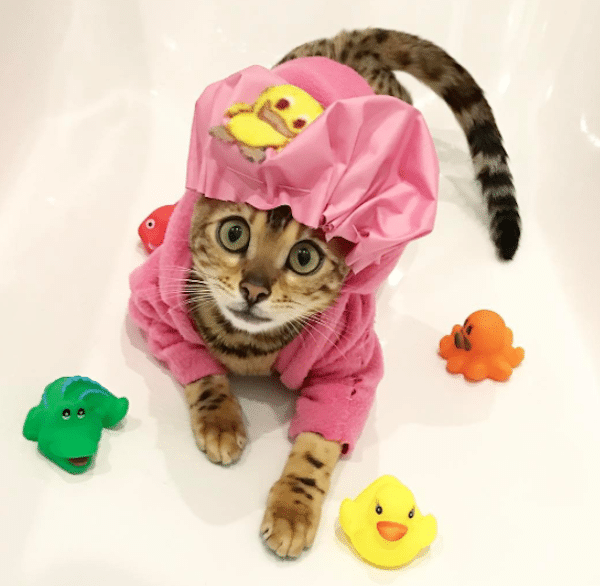 As Maria hinted earlier, Angel is a cat who doesn't mind splashing around in water. "She can sit for hours in the bathroom and play with water," Maria says, adding that Angel only ever takes her drinks from the tap.
Meet the Ed Sheeran superfan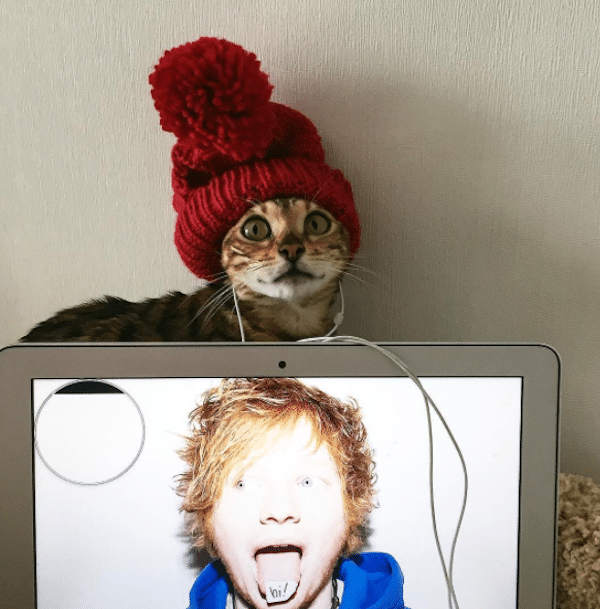 If you check out Angel's Instagram page, you'll notice that she namechecks the ginger-cropped English singer-songwriter Ed Sheeran in her bio. It turns out Angel's a huge fan of his work.
"I feel like she is connected with him emotionally," says Maria. "When his songs are playing, she becomes very calm and relaxed and stops running."
Maria adds, "We always compare Angel to Ed Sheeran's music, because his music is very inspiring and it touches peoples' hearts. It always helps you to feel better when you are sad — just like Angel. You come home and hug her and all your problems go away."
Angel's theme song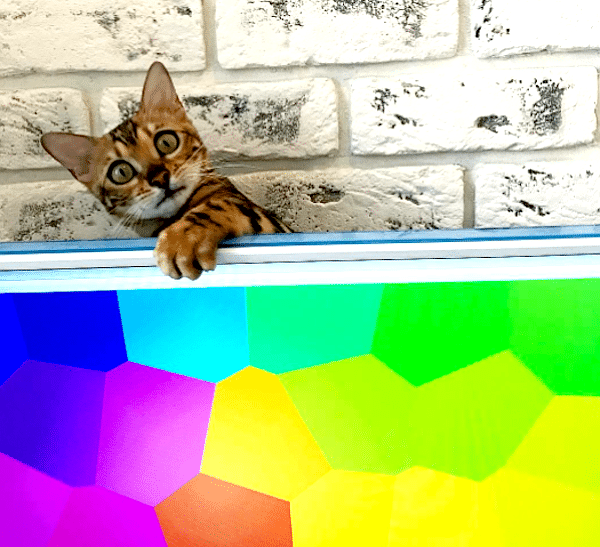 Now to the obvious follow-up question: What Ed Sheeran song would Angel like to pick as her personal theme song?
The answer is "I See Fire." Over to Maria to explain why:
"It's not only one of her favorite songs but it's also because of the song facts. This song plays during the end credits of the Hobbit movie The Desolation of Smaug. Ed Sheeran watched the film, wrote the song, and recorded most of it in the same day.
"Also, Ed Sheeran choose to play violin himself via overdubbing, and he'd never played the violin before. Angel is clever and a quick learner too. She is sure that one day she will catch her luck and something very interesting and exciting will happen to her.
"Who knows, maybe she will meet Ed one day…"