Holiday photo greeting cards allow you to show off the loved ones in your life. But what if your humans shy away from the camera? Or perhaps only feline family members fill your home. Not to worry: Plenty of holiday photo cards feature a cat-centric theme.
Here are five of our favorite photo cards — some funny, others simply punny.
Minted offers some of the most clever pet-centric holiday photo cards available, including this one featuring a yarn font. Don't let the abundance of dog images in examples deter you from using your cat on a particular card, as many work for both species.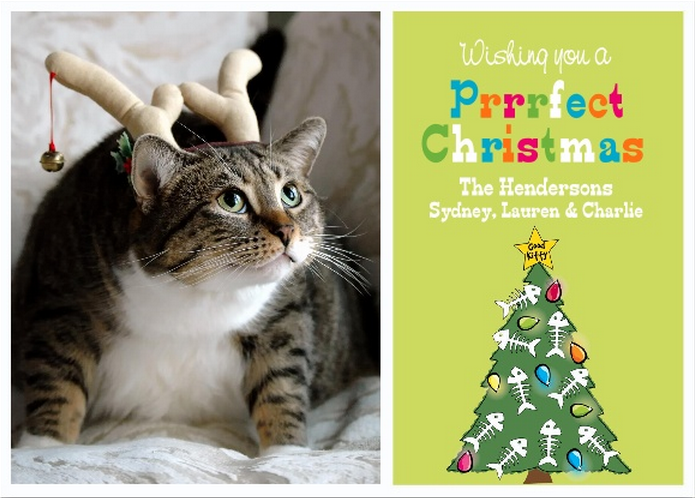 Paperstyle also has additional pet-centric photo cards within its overall holiday category. Search by "cat Christmas" to narrow your options.
Simplytoimpress.com offers other pet-centric holiday photo cards as well, including multiple variations on this Meowy Christmas theme.
Tiny Prints definitely favors dogs in its pet-centric offerings, but you can easily add three cats to this fun photo card.
Another favorite from Minted, this card can feature two cats or reflect a two-species household.
All of the above retailers have human-centric photo cards specific to Hanukkah, too. Any could easily star your feline family members.
Tips for creating and ordering holiday photo cards online:
Gather a few favorite photos of your cat or cats, and choose cards that complement the images. If you lack design skills, opt for a simple layout such as the Santa's Little Helpers card, which simply requires headshots of your cats.
Only use high-quality photos with the minimum resolution recommended by the card company. Also, reject photos with blur or red eye.
Get started ASAP. Factor in delivery time of the cards, as well as sending time to the recipients. Also, pad the timeline for procrastination on your part.
Do your cats star in your holiday photo cards? If so, please share them in the comments! We'd all love to see them.