When you buy through links on our site, we may earn an affiliate commission.
If there's been a silver lining to the last year in a pandemic, it's that we've gotten loads of cat content. There was the Texas attorney who left his cat filter on during virtual court and our own cats who have interrupted important meets with our bosses.
As life (hopefully) starts inching back to normal in the months ahead, we may have fewer of these moments. But they may not be going away completely. Some employers may continue to allow more remote work after seeing how productive their teams were from their home offices. If your employer has adapted this mindset, you may want to consider making your home office a cat-friendly workspace.
"It's important to consider how your cats are reacting to the new reality," says Mario Arbore, an architect that makes custom cat furniture for Square Paws.
Mario shares ways you can make your home office fit for a cat.
Take Kitty's cues to make your office more cat-friendly
We'd like to think we're the bosses of our cats. But deep down, we know it's the other way around. We're their personal assistants. Some cats are also very picky and opinionated bosses. Earn high marks from them by observing what makes them happy.
"Different cats like different things," Mario says. "Certain cats like to hide away. Other cats want to be right by your side."
If your cat is a hider, consider leaving a shelf on a bookcase or a cubby empty. Your cat can climb into it and "hide" from you while still chilling in your office. You can also buy a cat cave. Or, since we're getting more items delivered these days, use some cardboard boxes to create a fort.
Some cats are cuddlier. A cat mat, blanket or comfy bed by your feet may help them feel secure and loved. Best Friends by Sheri makes a bed perfect for cuddlers ($31.99, Chewy).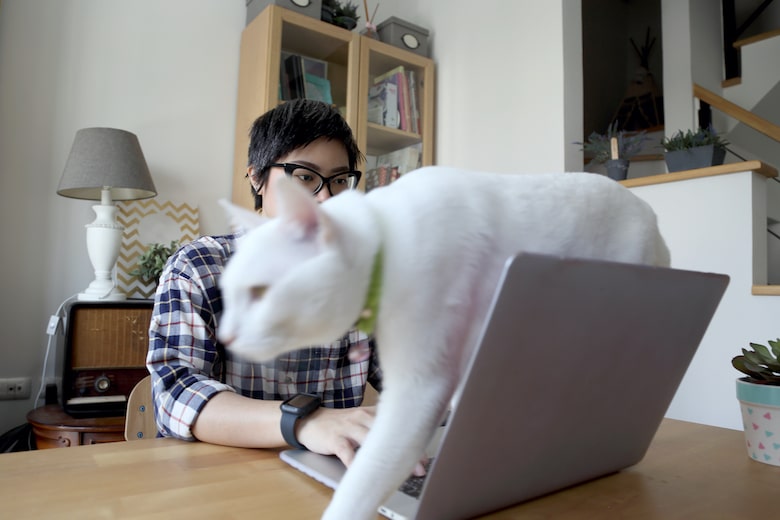 Protect your keyboard
Often, cats like to climb on our keyboards. Unfortunately, they're not well-versed in spelling or grammar. Prevent typos on important documents by investing in an acrylic keyboard protector. You can also find distractions to help re-direct Kitty's attention.
"Have places for them to have activities, like wand toys, a scratcher or a catnip mouse," Mario suggests.
Frisco's Fabric Teasers are popular ($3.98, Chewy), as are Petlinks' catnip mice ($5.91, Chewy). You can find some scratchers that actually mimic a keyboard and computer.
Invest in some cat furniture
Over the last year, you may have equipped your home workspace with a more comfortable chair and a new desk. Consider doing something similar to make your home office more cat-friendly.
"Make it a place where they can take some ownership of the space for themselves," Mario says.
Having items like a cat tower or tree gives them space to climb and keeps them off your chair, desk and keyboard. If your office has a window, consider putting a perch in the window, like this one from K&H Pet Products ($24.95, Chewy).
"Cats love to soak up the sun," Mario says.
Featured Image: Drazen_/Getty Images
Read Next: Is Your Cat Bored?