Sometimes there's a solid kernel of truth at the heart of stereotypes — like Japan's obsession with cats. In this case, the infatuation goes deeper than that lovable Bobtail with the pink bow you all know as Hello Kitty. Historically, the love affair began when cats were brought over on ships from China to protect revered Buddhist scriptures from sea-faring vermin as the religion was introduced to the country. Since those days in the sixth century, the role of cats has gone on to electrify Japanese pop culture.
Top 6 Cats In Japanese Culture
1. Maneki Neko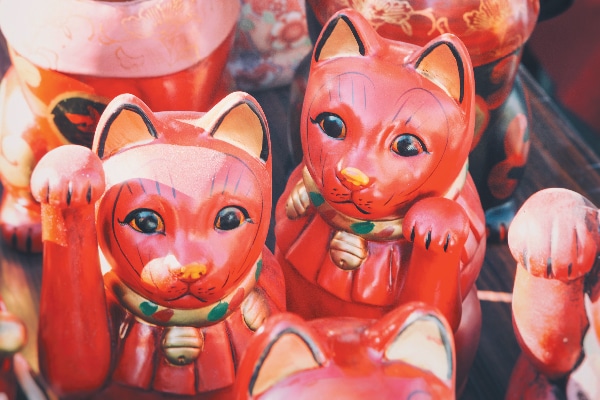 Let's start with the ubiquitous Maneki Neko, those feline figurines with raised paws that are said to bring good luck to shops and businesses. Originally appearing on the scene in the 1800s, the Maneki Neko (which roughly translates as "beckoning cat") has become part of Japanese folklore.
One of the most popular origin yarns involves a down-on-his-luck storekeeper who, despite teetering on going out of business, takes in a hungry stray cat. After satisfying his belly, the cat posts up outside the business and beckons customers to come in and shop (hence the idea of the moving paw).
These days, the role of the Maneki Neko has been broadened to bestow good luck on all who welcome one into their home or study area; and it's said that the Calico Maneki Neko is the luckiest figurine of all.
---
2. Hello Kitty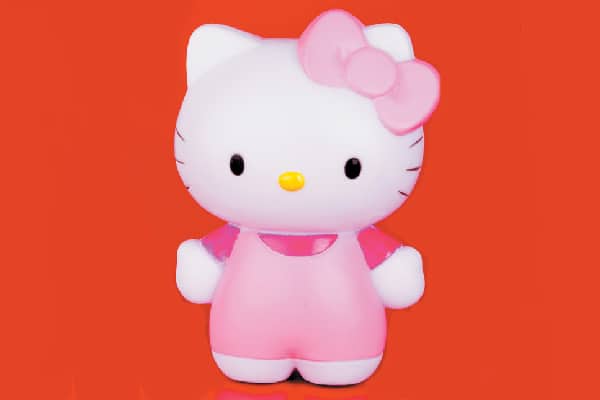 The Maneki Neko is a common sight in Asian restaurants and businesses across the world, but it cannot hope to live up to the popularity of the most famous Japanese cat of all. Yep, we're talking about Hello Kitty.
Formally introduced to the world in 1974 by the Sanrio company, the kawaii-styled Kitty-chan is a white Bobtail cat who sports a pink bow in her hair. (Chan is an honorific added to the end of the names of youthful people ­— or, in this case, cats.)
At first, Hello Kitty was marketed to young girls, but she's now become a global pop culture heroine whose various product lines and endorsements bring in so many billions of dollars that perhaps only Oprah can compete. Super fans can hop a Hello Kitty jet, staffed by stewards dressed as Kitty-chan, and embark on an escapade to one of her vibrant theme parks. Just don't stare at Hello Kitty too much or you might notice the disturbing truth that she does not have a mouth.
---
3. Doraemon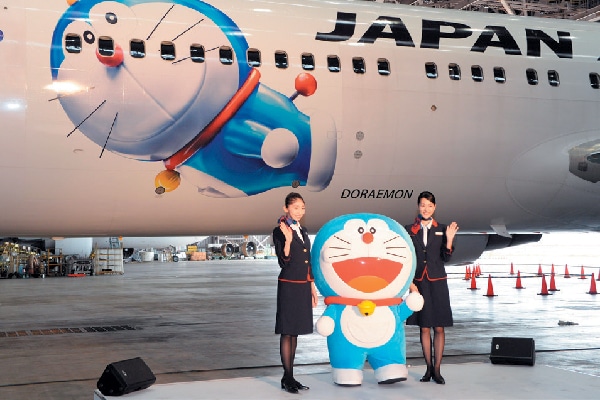 Building on the popularity of cartoon cats, we enter the kooky world of Doraemon. A big, goofy, robotic blue-and-white kitty, Doraemon paid his dues as the star of a series of manga comic books that debuted in 1969. His adventures involve traveling back through time to help Nobita Nobi, a kid struggling through school and being targeted by bullies.
Stepping up for battle, Doraemon is aided by an ability to dip into his special 4D pocket and conjure up magical gadgets like a headgear helicopter, a dress-up camera and even a slice of bread with memory-boosting powers. Just like Hello Kitty, Doraemon has gotten into the merchandise market, and these days is as likely to be spotted on key chains, lunch boxes and sneakers as well as in the pages of a manga.
---
4. Hayao Miyazaki's Studio Ghibli Animation House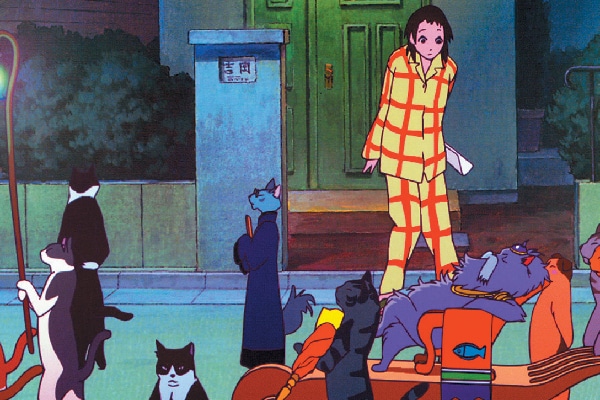 Digging deeper into the cartoon cat domain, we come to the secret feline history of Hayao Miyazaki's critically acclaimed Studio Ghibli animation house. Known for blockbuster mainstream successes like Princess Mononoke and My Neighbor Totoro, someone at the company is also a devoted member of the kitty club: The whimsical witch story Kiki's Delivery Service co-stars a sarcastic black cat named Jiji, and over the years the studio has produced a series of beautiful line-drawn animated commercials for various brands, one of which seems to involve a mischievous small black cat stealing a fish from a larger white feline who also happens to have a tuxedo kitty balanced on her head.
Going full-on feline, in 2002 Studio Ghibli released The Cat Returns, a flick that stars a girl named Haru who has the dreamy ability to speak to cats. She ends up marrying Lune, the prince of the Cat Kingdom, and embarks on adventures and shenanigans in his furball realm.
---
5. Cat Cafes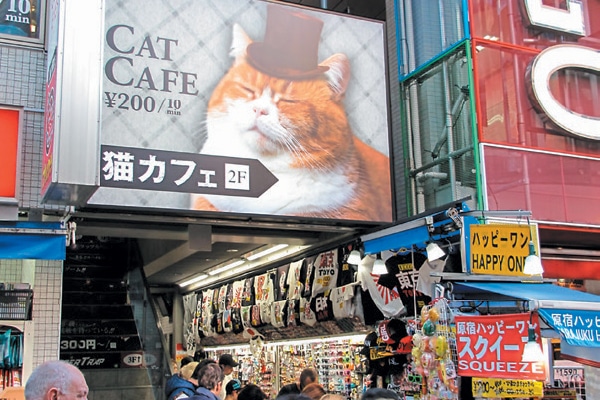 Back in the bricks-and-mortar world, Japan has become a beacon of the cat cafe universe. Sure, technically the concept might have been invented in nearby Taiwan (with 1998's Cat Flower Garden), but it's Japan that has popularized the setup of packing a room full of cats and spiking it with coffee for humans.
Cat's Time (Neko No Jikan) opened in Osaka in 2004 and, at a modest count, the country claims over 150 similar ventures. What's the reason for the popularity? Well, the densely packed topography of many areas of Japan are said to be a factor, with a clowder of cat fans residing in apartments that are unfortunately too small to comfortably house a cat.
---
6. Feline-Inspired Fashions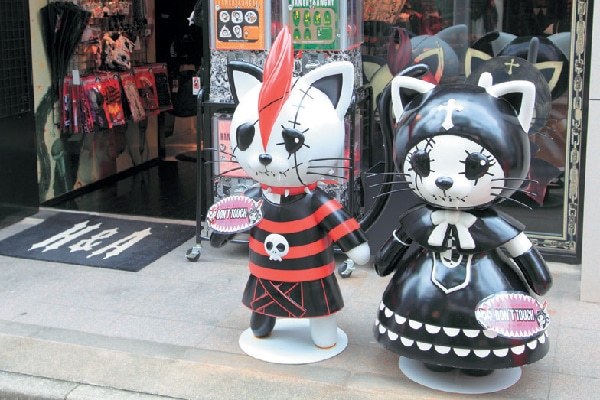 Thankfully, Japanese feline fanciers cooped up in dinky apartments can still enjoy the cat-centric mash-up of HANGRY & ANGRY and h.NAOTO. If none of those names ring a bell, let me explain: HANGRY & ANGRY is a vivacious J-pop duo whose members graduated from the ASAYAN TV talent show after being handpicked to front up a line of harajuku clothing crafted by the designer Naoto Hirooka (aka H.NAOTO), whose fashions bear strong gothic and punk influences.
Oh, and cats. Lots of cats. Especially, lots of black-and-white cats featuring Halloween-style stitches, scars and crosses, plus, in HANGRY's case, a flame-red mohawk and, apparently, a nuclear bomb hidden in her eye patch. Bless us with a HANGRY & ANGRY Maneki Neko and we'd be able to reach complete Japanese cat perfection.
Read more cat news on Catster.com:
---
Featured Image Credit: Photography ©Gado Images | Alamy Stock Photo.