I've run across a lot of pet-themed jewelry but don't buy a lot of it, as I prefer my jewelry to have a kind of funky, inspired look. But I honestly loved at first look both the Purrfect Cat Ring and the Druzy Cat Stud earrings by The Purrfect Accessory, created by artist and cat lover Alissa Wrenn Smith.
The Story Behind The Purrfect Accessory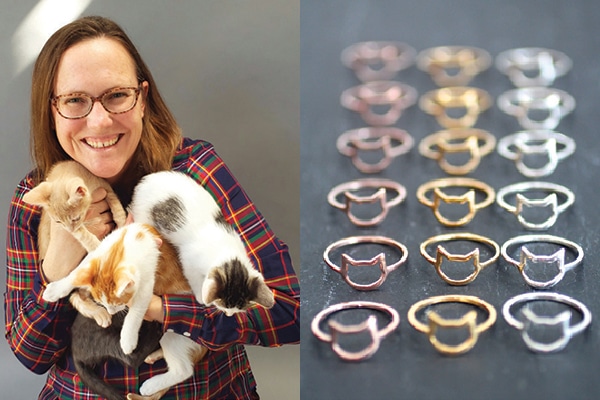 Alissa has created jewelry for about 10 years. "Starting The Purrfect Accessory was a complete spur-of-the-moment decision to combine my passion for animals and jewelry," she explains. "I wanted to make elegant, timeless and minimalist jewelry you can be proud to wear every day to represent the animals you love. This new venture was also a way that I could give back to rescues all over the country with 15 percent of the profits every month."
Alissa's Work With Rescue Kitties
And Alissa knows all about rescues. She has four indoor and four outdoor feral cats, plus foster cats. "In May of 2018, my good friend Jenifer Hurt and I started our own small rescue called Wrenn Rescues Inc. We are a group of about five to seven fosters that work together to save cats, kittens, dogs and any other small animals needing help, nurse them to health and find them loving forever homes." Alissa says that this new venture has been a wonderful journey so far.
What's Next for The Purrfect Accessory
As for what's up next, Alissa continues to develop new cat and dog creations and is expanding the brand with horse, bunny, giraffe and other designs. "It is so incredibly exciting to see my visions come to life," she says, "and I can't wait to see what the future holds for The Purrfect Accessory!"
Find out more about Wrenn Rescues at wrennrescues.com or @wrennrescues. Check out The Purrfect Accessory at shoppurrfect.com or on social @thepurrfectaccessory.
Editor's note: This article originally appeared in Catster magazine. Have you seen the new Catster print magazine in stores? Or in the waiting area of your vet's office? Click here to subscribe to Catster and get the bimonthly magazine delivered to your home. 
Read more cat news on Catster.com: