A dapper long-haired black-and-white cat has thrown his favorite toy (in lieu of a hat) into Halifax's mayoral race in Nova Scotia.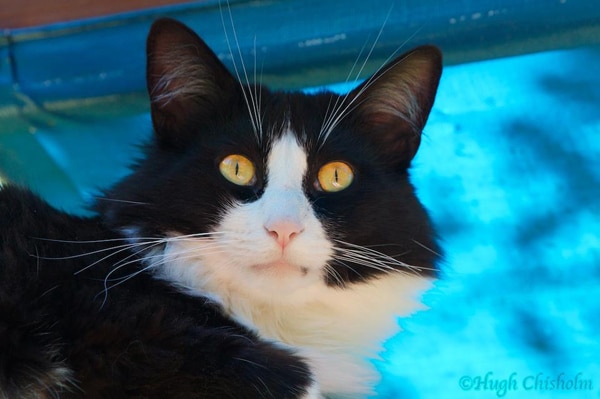 Stan was born to feral parents and now rules the home of veterinarians Hugh and Cathy Chisholm. He is the official representative of the Tuxedo Party, whose goal is to ensure the welfare of all cats in the Halifax Metro Region (referred to by locals as HRM), whether domestic or feral, "because neglect isn't working."
Although Stan doesn't have any super PACs to fund his campaign, his 3,463-and-counting Facebook fans have been spreading his message with evangelical fervor.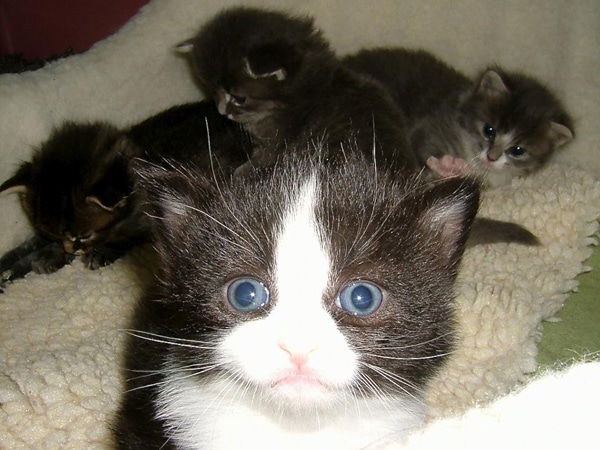 Even the human candidates are getting worried about the cat's popularity. "I'm just glad I'm not running against Tuxedo Stan. He is everywhere these days," tweeted candidate Waye Mason.
From the Tuxedo Party Facebook page:
The reason I got into politics was to convince Halifax Council that we need a program to deal with the cat problem in our municipality. My brothers and sisters are starving, freezing to death in winter, and reproducing at an alarming rate. We need a program to address these problems. We need a low cost spay and neuter clinic. We need a comprehensive Trap-Neuter-Return and Care program. We need a sanctuary for homeless strays to live out their in comfort. WE NEED A MAYOR WHO CARES … BECAUSE NEGLECT ISN'T WORKING!!! Vote Tuxedo Stan.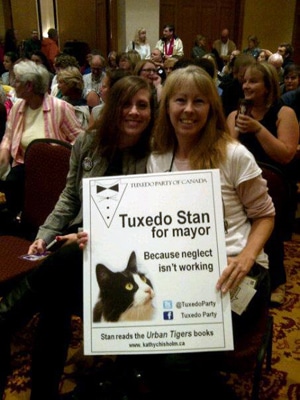 Stan was originally invited to participate in the September 19 mayoral candidates' debate, but on the 18th, his campaign staff learned that his invitation was withdrawn — maybe they didn't want a cat to distract people from unimportant issues like taxes and employment — so the Tuxedo Party drummed up a flash mob of supporters.
Stan's campaign is fun and fresh, but his lighthearted campaign has a serious message: City officials need to create a reasonable and workable plan for managing Halifax's burgeoning homeless cat population.
"I feel very fortunate to live in Catopia. I've never known hunger, cold, or abuse. I sleep in a warm, cozy bed every night. I get to play in a safe fenced yard every day," Stan wrote on the Tuxedo Party's Facebook page. "Unfortunately, there are cats all over the world who aren't so lucky. You can help by donating money or time to a local rescue group. For those of you who do — a big Tuxedo Stan THANK MEOW!"
Linda Felix runs the city's Spay Day initiative, which helps low-income families spay and neuter their cats, and has joined the Chisholms and others to spread the message. "Our plan is to make the need for a city-sponsored spay-and-neuter program into a big election issue," Felix said, "so everyone who gets elected knows that this is high up on the agenda of things to be done."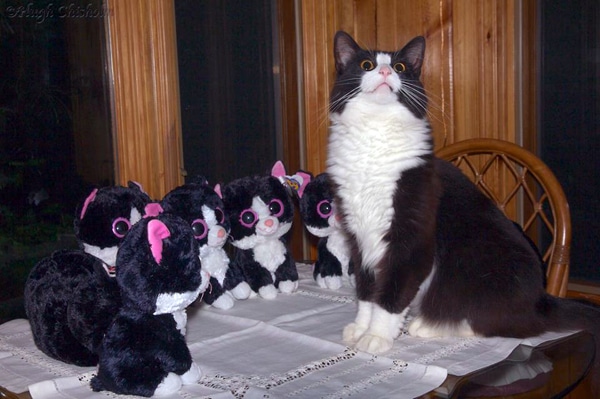 An attempt by the Halifax Regional Council to create a cat-licensing program led to jokes and jeers, and the councilors naturally buried the issue in the litter box of dead ideas. But like a hungry mouse in search of cheese, the cat management issue is showing itself again, thanks to Stan's campaign.
Stan has made news all around the world: Even Sky News Arabia picked up the story. Branches of the Tuxedo Party have sprung up in Texas and the Netherlands. Maybe the cat's worldwide fame will convince the council that it really is time to engage in a humane cat-management campaign that includes low-cost spay/neuter services and Trap-Neuter-Return for feral cat colonies.
Well, Stan, if I lived in Halifax, you'd have my vote!
Sources: Toronto Sun and The Chronicle-Herald
Images from the Tuxedo Party Facebook page