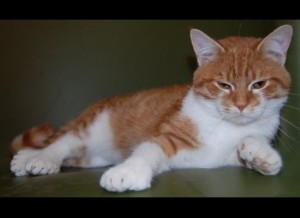 An animal rescue located in a shopping mall in Milwaukee, Wis., is getting the boot at the end of the year because the mall's property management company wants to "make room" for retail stores.
All is not lost, though. Last month, the Milwaukee Animal Rescue Center (MARC) was given an opportunity to buy a piece of property at a location near the mall. That space would allow them to rescue more death-row animals and house them in a cage-free environment until they're adopted. Unfortunately, if they don't raise the money for the $40,000 down payment by Nov. 15, they'll be out of luck.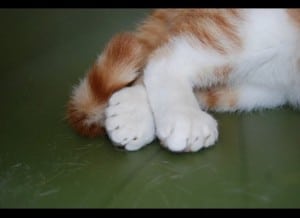 But Daniel, a massively polydactyl "marmalade cat," has come to the rescue's rescue by inspiring a creative fundraising campaign: Give a dollar per toe!
Really, who could resist melting from cuteness when they get a look at those bodacious little "jellybeans"?
It's fun. It's affordable. And hopefully the golden-eyed cutie and his terrific toes will help MARC get their forty grand — one $26 donation at a time.
How did Daniel get involved with Milwaukee Animal Rescue? Well, that's an interesting story.
On Oct. 27, Amy Rowell, MARC's executive director, went to the Milwaukee Animal Control Commission shelter on one of her regular trips to save a cat from the high-kill facility. As she was walking by the cages, a giant white paw tapped her on the head. She turned around to see who'd tried to get her attention, and there was Daniel, in all his toe-tastic glory.
Daniel was supposed to be killed that day, so Rowell rescued him. And now the polydactyl puss is "pawing it forward" to help the group that saved his life.
Here's a news story on Daniel and the fundraising campaign:

(In a reader? Watch the video here.)