With so many rescue and donation efforts taking place in the wake of Hurricane Harvey, animals lovers are stepping up again to offer support after Hurricane Irma smashed through island nations and much of Florida. We've updated this list to include assistance in the wake of Hurricane Maria, which pummeled Puerto Rico and much of the Caribbean only two weeks after Irma.
Below is a list of rescues and organizations who are in extreme need of supplies and financial help to support rescue, relief and reunions, and a list of websites and apps folks can use to find beloved lost pets. We will continue to update this list as more information becomes available.
Lost and Found for Pets in Areas Affected by Hurricane Irma
For local residents who may have lost a beloved pet or who are fostering a found pet until his or her owner can be located, there are some useful website and apps to share lost and found listings to assist reunions.
To offer a temporary foster home for families as they rebuild, visit fosterahurricanepet.org.
VetsPlusMore app
Paw Boost app
Finding Rover app
One of the hardest hit areas in the United States, with 90% of homes damaged or destroyed, the Florida Keys SPCA preemptively evacuated its 200+ cats and dogs from West Keys and Marathon, Florida shelters, placing them in foster care. It released the following statement:
"At this time, we do not know the physical status of the shelter buildings but hope to begin clean-up and repair as soon as we are allowed to do so and return all 200 evacuated animals safely — many of whom are as frightened as we are…. We sadly expect our shelter population to grow when we return — some animals will have been abandoned by their owners and others will be voluntarily surrendered as owners move into temporary housing. It's going to take a lot of work and a lot of love to get Key West back on its feet again."
The organization is currently in the midst of building a hurricane-proof shelter, which is expected to open in March 2018, but perhaps later now with hurricane damage cleanup.
Donations can be made here.
The Humane Society of Greater Miami's Soffer and Fine Adoption Center has suffered an estimated $500,000 in damages and downtime as a result of Irma — including roof leaks, a broken air conditioner in hot and humid conditions, uprooted trees in its pet cemetery and damage to its medical clinic. While it is still able to triage care for over 400 animals who survived the storm, it's in need of financial support to make major repairs, take in more lost/found animals, provide medical care and provide generators and air conditioning to keep all cats and dogs alive.
Donations can be made here.
The HSUS evacuated 450 animals ahead of the storm from the Ft. Lauderdale area, transported dogs and cats from Tampa, and has flights planned with its partners Wings of Rescue and GreaterGood.org to fly animals from Clay County in the north, Alachua County in the central part of the state and Collier County in the south. Additionally, its global organization is assisting animal rescue efforts in the British Virgin Islands.
To help, text LOVE to 20222 to donate $10 to the Humane Society's disaster relief fund, or make a donation here. 
This unique team provides professional technical animal rescue and recovery to communities affected by catastrophic disasters throughout North America. Its volunteers and staff, who are highly trained in dangerous rescues and animal handling, respond upon an official request for assistance from the local emergency managers and officials. As a non-profit, it depends upon public support to continue training, education and maintain its ability to deploy in times of need.
You can support this vital rescue group by donating here.
Based in Jacksonville, Florida, this rescue has partnered with Best Friends Animal Society to take in as many lost and found felines and canines as possible. It has set up a logistics and distribution center to support animal welfare organizations across the hard-hit state and are in need of critical supplies to support injured, lost and rescued animals.
Here is the group's Amazon wishlist.
Efforts can be supported by donating here.
This shelter has taken in over 400 animals in the wake of Irma, and is expecting a few hundred more in the coming days. Its biggest needs are monetary donations to keep operations running, and foster homes for the incoming pets as it prepares them for adoption.
Donations can be made here.
To apply as a foster in the Atlanta area, visit here.
All cats and dogs from this shelter were transported further inland to Atlanta and into foster homes until the hurricane passed. Over 100 fosters are now being returned to the shelter, where there will be plenty of hungry mouths to feed and tend to until they are adopted.
Donations can be made here.
On September 9, in anticipation of Hurricane Irma's arrival in Florida, The Anti-Cruelty Society teamed up with the ASPCA to take in animals that were in the shelters in Lee County, Florida. The Anti-Cruelty Society took in 49 cats and dogs on ahead of the hurricane (and nearly 200 from other southern states) and is actively recruiting dog foster homes. People interested in fostering can fill out a form at http://bit.ly/Irma_ACS.
To help with Hurricane Irma and Harvey relief efforts, donate here.
The Jacksonville Humane Society has been in disaster response mode since September 11, following Hurricane Irma's hit to Florida. Prior to the storm, JHS evacuated animals to other shelters that were not in the storm's path. Community members fostered the remaining pets as part of JHS' Storm Trooper program. This left plenty of empty kennels after the storm, which proved to be a lifesaving move. On Monday, following Hurricane Irma, Clay County Animal Care & Control's shelter flooded and forced the evacuation of their animals. JHS was ready and took in 26 dogs and 33 cats the very same day, all of whom are now on their way to Charleston, South Carolina to meet adoptive families. JHS had to cancel their upcoming annual fundraiser, which typically raises more than $150,000. With this huge deficit, they are now in need of funds to stay operational and help rescue more storm displaced pets.
Donations can be made here.
Big Dog Ranch Rescue, the largest no-kill dog rescue in the southeast, airlifted dozens of dogs and cats out of Florida before Irma, and rescued over 100 in the aftermath. Now, with no power to most homes in the Keys and stores still closed for business, pet owners and shelters are in desperate need of dog and cat food. Big Dog Ranch is stepping up to air drop vital supplies to those in need until recovery can take place.
Donations can be made here.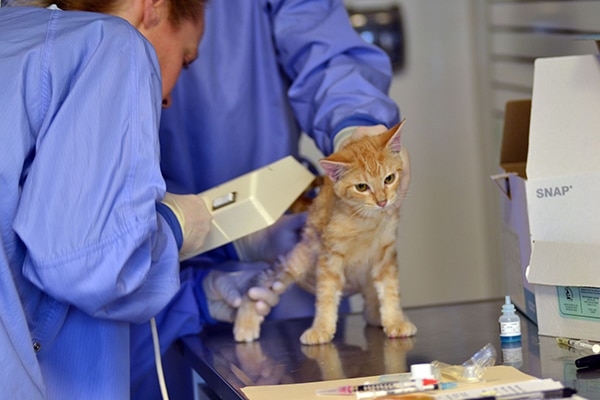 In order to make room for lost, found, displaced or surrendered pets in the wake of Hurricane Irma, PAWS Chicago took in 34 kittens with highly infectious ringworm. This transport not only allows local lost pets in Gainesville, Florida, a chance at reuniting with their families, it also helped protect incoming animals from catching the highly contagious — but very treatable — fungal infection. The kittens will be available for adoption in Chicago once medically cleared, and PAWS will continue to provide medical and transport relief in areas of natural disaster.
Donations can be made here.
This rescue in Maine is preparing to welcome 20-30 pets evacuated from shelters on the US Virgin Islands after they were devastated by Hurricane Irma. It also just welcomed 20-30 rescues from a partner in Mississippi that is helping Texas shelters after Hurricane Harvey. And as soon as their Puerto Rico rescue partner, All Sato Rescue, is able to clear animals for airlift, they'll welcome even more cats and dogs who were already in need of homes before Hurricane Maria smashed through the island.
Donations can be made here.
Guardians of Rescue is a New York-based organization that has helped animals affected by Hurricanes Harvey, Maria and now Irma. The rescue group is flying to Puerto Rico on Monday, October 2, and plans to spend weeks in Puerto Rico conducting animal rescues.
Make a donation here.
Caribbean Islands and Puerto Rico
Several island nations in the Caribbean were hit hard. The devastation and damage is still being assessed, and slowly reported out as most forms of communication are down. While most animal shelters are reporting safe cats and dogs via Facebook posts, most are without critical supplies, reliable communications and power, and in need of facility repairs. Here are a few island humane societies and shelters in need of financial support and supplies.
The United States commonwealth of Puerto Rico was not only hit hard by Hurricane Irma, but was also decimated by Hurricane Maria a mere two weeks later. The entire island of 3.5 million people remains without power, few lines of communication, and supplies for both humans and pets are running low. An area known for large populations of feral cats and dogs, Puerto Rican animal rescues were already at capacity caring for discarded pets. One organization sadly services an area known as "Dead Dog Beach" for the countless canines people dump there. Now, this and many other rescues are in dire need of basic food, medical, and safe care supplies for the animals they were able to harbor before Maria hit. Here are a few in dire need of support.
To donate to Glen Venezio, the Catman of Puerto Rico who we recently profiled, here is the link to his Facebook page and PayPal.
 Thumbnail: Photography courtesy Jacksonville Humane Society.
Tell us: How are you helping Hurricane Irma recovery efforts? What other animal welfare organizations should we add to this list?