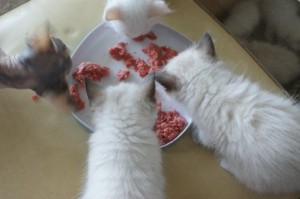 Over the weekend, rumors swept the Internet that Halo, the pet food company co-owned by TV personality Ellen De Generes, was planning to introduce a line of vegan cat foods. Many cat lovers, myself included, were horrified at the possibility. I even answered a question on my cat advice blog from a reader who had heard the rumor and wondered if it was even possible for cats to be healthy on a vegan diet.
It turns out that my readers — and cat lovers in general — have very strong feelings about diet and nutrition. The comments piled in, from pro- and anti-vegan diet readers, and although I was gratified that the post "got legs" and was shared more widely than any column I'd written in the last eight years, I was starting to have my doubts about the truth of the rumor and I worried that my post was inadvertently spreading misinformation about Ellen's plans.
When I found the source of the rumor, a celebrity gossip blog in the Chicago Sun Times, Ithought, "Uh-oh."
The point of the article I wrote was not that Ellen was planning to launch a vegan cat food line, but about the importance of a healthy, species-appropriate diet for cats. Nonetheless, I began to worry that more people were talking about the Halo vegan cat food rumor than anything else.
A couple of my fellow bloggers, one of whom is actually a publicity consultant for Halo, took it upon themselves to ask Halo directly if the company planned to introduce a vegan diet for cats, and the answer, straight from the horse's mouth, came in a tweet from Halo: "Just to set things straight, Halo is NOT introducing a vegan cat food! Cats need animal protein and we are advocates for optimal nutrition for all pets."

Although vegan cat foods do exist, we can rest assured that Halo is not going to create one. Since Halo, with its celebrity owner and spokeswoman, is such a big deal in the pet food market, I'm gratified to know that although Ellen herself is a vegan, she has no plans to make the company impose her dietary ethics on obligate carnivores.
Halo does plan to introduce a vegan dog food, but that's not such a huge deal to me. Dogs are omnivores and they can do okay on a healthy, nutritionally balanced meat-free diet.
If you do hear the rumor about Halo's alleged vegan cat food line, please share this post and help spread the truth.