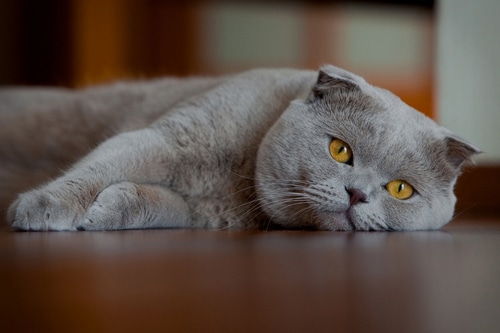 A California man's four-month search for his Cinderella reached a happy ending this month, thanks to a harness rather than a glass slipper and a local woman with a fondness for stray cats.
Bill Uhlig of Covelo, Calif., was still trying to cope with the recent death of his wife when he decided to go on a trip to Yellowstone and Glacier national parks with his grandson last September. He brought along his "adopted baby," a cat named Cinderella, who often traveled with him.
While on the road, they stopped at a gas station in American Falls to fill up and then traveled to a rest area about 10 miles away so they could relax and have a bite to eat. That's when Uhlig noticed Cinderella, the cat he had raised and fed from birth after its mother abandoned it, was missing.
He started a frantic search.
"We looked all over and then we went back to the American Falls gas station," he said, adding that they checked with nearby businesses and searched every place they could think of. "We looked for her the rest of the day."
By that time Uhlig, who had become ill on the trip, was feeling a lot worse, and they decided they needed to travel home. So Uhlig headed back to California without Cinderella.
He didn't give up looking though. He left a description of the cat and his phone number on bulletin boards in town and his family members contacted numerous humane societies and animal shelters in hopes that someone might find the gray cat with unique, Scottish-fold ears, who was wearing a green harness.
A Humane Society worker in Aberdeen later found a cat in her barn matching the description and contacted Uhlig, who willingly made the two-day trip to pick up the animal who looked just like Cinderella only she wasn't.
Uhlig didn't realize that he had the wrong cat at first and took her home. But she acted wild and didn't want anything to do with him, unlike his tame and devoted Cinderella.
"She hissed at me … and she fought with me, but I just thought she was really mad at me," he said. "She looked exactly like my cat."
The cat eventually ran away, and Uhlig started another search in California, still believing that the animal was his Cinderella.
"I was looking all over for her," he said. "I started advertising, but nobody saw her."
In the meantime, American Falls resident Angela Quinn, who takes care of numerous wild and abandoned cats, noticed an unusual cat was visiting her property.
She was gray with Scottish-fold ears, and she was wearing a green harness. She was tame, but very thin, Quinn said.
"I've had throw-away cats come here before, but I've never seen one as thin as she was," she said, adding that she couldn't stop thinking about the cat. "I let her go that day, but she showed up two days later and I grabbed her and brought her in my house. I wasn't sure if she was going to make it."
Quinn nursed her back to health over the course of several weeks, she said. She was quickly becoming attached to the cat when one of her friends saw the animal and mentioned that it matched the description of the one Uhlig was looking for.
Quinn contacted local authorities, who said Uhlig had already found his cat, but it piqued their interest when she mentioned the green harness.
They contacted Uhlig, who readily made a second, two-day trip to Idaho. Quinn said Cinderella immediately responded to Uhlig when she heard his voice and jumped into his lap as soon as she was close enough to smell him.
That meant a lot to Uhlig, who finally knew for sure he had found Cinderella.
"She came right to me and jumped on my lap and stayed there for about an hour," he said. "She wouldn't leave me."
Quinn said the experience reminded her of a Disney movie.
"It was a really heartwarming experience to see a man who loved a cat so much that he would travel 900 miles, twice," she said, adding that it was hard to let the cat go, but it was easier knowing she was going back to a good home.
Uhlig said he appreciates everyone who assisted him in the four-month search for his Cinderella, adding that she's healthy once again and settling back into her life in California.
"I never expected to ever find her again," he said.
[SOURCE: KENDRA EVENSEN/Idaho State Journal; PHOTO: socuteanimals.com (not Cinderella, but a Scottish Fold lookalike)]