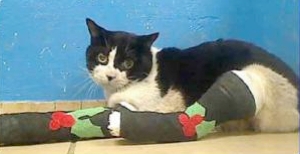 Rudolph's comfortable nap spot turned out to be a nightmare.
The cat was seeking refuge from the cold weather and found what seemed to be the perfect temporary bed: a nice, warm car engine. The driver of the vehicle, not knowing he had a feline stowaway, started the car only to hear an unearthly scream.
With the aid of several area residents, Animal Care & Control of New York rescued the grievously injured cat and brought him to an AC&C clinic, where he received emergency care. Rudolph seems to be recovering well from the wounds to his front and rear left legs, but veterinarians are still observing him and hoping they can save his hind leg.
These injuries happen more frequently than you might think, particularly in cold climates. Cats trapped outdoors seek warm places where they can protect themselves from snow and icy rain, and a spot under a car hood is an ideal location.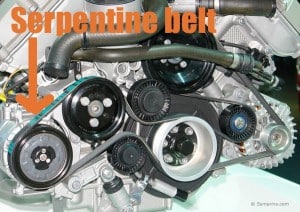 Unfortunately, when the car starts, some part of the cat inevitably gets trapped in the serpentine belt, a mechanism which controls several vital parts of the engine, including the alternator, power steering pump, water pump, and air conditioner compressor. The belt runs at extremely high speeds and winds its way through several pulleys and gears. There's virtually no way a cat can escape severe injury if he gets caught in that mechanism.
A Petplace article on fan belt injuries says the most common types of wounds are lacerations all over the body, bone fractures, and skin being torn off. Some cats even suffer head trauma and lung bruises. And as in Rudolph's case, the fan belt can even amputate a leg or cause so much damage that the limb may need to be amputated.
If you start your car and you hear a cat scream, the first thing to do is — duh — turn off the engine immediately. Even if the cat runs off, don't assume he's okay; he could have internal injuries or other wounds you don't see. After you capture the cat or get him untangled from the belt, take him to the vet right away.
You can keep your cat from being a victim of car engine injuries by keeping him indoors, especially in the cold winter months. Even if you keep your cat in your house, there may be others in your neighborhood who could seek refuge in the coziness of your vehicle's motor, so bang on the hood a couple of times before you start your car. Another option is to honk your horn before starting the engine, because there's nothing like a loud noise right next to a cat's head to scare him out of harm's way.
What's in the future for Rudolph the unfortunate Brooklyn cat? AC&C intends to place him in a foster home once his immediate medical concerns are sorted out, and once he's fully recovered, he'll be available for adoption.