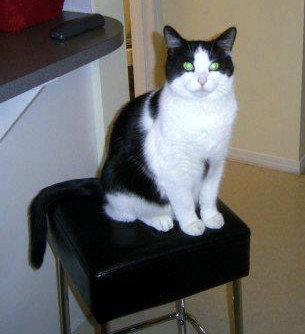 After a saga full of twists and turns, a cat lost at Edmonton International Airport has been found, safe and sound.
George escaped from his kennel at the airport on Sept. 23 when ground crew personnel were unloading baggage from an Air Canada flight. Two months later, the airline found a cat matching George's description frozen to death and informed his owner, Vanessa Summerfield, of that fact.
Because she couldn't travel the 270 miles from her home in Fort McMurray, Alberta to identify the cat, she asked a volunteer in the area to do so before it was cremated.
It turned out that the frozen cat was a female, and didn't look that much like George after all.
So the search was back on.
Last week, Hope Gulseth of Leduc, a residential area about five miles from the airport, found a thin and hungry black-and-white cat on her doorstep. After three days, she was able to coax the cat indoors.
Her husband began searching online to see if anyone was missing a cat. He found a Facebook page dedicated to the search for George, which led him to Summerfield.
"It's unreal," Summerfield said in a CBC radio interview "I don't even know what to think right now."
I know what to think: George and Summerfield are going to be reunited just in time for Christmas.
As we know all too well, this isn't the first time a cat has gotten lost at an airport. A lot of people respond to stories like this by saying, "Well, people just shouldn't take cats on airplanes." But the problem is, people who need to travel with their cats really don't have other options.
Sure, if you're going on a short trip, you can leave your cats in the care of a trusted friend, family member, or pet sitter. But what if you need to make a major move?
In the U.S., pets are forbidden on all national train services and bus lines (although they may be allowed on some regional carriers).
Pet transportation services do exist, but they're not available to all that many people because they generally only serve certain major cities.
Not everybody is able to drive to their destination, and even if they did, traveling by car is no guarantee of safety.
You can't tell people to leave their cats at home if they're moving, that's just plain cruel. Would you tell someone they should leave their children behind because they might get lost? I think not!
So, just how are you supposed to safely bring your beloved cats with you when you move?
The fact is that despite the high-profile stories of cats lost during air travel, for every tragedy there are thousands of other pets whose journey ends safely.
Every activity in life is a risk. When you have to travel with your cats, all you can do is be prepared and do everything you can to minimize that risk. Be sure that your cat's carrier is sturdy. Be sure that your cat has identification — collars with tags, microchips, whatever. Have your cat's vet records and recent photos with you, just in case your cat does go missing during your travels. But accidents can happen to even the best-prepared travelers, so try to refrain from judgment and guilt trips when they do happen. It's called an accident for a reason.
Traveling with cats has been on my mind a lot because I'm planning a cross-country move. Although I have the luxury of being able to drive to my destination, if I could travel by train or bus with my cats, I'd much rather do so. The idea of leaving a 3,000-mile drive to someone else certainly is appealing. But how many other people would consider ground travel a good option?
Although I understand why cats are forbidden on buses — there really is no safe place to stow a cat on a bus — do you think it's possible to convince Amtrak or other national rail carriers that the cost for setting up cat-safe baggage compartments would yield a good return?
What would you suggest, beyond the obvious measures I mentioned above, to keep cats safe during long-distance travel? Would you be willing to lobby for ground carriers to allow pets? And would you be willing to pay more — and take more time — to ride a train with your cats than you would for a flight to your destination?