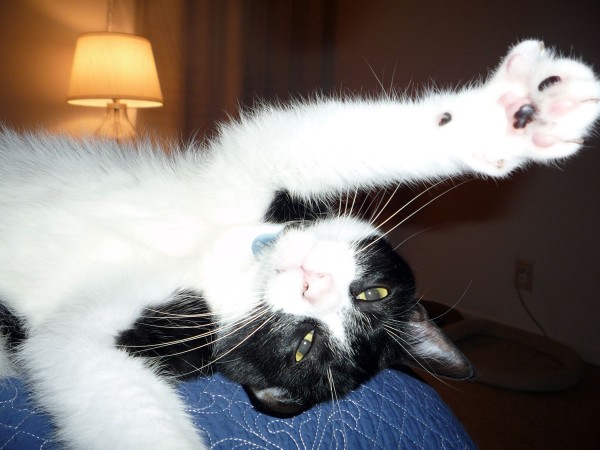 Okay, so the eHarmony cat lady video is old news, but the line about wanting to hug every cat still rings true. I suddenly just thought how true it really is and said: "Self, that would make a great blog post!" And so, you know, here we are.
A second ago, Moo was down on the floor meowing because I am sitting at my desk using the computer and my legs are crossed. No, he wasn't praising me on how proper and ladylike I am; he was yelling at me to uncross my legs so he could have a flat lap to sit on. I know this is what he wants because we do this no less than five times a day. He sits down there and meows; I flatten my lap; and he hops up and proceeds to get in my way. I love it. He's my cuddlebug.
I never really had a supreme cuddle bug until he came along. Pimp has always been friendly and loving and he does like to cuddle — on his own terms and time — but he doesn't follow me around like a puppy like Moo does. And so, I realized, in order to have every single fabulous trait that cats are known for, we all need more cats!
Pimp is wise and peaceful and quiet and sweet and the welcoming committee when anyone new comes over. But he's not superduper playful and he's not puppylike and he only talks to me when he's hungry. Moo doesn't shut up or leave me alone for even two seconds, but hides under the bed when company is around.
See? They're the perfect complement! When I only had one cat, I was missing out on all of the stuff Moo brought to the proverbial table.
And that got me thinking. … If I got a third cat, what other wondrous cat things would I find I never knew I was missing? Can you imagine?!
If I had (and hugged, of course) every single cat, that would be the way to truly get all the fabulousness that cats have to offer!
Makes sense in a crazy-cat-lady kind of way, no? Now, if you'll excuse me, I'm off to visit my local cat shelter and hug some kitties!