---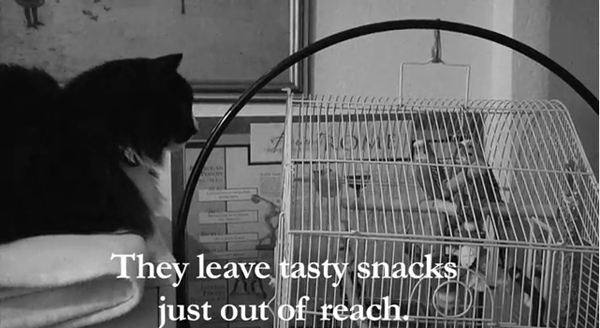 Ah yes! The anguished life of a house cat!
Henri is a feline of refined disdain. In his avant garde debut, Henri pays homage to the famous Le Chat Noir as he laments his luxurious tedium: sleeping all day, eating Fancy Feast, drinking filtered water from an aerated fountain, and wavering between feelings of freedom and imprisonment like the swish of a restless cat's tail.
In the original film, Henri observes that though his "thumbs are not opposable he opposes everything," which seems to be the conflict at the core of his existential ennui.
In "Paw de Deux" of Henri's musings, he observes that things are not as black and white as his delicately maintained fur coat. While Henri is free to go, he remains, and though tasty treats lie within inches of his grasp, he cannot have them, and, most distressing of all, Henri's only cat companion is of the cheeseburger-loving variety, and when Henri finally decides to flee the maddening mundanity, he finds the cat door closed.
You can find more of Henri's malaise and meditation on his Facebook page.