Soon it will be St. Patrick's Day, and Mittens is convinced leprechauns are hiding in his house. Mom's of no assistance in helping him locate these obviously evil creatures — in fact, she outright denies their existence. But she'll be all over that pot of gold. What a hypocrite. Mittens knows gold can buy a lot of liver treats, that's for sure.
Our pal Mitty plans to play a little joke on Drunk Patty, which she doesn't mind in the least. In fact, she's quite pleased, albeit oblivious to the whole situation. Oh, and Phil's stinking up the clean bath towels that Mittens had planned to nap on, but he's hoping Mom will bring him a monster-sized box. He can only hope. It's so hard to be Mittens, after all. Here's a slice of what's happening in Mittens' world.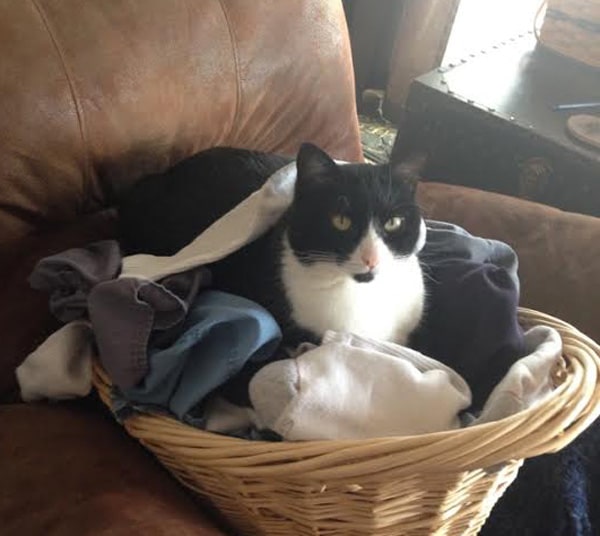 "I do not smell."
"I'm not tangling with leprechauns."
Drunk Patty starts partying two weeks early.
Click here for the entire library of Mittens posts on Catster.
Click here for the Texts From Mittens site.
Click here to follow Mittens on Twitter. 
Click here for Mittens merchandise!
Let Catster make you laugh:
Read more by Angie Bailey:
About the Author: Angie Bailey is an eternal optimist with an adoration of all things silly. Loves pre-adolescent boy humor, puns, making up parody songs, thinking about cats doing people things and The Smiths. Writes Catladyland, a cat humor blog, Texts from Mittens (originated right here on Catster) and authored whiskerslist: the kitty classifieds, a silly book about cats wheeling and dealing online. Partner in a production company and writes and acts in comedy web series that features sketches and mockumentaries. Mother to two humans and three cats, all of which want her to make them food.