Calvin is named after the title character in Bill Watterson's popular comic series Calvin and Hobbes, which features an imaginative and mischievous boy and his stuffed tiger Hobbes. Calvin the character often dresses up as Stupendous Man, featuring a cape and mask; Calvin the cat sports similar attire — courtesy of his tux markings — and a corresponding puckish personality.
Just as the comic strip character can take off on flights of fancy, the feline Calvin finds amusement and fascination in the most trivial of items. Like a speck of dirt on the floor.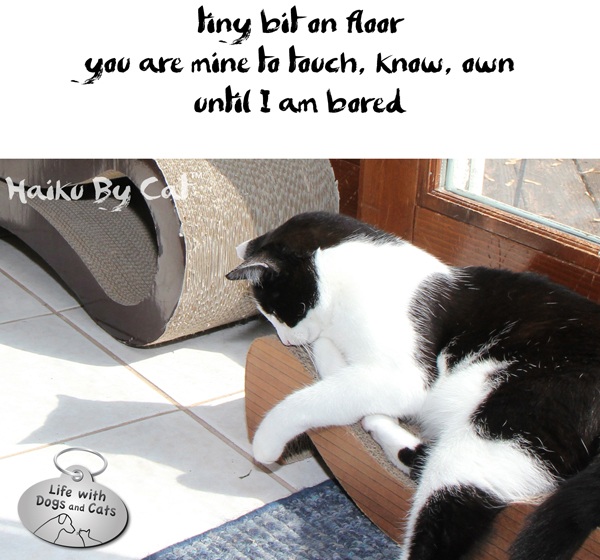 To the character Calvin, a box is a jet plane, time machine, duplicator, transmorgrifier. It can be anything, and he and his tiger companion spend lots of time under, on, behind, around and inside boxes. Calvin the cat is just as fascinated with boxes, no matter how big or small.
A bit of a Velcro kitty, Calvin likes to be close to me, no matter where I am. A closed door is challenge that must be faced, meowed at, dug under and scratched. There is no such thing as privacy in our home.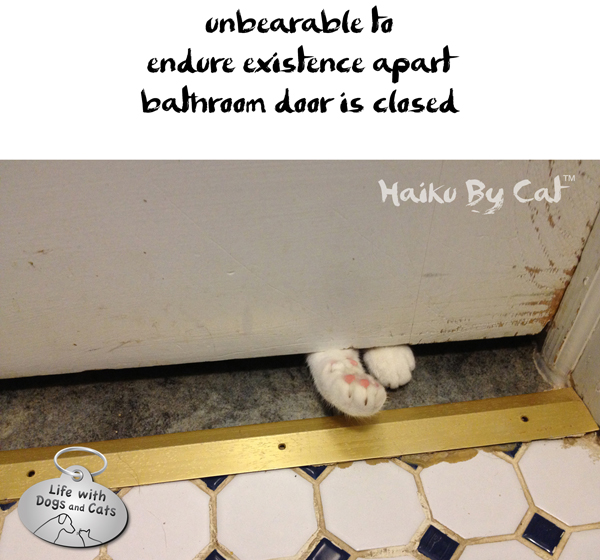 Do you speak Woof in addition to Meow? Check out Haiku by Dog on our sister site, Dogster.
Read more Haiku by Cat:
About the author: Susan C. Willett is a writer, photographer, and blogger whose award-winning original stories, photography, poetry, and humor can be found at Life With Dogs and Cats. She lives in New Jersey with three dogs and four cats (all rescues) and at least a couple of humans — all of whom provide inspiration for her work. Refusing to take sides in the interweb's dogs vs. cats debate, Susan enjoys observing the interspecies interaction among the varied inhabitants of her home — like living in a reality TV show, only furrier. In addition to Life With Dogs and Cats, you can find more Lilah, Jasper, and Tucker (and the rest of the gang) on Haiku by DogÔäó, Haiku by CatÔäó, and Dogs and Cats Texting.