Last night (Nov. 17) Grumpy Cat appeared on WWE Raw, World Wrestling Entertainment's Monday night wrestling show, and we can't think of a place more inappropriate for a cat than WWE's Monday night wrestling show, what with all the screaming and the shouting and the incredible acts of extraordinary violence, however consensual. It seemed a poor choice of venue for a cat. We can't think of one thing about WWE wrestling that would not terrify a cat.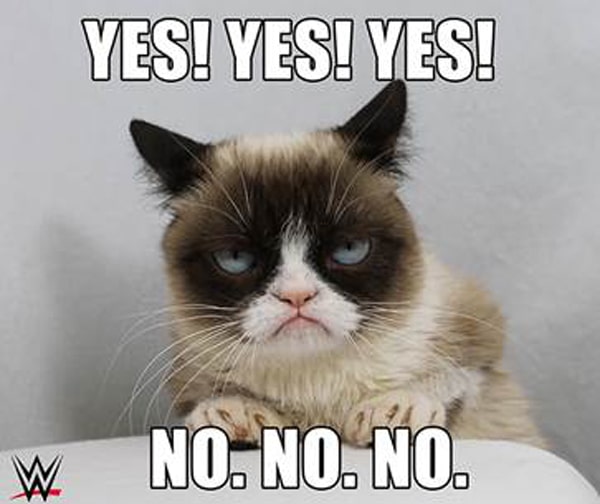 Sure, Grumpy Cat is a tough cat — she just came off a movie and she makes cappuccino — but we can't help but think it sets a poor precedent. In that spirt, we thought it was time for a primer on celebrity cat appearances. If you have a celebrity cat and are fielding calls about public appearances and are wondering whether the event is appropriate for a cat, consider our handy FAQ.
Is it appropriate for my celebrity cat to make a public appearance at …
An mixed martial arts match?
No.
A monster truck show?
No.
The demolition of a city center building to make way for condos?
No.
The largest fireworks show west of the Mississippi?
No.
An underground rodeo featuring crocodiles and yellowjackets?
No.
A secret, weapons-testing event in the Mojave Desert for a shadowy group that contracts with the military on next-generation firepower?
No.
A off-road race across Baja in the dead of night?
No.
A Red Bull air show?
No.
The launch of a new rocket?
No.
A launch of a new vacuum cleaner?
No.
The launch of a new doorbell?
No.
A dedication of a new baboon enclosure at the zoo?
No.
Anything to do with helicopters?
No.
The Super Bowl Halftime Show?
No.
Ozzfest?
No.
C'mon, it's Ozzy!
No.
The dedication of a senior center.
Yes!
A flower show in Mendocino, California?
Yes!
The Puppy Bowl?
Yes!
A launch of a new bullet train?
No.
A high-speed blender demonstration at a farmer's market kiosk?
No.
The front lines?
Of what?
War!
No.
A scream-a-thon?
No.
A citywide water-ballon fight?
No.
Santacon?
No.
No.
No.
A large-scale emergency response disaster-simulation scenario?
No.
A midnight screening of The Room?
No.
Tommy Wiseau might be there!
No no no no no no.
Something cool involving speedboats?
No.
Skydiving?
No.
Paintball?
No.
Olympic deadlift weightlifting?
No.
Golf?
Yes!
Bocce ball?
No.
OH PLEASE IT'S BOCCE BALL.
You're right. Yes.
What do you think? We're having a bit of fun, but are appearances by celebrity cats starting to get out of hand? Tell us your thoughts in the comments.
Read more funny stuff: