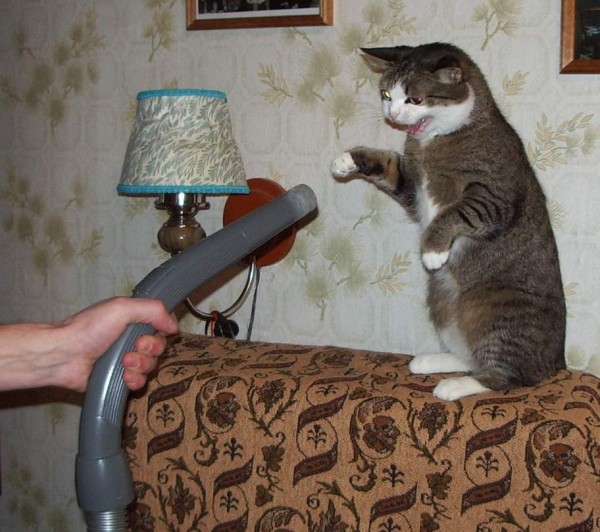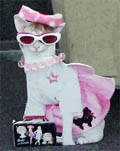 Hey evrybuddy, Skeezix heer.
I just red this terrifying news story about a cat in Germunny hoo was attakt by an evil toy-sucker-upper masheen:
BERLIN — A cat home alone in Germany apparently turned on the vacuum cleaner, frightened itself half to death and wound up being attended to by emergency services.

Police in the Bavarian city of Bayreuth said a neighbor heard the cat's cries – not to mention a vacuum left running for hours – and feared there'd been a terrible accident.

The fire service sped to the scene Monday evening, but found only the cat and the machine.

A police statement Tuesday said the emergency call wasn't entirely in vain, though, because "at least the cat could be calmed down."

SOURCE: ksbw.com
Kittehs, I think this is a big coverup on the part of the Evil Toy-Sucker-Upper Masheen manufaksherers cartell.
We all know that no cat in its rite mind — heck, not even a krazy cat — wood tern on an evil toy-sucker-upper masheen. Thoze masheens are BAD NEWS. They eet our toys, steel owr furs and make sownds that are so lowd they almost brake our eardrums. And after they've done thare evil werk, we have to go arownd and put our smells on evrything agin. That is, unless we're cowering in owr beds having a nerviss brakedown frum the hole expeerience.
Kittehs, what do YOO think??? Do yoo reely beleeve a cat wood tern on an evil toy-sucker-upper masheen?? Wood YOO?


[TOP PHOTO: members.iinet.net.au]