---
The last time we checked in with Henri, he was cynically observing Halloween, so it's no surprise that the cranky cat dislikes Christmas as well. Like a regular Scrooge, Henri bah-humbugs the holidays. He doesn't like the parade of visitors it brings who "intrude upon his solitude," and he retreats to napping to fulfill his profound desire to be alone.
But even in his dreams Henri is subjected to fools, and, in what might be a bad catnip trip, Henri is visited by three feline spirits. The first is the "white imbecile," whom we are acquainted with from Henri's past laments.
The second is a mysterious gray cat, who gives Henri a second lesson as they pore over his life, and Henri wonders whether perhaps he has been ungrateful. After all, he isn't a dog, and that's something to be thankful for!
The third visitor is an ornery old cat, from whom Henri has learned his caustic nature. But even as Henri watches the old cat bite the hand that feeds him, he sees that the old cat would rather be stroked and petted by that hand, and Henri wonders whether he is headed down the same lonely road.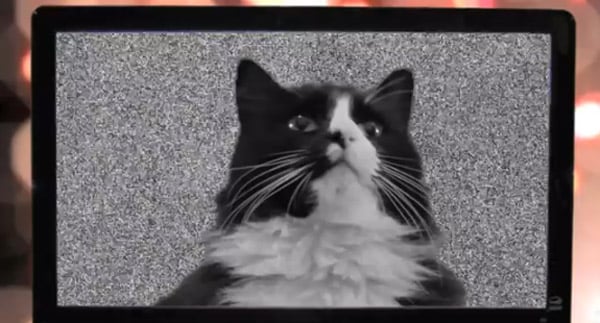 Is Henri a changed cat when he wakes? Was he touched by the Christmas spirit?
You'll have to watch to find out!