For the second year in a row, cats will have a full-length, regulation game during the Super Bowl, unseating the Puppy Bowl as the place to be Feb. 1 if you hate Tom Brady. It's called Kitten Bowl II, and all thanks go to the Hallmark Channel, who saw a hole in the lineup and rushed some savvy programming executives through it. We expect it to be a blockbuster, must-watch event — we expect New England Patriots quarterback Brady to tell his supermodel wife to please stop watching the Kitten Bowl, dammit, we're down 41 and it's only the second quarter, honey.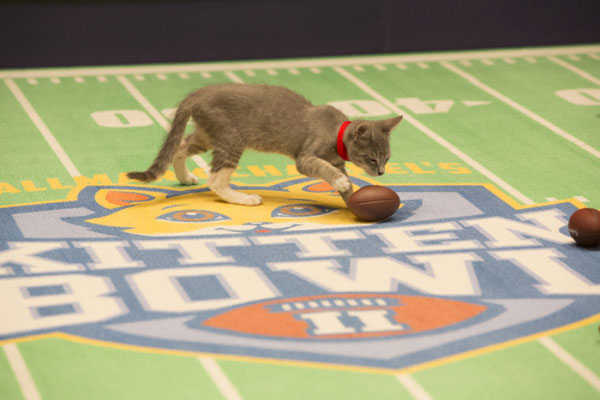 We woke up one of the cats competing in the Kitten Bowl II and asked for his take on the big game.
Catster: Before we talk about Kitten Bowl, who are you rooting for in the Super Bowl?
Kitten: The what?
The Seahawks against the Patriots?
Sorry, I don't follow golf.
It's football. It's the championship football game that's on at the same time as your game.
Really? Hah! Great programming there. I hope someone gets fired.
No, the Kitten Bowl is on for the people who don't watch the Super — oh, forget it.
I bet like a million people are going to watch my game.
That or the Puppy Bowl.
What the hell is a Puppy Bowl?
Same thing as the Kitten Bowl, except with dogs.
Dogs?
Puppies.
That's the stupidest thing I've ever heard of.
Let's move on.
Not so fast. Puppies during my kitten football game?
They're cute puppies.
I want it stopped. Can you stop it?
Er … sure. Can we move on now?
And stop the other thing, too, the golf thing.
[Waves hand] Stopped. So, how's training for the Kitten Bowl going?
It's intense. I've been ramping up my naps.
You've been sleeping.
Sleeping hard.
And then what?
And then I go ballistic at midnight, just wake the whole house up for some windsprints and light screaming.
How's your defense?
Have you seen the back of the couch?
How's your diet?
I ate a Cheeto yesterday.
Reflexes?
I caught a moth today.
How are the legs?
Great. Don't they look nice?
What do you think of your team?
Team?
You know, the other kitties on the field.
What are they going to do?
Help you, I would hope.
Who thinks I need help? That's insane.
You've never played football, have you?
That depends. What's football?
You know when you bat a ball around the house? That's all the football you need to know.
I thought so. I got this handled.
Anything I can help you with? Strategy? Plays? Perhaps some coaching?
What's the league's position on headbonks?
They're against it, I imagine.
Ridiculous! The people in charge of kitten football are morons.
They're just trying to cut down on concussions.
They're headbonks! Next thing you know I'll have to cut my nails. [Extends claws]
OH MY GOD SOMEONE HAS TO CUT YOUR NAILS.
After the game, pal. Now go get me a chicken and plop me behind the couch. I'm in training.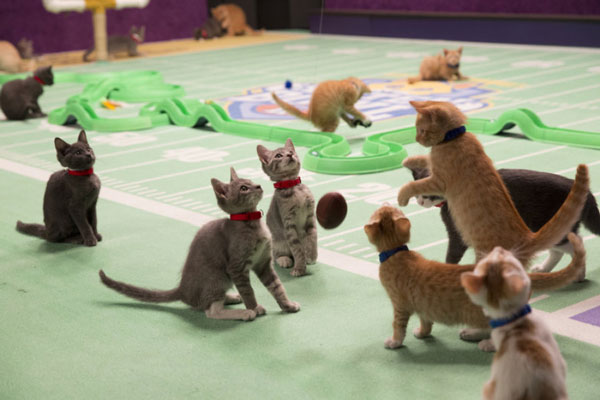 Check out the Kitten Bowl on the Hallmark Channel
Read more funny stuff: