I recently took both of my cats to the vet for the first time in years.I have always made excuses for avoiding these trips. I'll tell myself that they don't need vaccines because they live inside, for example, or that surely I would know if they were ill, because I'm with them every day, right?
But cats are excellent at hiding pain and discomfort, meaning that if they were ill, I probably wouldn't know anything was wrong until the problem was so severe they could no longer hide it. If I can help it, I don't want my cats to live with pain, because I love them dearly. That's why, over the last two weeks, I have finagled each of them into the dreaded kitty carrier and hauled them to the kitty torture chamber — I mean, the vet! — to be stabbed and intimidated — I mean, examined!
But I'm inexperienced at going to the vet, so I kind of did it wrong. Here are five things I will do differently next time.
1. I didn't eat dinner first
If you're anything like me, going to the vet means rushing home from an eight-hour day and snatching up your hungry, cranky senior kitty to barely make the last appointment of the day. Compounding this already difficult situation: You probably haven't eaten since lunch.
I'd forgotten how intensely stressful going to the vet can be for both cat and human. I let my hunger and exhaustion get the best of me and caved in to the pathetic wailing of Bubba Lee Kinsey, my 11-year-old gray tabby, many times during our adventure. There's also the fact that his crying totally made me cry, necessitating the use of my sleeve as a tissue — but we won't go into that.
Tip: Taking your cat to the vet is not something you want to do on an empty stomach. It's already hard enough on your cat, so you need to bring your cat-parenting A-game and check your irrational emotions at the door. This is easier to do if you aren't thinking about snatching an extra post-exam cat treat to assuage your own growling stomach.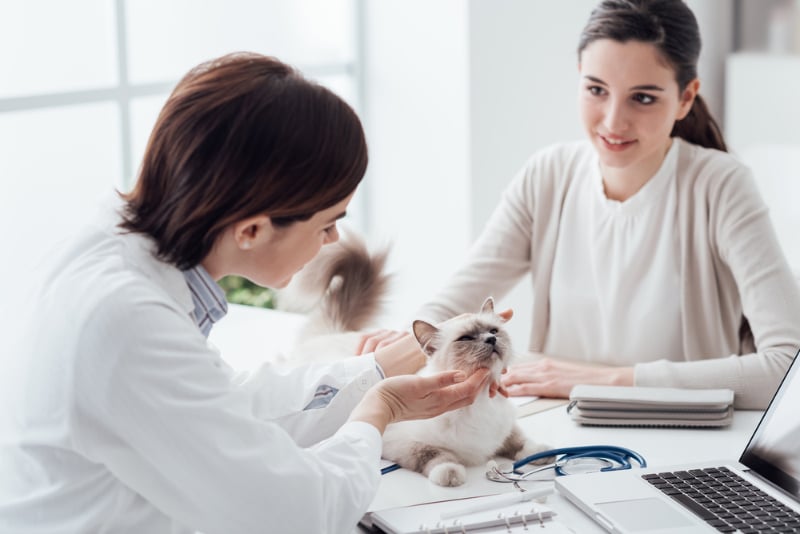 ---
2. I used the wrong kind of carrier
I have soft-sided kitty carriers with long straps that enable me to hang them from my shoulder, kind of like those large handbags famous people use to carry tiny ridiculous dogs. I thought these carriers were super slick, as they made taking kitty from point A to B quite convenient.
Unfortunately, my carrier was not the best choice for the vet's office. As my vet informed me, when in an unfamiliar situation, cats crave a safe place — in this case, the carrier. Hard-sided carriers are best, she said — like the old-school kind that are no longer in vogue. That way the vet can lift the top off and do the majority of the exam in the carrier, allowing the cat to stay in his cave surrounded by familiar smells. My carrier zipped closed down the front, leaving me no choice but to let Bubba out — and let chaos in.
---
3. I let my cat jump off the exam table — and he's a senior
I'm going to blame this lapse in judgment on hunger. I know Bubba has trouble jumping — I even keep a stepstool beside the bed to make it easier for him to climb up at night. But when the vet tech came in to take Bubba's history, I wanted to demonstrate that my senior kitty is shiny and majestic, like an 80-year-old man who can still carry a recliner up two flights of stairs by himself. At this point I'd already let him out of the carrier to stop his crying, and he was sniffing his way around the exam table.
"He's a handsome guy," the vet tech said. He sounded like he really meant it.
"I know," I said, swelling with pride that someone who looked at cats for a living was taking an interest in my silver-gray boy.
I was so pleased, in fact, that when Bubba prepared to jump off the table, I just let it happen. I figured he was about to seal his reputation as the most stunning senior specimen the vet tech had ever seen. Instead he stumbled, the impact stinging his left leg.
"Oh, Bubba Lee," the vet tech said, noticing his difficulty.
The guilt — it burned like soda pop in my nose. And cats are excellent at hiding their pain, so I didn't notice until we got home that my stunning silver senior was limping.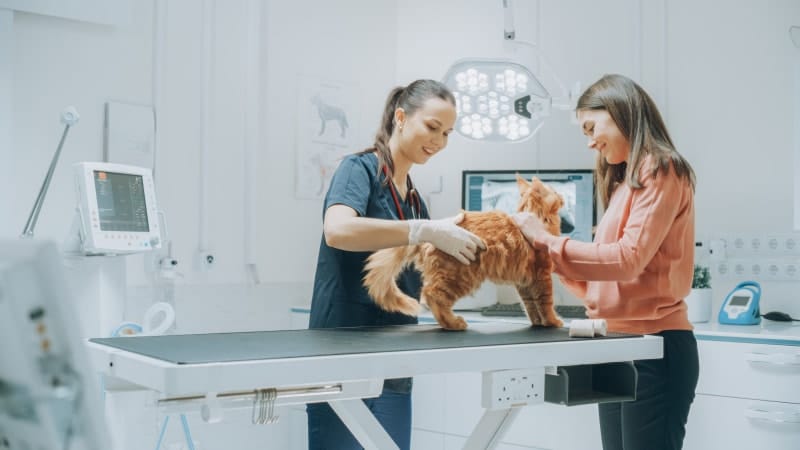 ---
4. I let my cat walk around the room, giving him ample time to develop an intimate hatred for every cat who had been there before him
Bubba must have smelled hundreds of cats in that exam room, and he hated all of them. By the time the vet came in to examine him, his barely contained rage had reached critical mass. He let me lift him back onto the exam table, but when the vet tried to greet him, he lunged, hissing and growling. He wanted her dead. I have never seen him that angry — and this is a cat with behavioral problems.
The vet fitted him with a special kind of kitty muzzle that made him look like the star of an S&M flick. This bought her enough time to check his vitals and plop him on the scale, at which point she informed me he was too fat.
The vet was absolutely great with Bubba, and he is now vaccinated for rabies. But I'm sure that the stress of the whole endeavor — for Bubba, the vet, and me — could have been greatly reduced if he hadn't taken that anxiety-inducing stroll around the room.
---
5. I tried to handle my cat instead of letting the vet or vet tech do it
The vet and vet tech are skilled at handling anxious and/or aggressive cats — they do it every day. That's why I should have left Bubba Lee Kinsey in his carrier until they took him out. Next time, I will do it that way. I think it will be better for all living things involved.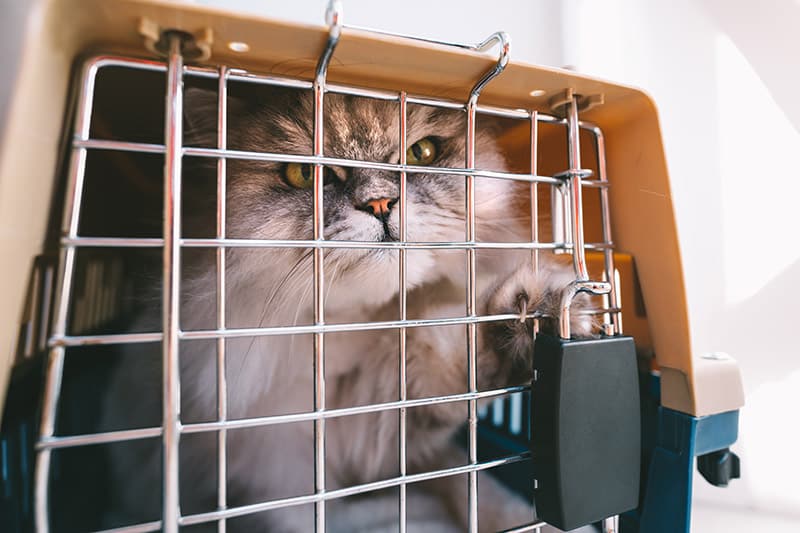 Have you ever had a crazy experience at the vet? Tell us about it in the comments!
For more adventures (and misadventures) about taking cats to the vet, check these out:
---
Featured Image Credit: Stock-Asso, Shutterstock