I have 11 cats, and I plan to get images of all of them tattooed on myself. As of this moment, I have likenesses of five inked on my body. You can read more about my affinity for tattoos in my Eli Falconette interview from last year.
I recently had the privilege of getting tattooed by the tattoo artist Hanna Sandstrom, popularly known as Kapten Hanna, who works at Dark Age Tattoo in Seattle.
Hanna designed my tattoo of Freyja, the Norse goddess of fertility, love, beauty, and war, whose chariot was pulled by felines. I thought that two of my cats, Grace and Ezio, would be good to incorporate into the piece. They are both strays who literally walked into my life when my kids and I were walking our dogs. Aside from the war part, my cats represent my nurturing side and my creative side and allegiance with dreams and the spiritual connection to the universe and all the other worldly parts of life.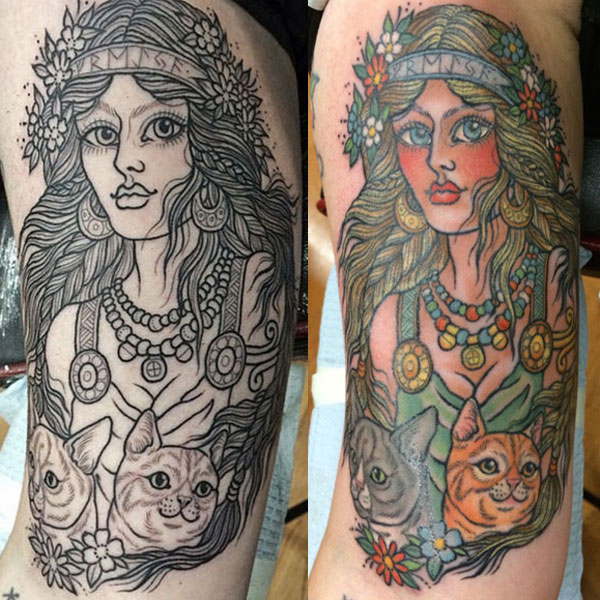 Because my entrance toward becoming a cat guardian was initiated by a dream, I felt an instant connection to her. To me, Freyja represents a faith in love and following your dreams.
I explained to Hanna why I wanted to get it and about my involvement in animal rescue, something we both feel strongly about. I also shared with her photos of Grace and Ezio. I love all of my pets, but there is a special charm when one chooses you when you least expect it. I felt Hanna was best person to do the tattoo because she is Norse and she was excited to do it. I love her art, and she is a very strong, creative, independent, driven woman whom I greatly admire.
I couldn't have been happier with the resulting artwork, and as it took more than seven hours over the course of two sittings, we had plenty of time to talk about animal rescue and tattoos. I couldn't help but feel a strong connection to this woman who, like me, dropped out of high school to follow a nontraditional path towards fulfillment. Below is the interview we conducted via email.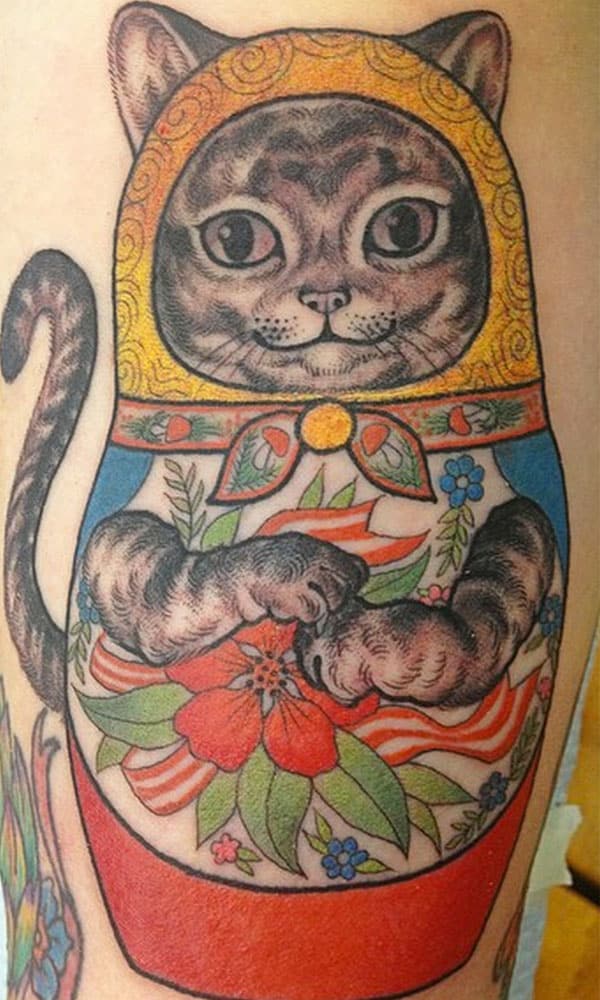 As I've matured, I've realized that there are many kinds of love, not just romantic love, which everyone seems to be searching for and seems to be so hard to truly attain. I've seen that pure love can come in the form of a previously unwanted cat or dog from the local shelter, and I feel this love is as rewarding as the kind we hear so many songs about — and it is often much more wholesome.
I liked Hanna immediately and felt comfortable around her in a way that I don't around most people.
Kezia Willingham for Catster: How did your interest in animal rescue start?
Hanna "Kapten Hanna" Sandstrom: I have a lifelong love of animals, but my interest in rescue definitely started after I adopted my second dog, Wednesday. She was a five-year-old Pug/Boston Terrier with severe fear aggression towards strangers. I learned more from that little dog than I could ever have learned from any book. Over the course of a couple of years she started to turn around, made a full recovery and became the amazing happy and silly little girl she always deserved to be! I lost her in March last year at 14, and she will forever be one of the serious life changers.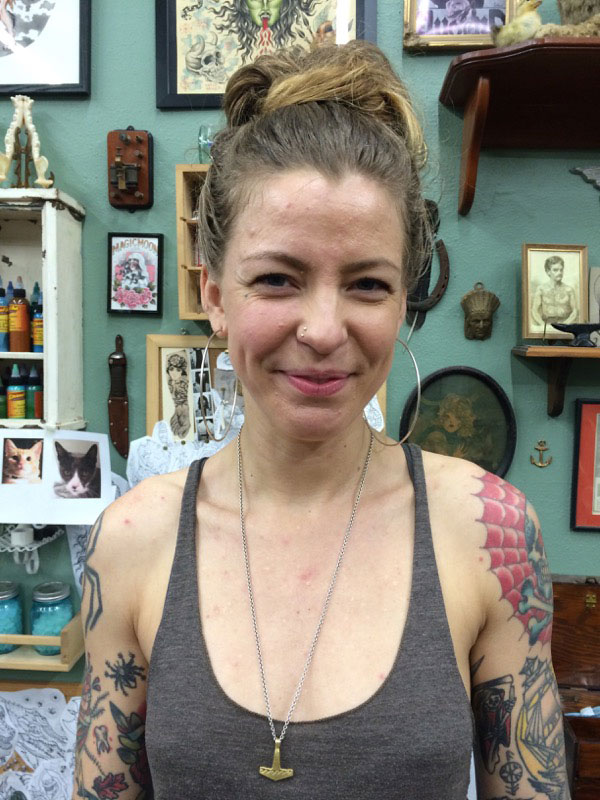 I figured after that, if I could rehabilitate her I could rehabilitate pretty much any dog, so I started fostering for a New England based rescue called Friends Of Homeless Animals Inc. Over the next two and a half years I had a total of about 20 foster dogs (one at a time), particularly specializing in dogs with fear and fear aggression issues, seniors, and blind or deaf dogs. My ex husband and I even ended up adopting one of them, a deaf Boston Terrier named Brutus. We taught him sign language, and he now lives with my ex in another state.
Have you ever had a cat? Did you grow up with pets?
I have been obsessed with animals my whole life. Growing up in Sweden I also rode horses for many years and even went to equestrian summer camp. When I was little I was slightly allergic to cats, and my dad is violently allergic to cats, so that was out. I can't wait to have a cat one day though! We have a full house (with five dogs) as it is now, but would love one, or a pair, of Norwegian Forest Cats eventually.
I did have smaller pets growing up. A guinea pig, a (very boring) gerbil, a budgie, and several rats. The rats were by far my favorites — they make amazing pets! So smart and social and affectionate. Most of the pets were hand-me-downs from relatives and friends who had grown tired of them, so I suppose my rescue career started earlier than I realized!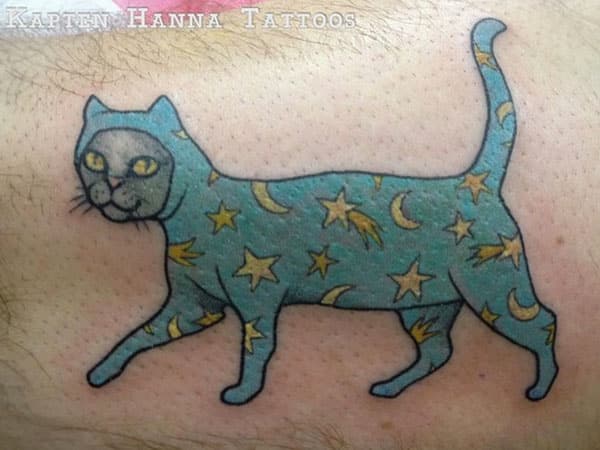 What led to your interest in cat/pet tattoos?

It was a no-brainer. Art and animals have always been my two most favorite things in the world, and after becoming a tattooer and realizing not all tattooers like doing pet portraits, I started making it one of my specialties.
I love drawing animals, and I think you really have to understand and have a passion or animals in order to be able to draw them well, particularly portraits. You want to catch that special personality in each tattoo. But I think my favorite part is seeing my clients smile after we're finished!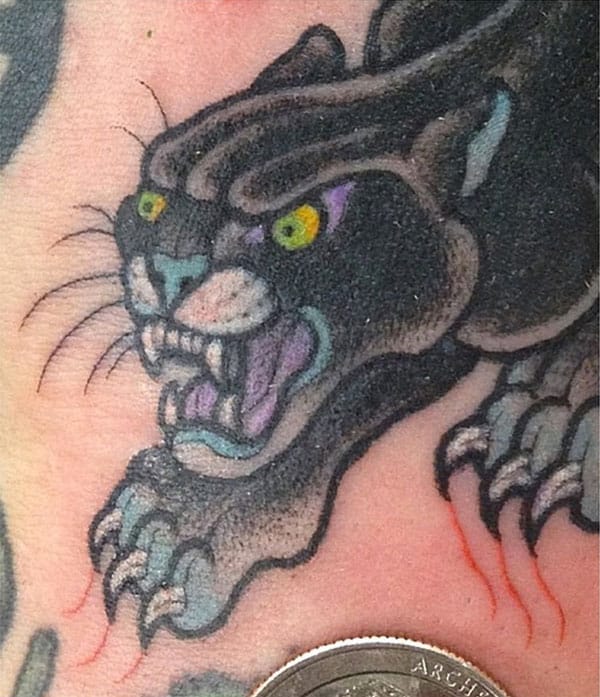 Do you have suggestions for the kind of photo a client should share for best results?
Clear, up close, high-resolution portrait-style photographs. The better the photo, the better the tattoo! And I prefer to get a few photos to choose from. I usually ask my clients to bring or send me a few different favorite photos of their pets; usually there will be one that stands out.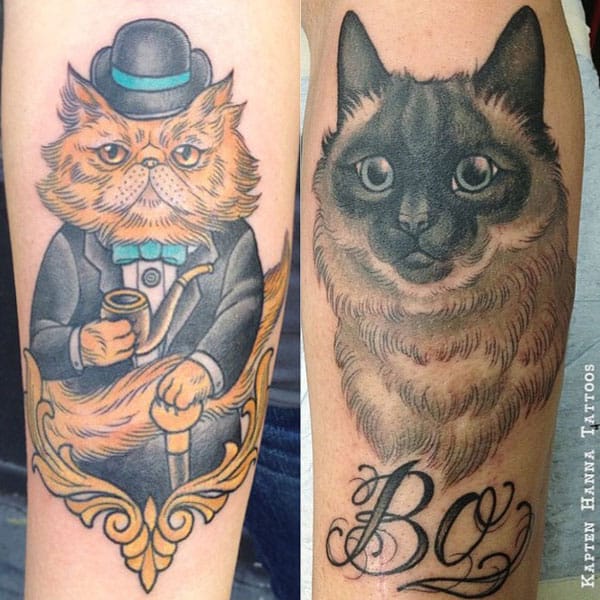 How would you describe your tattoo style?
I was definitely trained as a traditional tattooer, meaning the more old-school tattoo style often associated with sailors. But my background is as an illustrator, so over the past decade it's evolved and become a bit more detailed. "Evolved traditional" I suppose you could call it. It's always line driven, and often inspired by old naturalist prints, for example.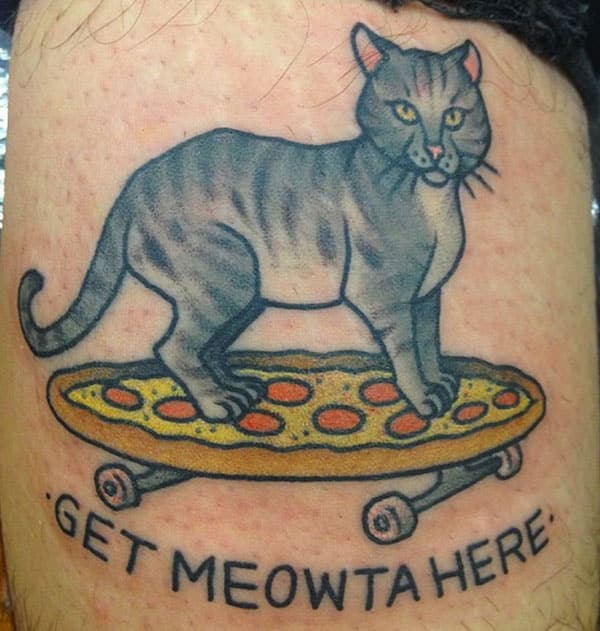 Do you have healing advice for pet owners who get tattooed? Are there any issues that pet owners must deal with, such as pet hair, dogs wanting to lick fresh tattoos, and so on?
It's pretty much common sense, but particularly in a multi-pet household (as I am very familiar with!) it can be harder to keep things clean, so make sure you change your bedsheets when you get your tattoo, and don't let your pets sleep in your bed for at least a week after, as hair, dander, and dirt could irritate the tattoo. And definitely don't let your pets lick the tattoo.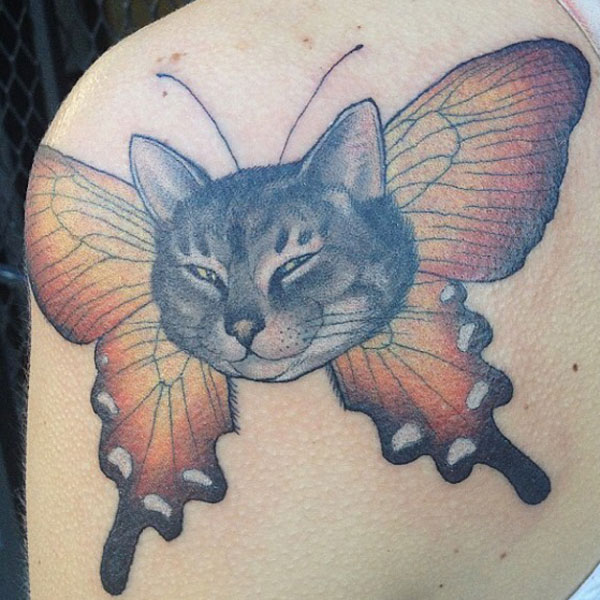 See more of Hanna's work by following her on Flickr, Instagram, and Facebook — or contact her at Dark Age Tattoo in Seattle if you'd like to get a tattoo of your own pet.
Read more about cat tattoos on Catster:
About Kezia Willingham: Also known as the Breadwinning Laundry Queen, Kezia lives with her family, which includes a pack of rescued cats and dogs, in Seattle. Kezia has loved tattoos for as long as she can remember and is quite honored to be tattooed by the legendary Kapten Hanna! Kezia's writing has appeared in the New York Times, the Seattle Times, xoJane, and Literary Mama. She has an essay in Blended: Writers on the Stepfamily Experience by Samantha Waltz. Kezia is also a professional member of the Cat Writers' Association.