I've never really been a tattoo person. Sure I have a tiny heart on my hip that I got when I was 18, but I'm not exactly a regular at the tattoo parlor.
Recently, however, my cat of 16 years passed away, and I've become set on getting something to remember her by (as if I need to be reminded). When I read JaneA Kelley's article about channeling her grief for her dead cat into a piece of body art, I started to consider getting a cat tattoo of my own. JaneA's is a little large for my taste (plus I don't think I have the pain threshold for such a large tattoo), so I started searching for a smaller version suited to my own personal style.
Surprisingly, there are a ton of cat tattoo options out there now. Long gone are the days of Tweetie Bird and Garfield cartoons. Instead, there are chic, artful tats perfect for me. Here are some of my favorites:
1. On the neck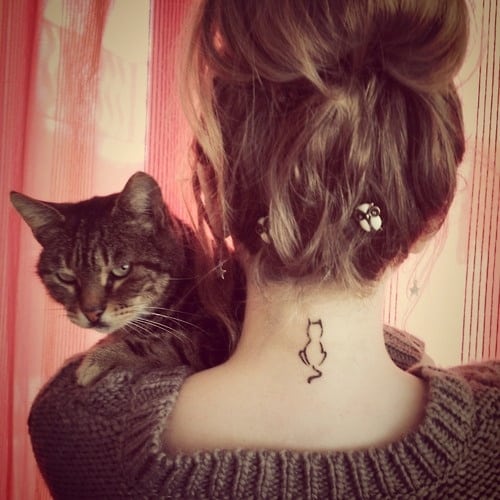 The thought of inking the name of my significant other has never crossed my mind. Instead, I prefer to honor the relationship that really matters: the one I have with my cat. The cat in this photo may not agree with me, but I think this small outline is adorable and perfect for a first cat tattoo.
2. Two wrists, two cats
As the parent of multiple cats, I love that this tattoo honors both cats, instead of just one. Plus, look how much detail is in it!
3. Simple (homemade?)
If you don't want to sit through hours of someone drawing every last detail of your cats' faces, then these cartoonish outlines are the way to go.
4. What's that behind your ear?
This itty bitty solid tattoo is perfect for representing Pip, my black cat. Plus, it's a great place to put your tattoo if you don't want everyone to see it.
5. Say it like it is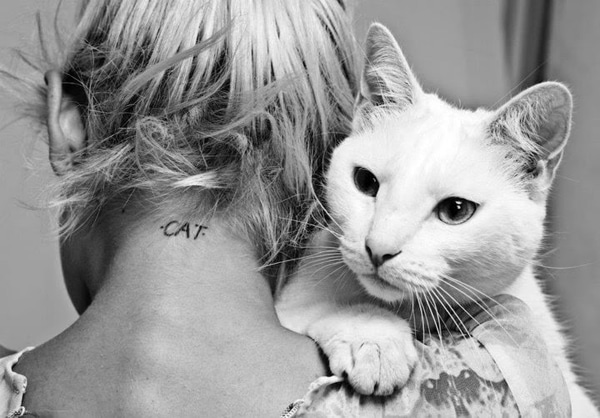 If you don't want a picture of your cat, this three-letter tattoo will still get the point across. (The model in this photo also has the word "Meow" tattooed on the inside of her lower lip — ouch!)
6. She wouldn't hold still posing
Even a partial outline of a cat is still adorable. Not sure about the placement, though. I don't really want to have to take off my shirt for people to see my ink.
7. You'll just feel a scratch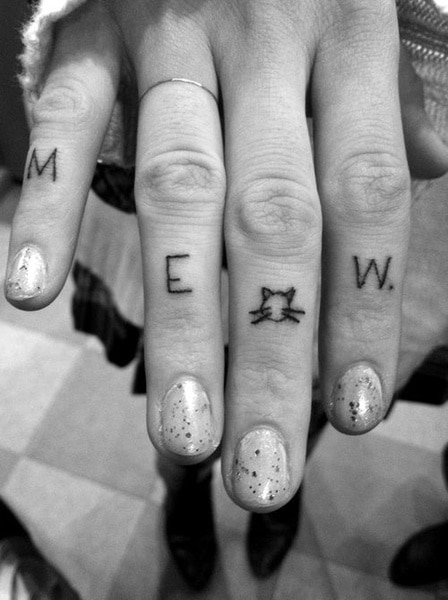 It wasn't until recently that I ever considered getting a tattoo. I was shopping in Petco when I saw the most gorgeous cat tattoo on someone's arm. This one might be a little painful, but worth it.
8. Your real cat might get jealous …
I've never really consider leg tattoos before, but if I did, it would be this pair of cat faces. Also, it would be a nice distraction from any cellulite or varicose veins.
9. Who's hungry?
Cat tattoos don't have to be so serious. This one is hilarious.
10. Instant cat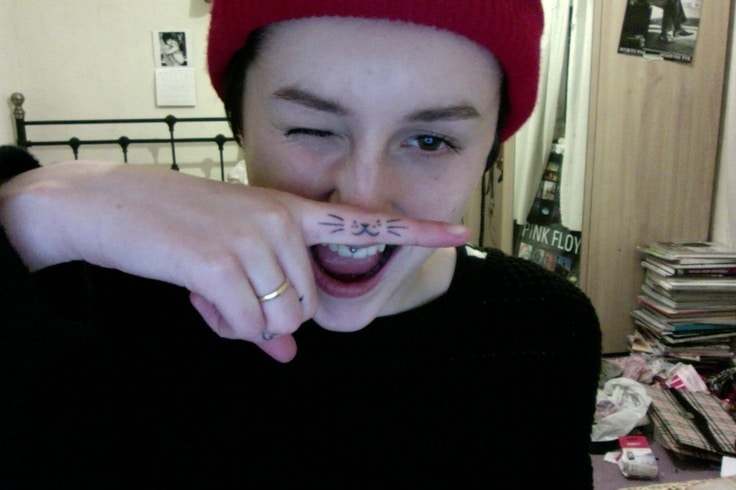 And this one I NEED. What kind of crazy cat lady would I be without one?
The downside to getting a cat tattoo is I hear they are addictive. I currently have three cats, so what do I do to honor them when they inevitably pass (hate to even think about that)? At that rate, I could very well end up with a sleeve of cat tattoos. I also worry about what kind of repercussions it could have on my life. What if I were to end up at a job interview with a (gasp!) dog person. Plus, sometimes us cat ladies need to keep our true identities hidden from the rest of the world, since it's hard for non-cat-lovers to understand our fascination.
Do you have a cat tattoo? Do you still love it? Send me photos to feed my new obsession!
Read more about cat tattoos:
Featured Image Credit:
A girl with a cat tattoo on the beach. Photography © alexandrum01 | iStock / Getty Images Plus.