Jesperpus is a dashing ginger cat born in August 2013 and who has since become a fan favorite on the social media scene. While exploring the scenery of his native Norway, you'll catch him romping through snow-topped fields, taking in stunning sunsets and keeping toasty by lounging next to the camp fire.
Here's Jesperpus' story.
Jesperpus's grand arrival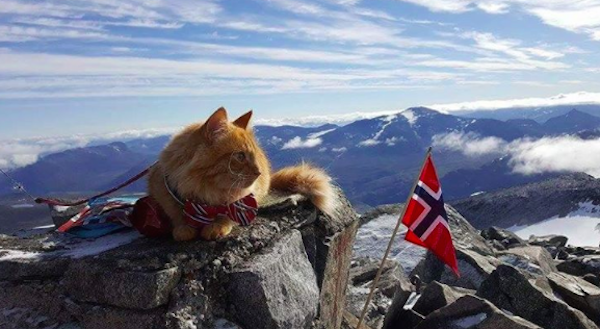 Jesperpus came to live with his human, Aina Stormo, after a neighbor asked whether her family wanted a kitten. The next day, he turned up at what was to become his forever home.
"Jesperpus is a totally normal house cat, and we don't know his breeding or his family," explains Aina. "His mom was a tricolor cat, but his dad is unknown. When he arrived, he had a broken tail and was afraid for his paws."
Thankfully, the tail trouble was remedied by a vet, and Jesperpus learned to overcome his curious paw phobia.
One smart kitty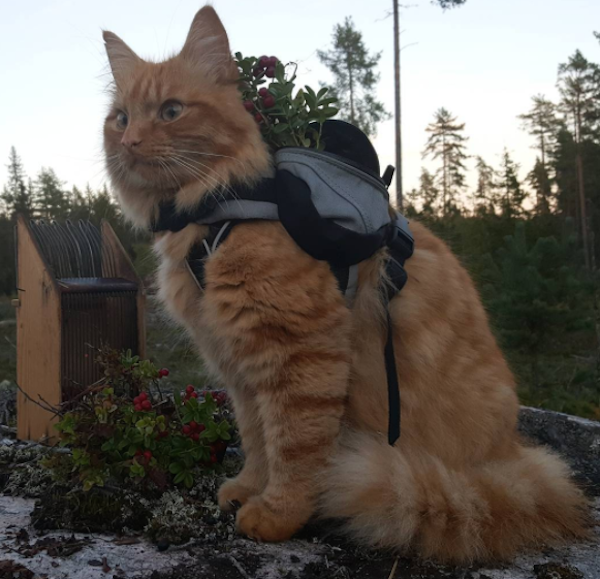 He quickly settled into his new home, and Jesperpus' personality began to emerge. According to Aina, he's a "smart cat" who's never shy about conveying "clear messages to us if there is something he wants." I'm going to guess that treats fall under this category.
Jesperpus also loves the outdoors, joining his humans on hikes and fishing trips.
No business like snow business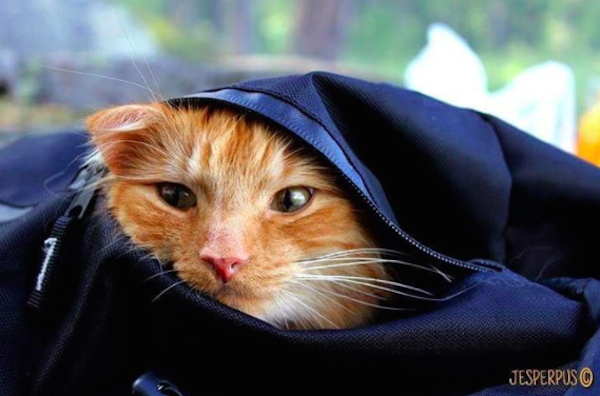 Speaking of Jesperpus' outdoor adventures, he's a cat who happily frolics through the snow.
"He has thick fur, so snow isn't a problem," says Aina. "We also have a cat flap in the door so in the cold weather he can go in and out whenever he wants."
Aina adds that when they're out skiing or walking together, Jesperpus has the option of hopping into her backpack to take a break from the ice games: "There's always a thick wool blanket inside, so he can always stay warm."
Climbing the tree of social media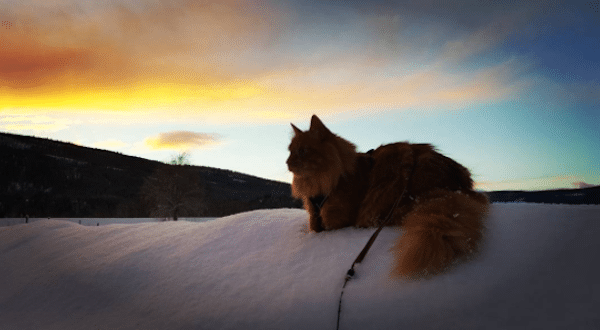 Jesperpus has become a star of the social media feline scene, racking up 25,000 Instagram followers and more than 60,000 Facebook fans. Aina credits his success to the way people can relate to the "stories of his daily life," also saying that people without cats come to consider Jesperpus as part of their world.
Pawing it forward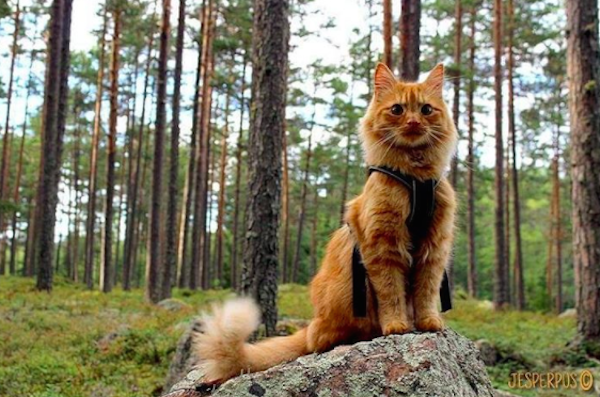 Continuing to talk about Jesperpus' social media rise, Aina says, "He also participates in all of the family activities from traveling on planes to mountain hiking, which is a bit unusual for cats and has given him a lot of attention.
"We want to use his popularity to promote cat welfare and inform people about cats' needs. They are the most popular pet — but also the pet that's most often neglected."
Christmas kitty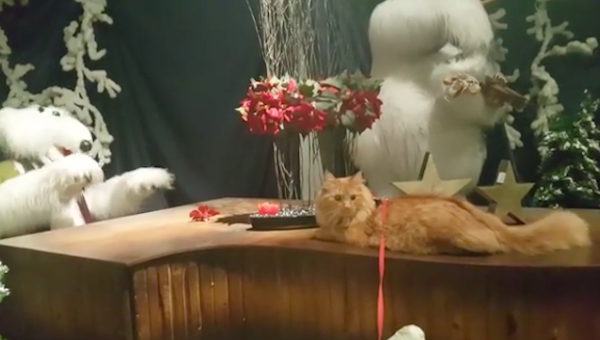 Interviewed a little before Christmas, Aina offered how Jesperpus planned to spend his festive days.
"He is going to stay with the family and take some short trips to his tiger forest, where he can hunt mice and check the food tray for the birds we have," reveals Aina. "On Christmas evening he'll celebrate with us, and he has his own Christmas tree. He usually gets a lot of Christmas gifts and has become an expert at opening them."
And what's on Jesperpus' wish list this year?
"Some nice fresh mouse tenderloin, I presume!"
Check out more of Jesperpus at his Facebook and Instagram pages.