Editor's note: Have you seen the new Catster print magazine in stores? Or in the waiting area of your vet's office? This article appeared in our September/October 2016 issue. Click here to subscribe to Catster and get the bimonthly magazine delivered to your home.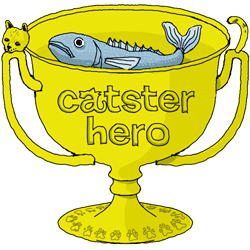 One brisk Montana spring morning, it was business as usual for Miss Kitty, a dilute calico cat with sparkling emerald eyes. Her mom gave her a fresh bowl of food along with some gentle strokes behind the ears. After whispering how much she loved her, her mom went out to run some errands. As the front door closed, Miss Kitty's idyllic life was about to be shattered forever.
Something snapped in her mom's boyfriend. No one saw what he did, but Miss Kitty's injuries suggested that he beat the sweet cat mercilessly. And then he was gone. Miss Kitty's mom immediately called the authorities. The animal control division of the Helena Police Department whisked the cat to safety right away.
Arriving at the Apex Animal Hospital, Miss Kitty began her healing process under the care of the best medical experts.
To help with special needs and costly veterinary cases, animal control partners with Lewis and Clark Humane Society, a nearby nonprofit animal welfare organization dedicated to providing shelter and advocacy for animals on the path to their forever home. Miss Kitty's owner signed her over to LCHS so they could get her on the mend and find her a safe and loving home.
Katie Axline, LCHS cat adoption coordinator, was shocked when she learned about Miss Kitty's plight.
"We don't see many cases like Miss Kitty's," she said. "You wonder if there were any warning signs or if anything could have been done to prevent this from happening."
As Katie pondered how and why something so devastating could happen to a companion animal in their community, there was a more pressing situation at hand: Would Miss Kitty be too traumatized to transition into another loving home?
Katie was pleasantly surprised.
"I was absolutely amazed the first time I met Miss Kitty; she was the sweetest cat despite the horror that she endured," she said. "She had never met me before, yet she was happy to see me, even moving closer to greet me, giving me a look of unconditional love despite what she has gone through."
The veterinarians, veterinary technicians, and LCHS staff all give her the much needed care and attention she requires as she awaits her femoral head ostectomy hip surgery. Miss Kitty's operation will take a part of the head section of femur bone out and alleviate pain in her hip.
Miss Kitty soaks up all the attention at the clinic. She loves having her head and chin scratched, a full body massage, and turning into a cuddle puddle. While Miss Kitty is affectionate, she can be demanding, too.
"You can't give her just a few seconds of attention; she wants all of your love all of the time!" Katie said.
The litany of Miss Kitty's admirers will keep up their routine of visits — with their cooing, oohing, and ahhing, gentle touches, and encouragement for the months to come. The surgery's recovery time could take a while, but there's no limit to the amount of resources or love Miss Kitty will receive to see her back to a perfect picture of health.
Even though Miss Kitty has endured heinous abuse, thanks to teamwork and an indefatigable spirit, her future has a bright outcome: The staff at Apex Animal Hospital has decided to adopt her. She will certainly be well-loved.
About the author: Denise LeBeau is an essayist, writer, and editor. For seven years she has been a full-time writer for an animal welfare organization. She shares her home in Hampton Bays, New York, with two rescued Siamese cats, Flipper and Slayer, and two rescued moocher mutts, Parker, and Zephyrella.