The first Somali I ever "met" was the late Sparkle the Designer Cat, author of two self-help books for cats. Sparkle's personality, like the personality of her feline protégée, Summer, was larger than life. When I got to see a Somali in person, I was awed by his beauty and grace.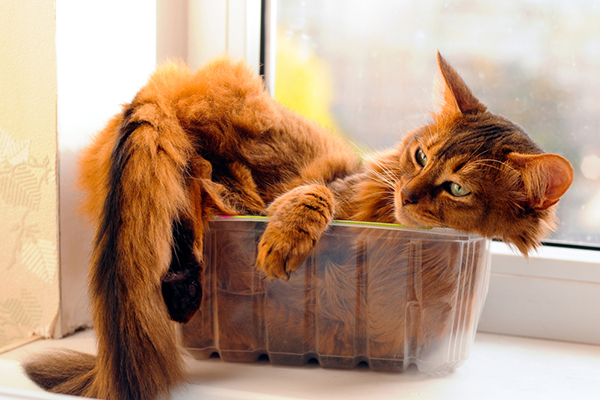 Origins
The Somali is a long-haired Abyssinian. How the recessive long-hair gene got into the Aby's gene pool is a matter of speculation and debate, but long-haired cats started showing up in the descendents of Abyssinian kittens exported from England to Australia, New Zealand, and North America in the 1940s.
In 1963, Canadian breeder Mary Mailing entered one of her long-haired Abys into a cat show, and judge Ken McGill was so intrigued that he asked to buy one of those kittens for breeding purposes. Around the same time, American Abyssinian breeder Karen Mague also began seeing long-haired kittens in her litters and began referring to them as Somalis. Mague began working with another Canadian breeder to develop the breed.
In 1978, the Somali earned championship status in the Cat Fanciers' Association, and today it is also accepted for championship in the International Cat Association and numerous other registries.
Appearance
The Somali is a medium-size cat with a muscular body, long and muscular legs, and a modified wedge-shaped head. His medium-length fur is longer around the neck, on his rear legs, and on his elegant, plumed tail. The most common color found in the Somali is ruddy — a fox-like red — but it is often seen in lilac, blue, fawn, cinnamon, and chocolate. Silver Somalis exist, too, but they tend to be rarer. His large, almond-shaped eyes are green, amber, or gold.
Male Somalis weigh between eight and 10 pounds, and females weigh between six and seven pounds.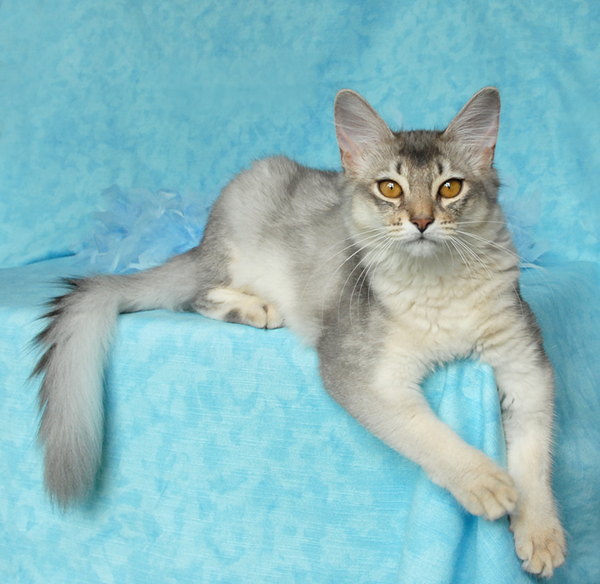 Health and longevity
Somalis typically have a normal life expectancy of about 15 or 16 years, but they are more prone than other breeds to several health issues. The first of these is pyruvate kinase deficiency, an enzyme problem that leads to intermittent anemia. Other potential health issues include progressive retinal atrophy, an eye disease; a neuromuscular problem called myasthenia gravis; and renal amyloidosis, a buildup of proteins in the kidneys.
What it's like to live with a Somali
If you're looking for a mellow lap cat, the Somali is not for you. He's a little ball of energy who loves to climb, play, and watch birds and squirrels from the comfort of a window perch. He loves it when you're home with him because he needs your attention — more as a play partner than anything else. The Somali gets along well with older kids, especially if they're willing to play with him and train him to do fun things. But be advised: Your Somali will train you as much as you train him.
In order to keep your Somali from getting into mischief, you'll have to provide him with lots of intellectual stimulation in the form of interactive play and puzzle toys. A natural athlete, the Somali would do very well in agility competitions.
Another career possibility for the friendly and outgoing Somali is therapy cat. When Somalis are socialized around a variety of people from a young age, they will do well in environments where they have the chance to visit with people who need some feline love.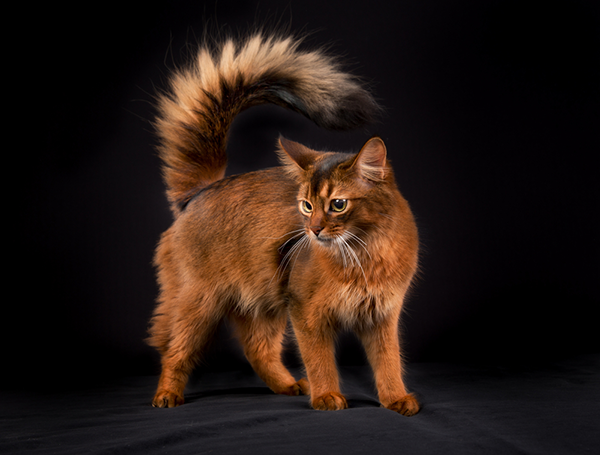 Somali trivia bits
The Somali's origins have nothing to do with the nation of Somalia. Early breeders gave it that name as a takeoff on the Abyssinian.
There are 28 colors of Somalis, but only a small number of them are accepted for championship status by the major cat breeders' associations.
The Somali's outgoing personality and affectionate nature make the breed a great candidate to be a therapy cat.
Do you have a Somali in your home? What's it like to live with him or her? Please share your thoughts and photos of your Somali in the comments.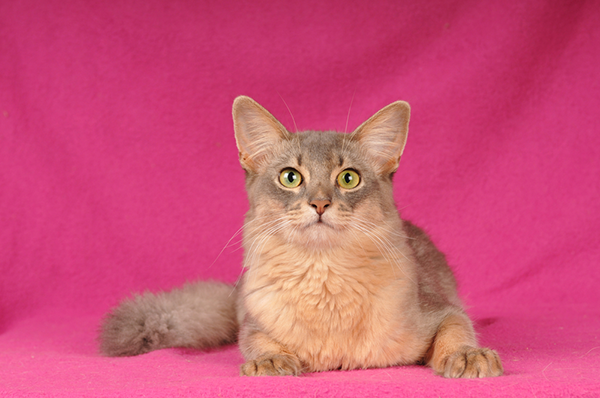 Read more on cat breeds:
About JaneA Kelley: Punk-rock cat mom, science nerd, animal rescue volunteer and all-around geek with a passion for bad puns, intelligent conversation, and role-play adventure games. She gratefully and gracefully accepts her status as chief cat slave for her family of feline bloggers, who have been writing their award-winning cat advice blog, Paws and Effect, since 2003.