There are cats — and then there are famous cats. We're talking about those instantly recognizable felines whose image and legacy define entire pop culture eras. In salute to these truly top kitties of the screen, the internet and the printed page, here's a roll call of the world's most iconic felines.
Social media stars and starlets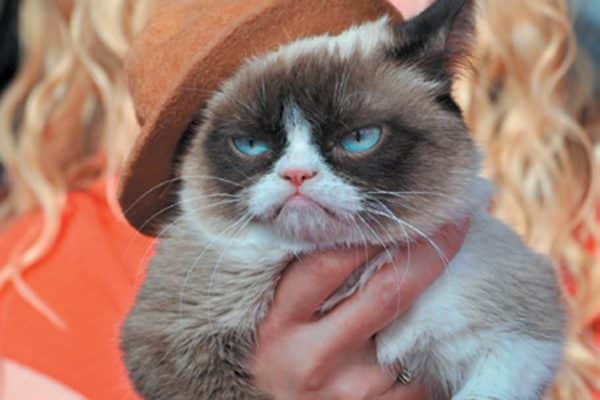 The social media age has made stars out of many cats, but no one comes close to Grumpy Cat when it comes to spreading a feline's face around the world. Renowned for her characteristic sourpuss look — partly the result of dwarfism and an underbite — pictures of the self-defined "world's grumpiest cat" blew up on the Reddit circuit before going viral and inspiring an avalanche of memes. It's a fame that Grumpy's flipped into an empire that includes a movie, a series of books and an endless stream of merchandise.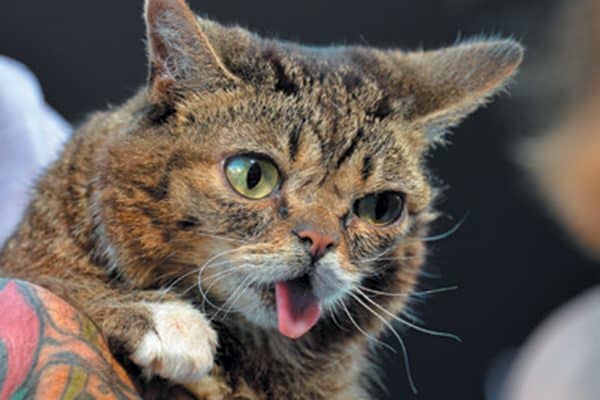 Just like Grumpy Cat, Lil BUB's rise began when photos of this runt of the litter took over Tumblr. But thanks to her petite size — she's a "perma-kitten" due to genetic abnormalities — and constantly stuck-out tongue, she's used her status to become an ambassador for special-needs cats and adopt-don't-shop culture. Often snapped appearing at charitable events, BUB's owner, Mike Bridavsky, claims she's raised more than $300,000.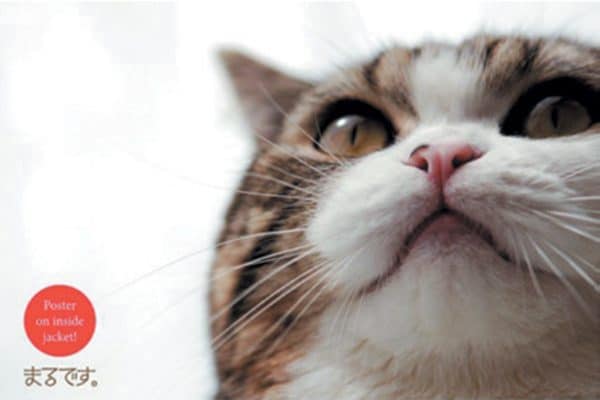 Swinging back to the lighter side of the social media circuit, Maru has become a champion kitty by virtue of one finely honed skill: An entertaining ability to squeeze his striped body into all manner of undersized boxes and containers. Videos of Maru mastering his art are so popular that this Scottish Fold holds the Guinness World Records title for being the most viewed animal on the whole of YouTube, claiming over 350 million views.
On-screen famous cats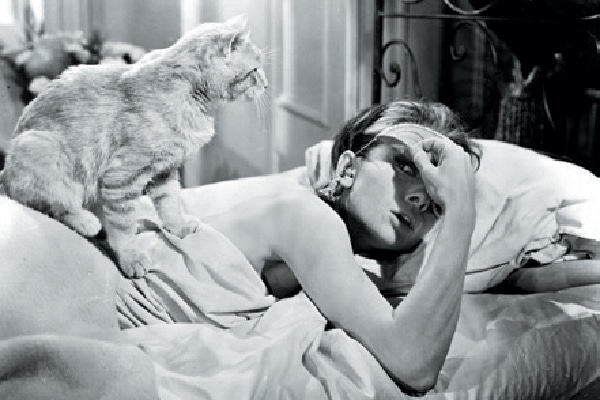 Long before we were all fixated on YouTube videos streaming on our phones, the cinema was the place to catch famous cats in cation. In the pantheon of famous cats on screen, one cat takes top billing and that's Orangey. Well, that's his real name, but you probably know this marmalade thespian as simply Cat, the dignified feline from the Audrey Hepburn movie Breakfast At Tiffany's.
Orangey's other screen times include The Diary Of Anne Frank and The Incredible Shrinking Man, along with the TV show Mission Impossible. But behind the glamor and glitz, Hollywood rumors suggest Orangey was quite the brute off camera, often scratching and attacking actors who couldn't live up to his high dramatic standards.
Continuing with the orange-cats-on-camera angle, Morris The Cat is the tabby who stars in the 9 Lives series of cat food commercials. The original Morris was scooped up from the Humane Society in Illinois back in the '60s and proudly embraced his role as "the world's most finicky cat" who would never deign to dine on inferior brands of chow.
Later on in his career, Morris would score roles next to Burt Reynolds and Elliott Gould, and even took a trip to the White House where it's alleged he signed a bill with a paw print.
Literary kitties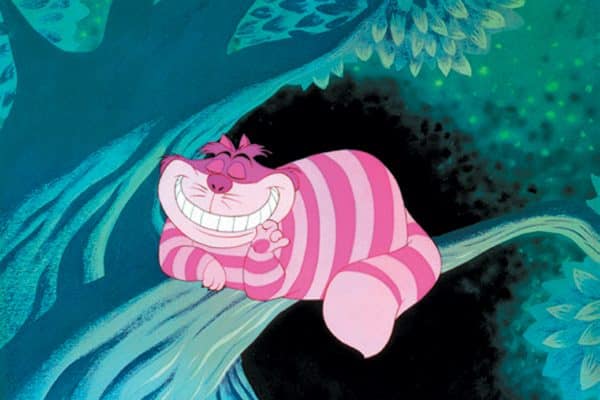 Back in the 1930s, the Algonquin Hotel in New York City began fostering a lineage of literary cats. The enterprise was originally known for hosting the Algonquin Round Table — a group of smart-ass writers that included Robert Benchley, Harold Ross and Dorothy Parker — but then a cat called Hamlet showed up and attempted to usurp them all.
Since then, the Algonquin's resident feline has been named either Hamlet or Matilda, depending on gender, and they claim unfettered run of the hotel. The duties of the current incumbent, Hamlet VIII, include presiding over the yearly cat fashion show.
Broadening the feline literary circle are The Cat In The Hat and The Cheshire Cat. The former, a creation of Dr. Seuss, dons a red-and-white striped hat and enchants a couple of kids with his rhyming patter. Popularized by Lewis Carroll in Alice's Adventures In Wonderland, the Cheshire Cat is famed for a super-wide grin, which either suggest mischief or some sort of psychedelic night terrors are about to ensue.
Cartoon cats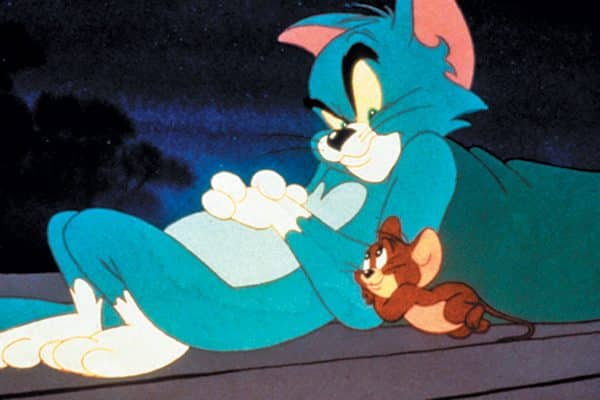 The cartoon world is littered with famous cats. Debuting back in 1919, the black-and-white Felix The Cat can stake a claim as the universe's first animated feline superstar thanks to an endearingly large grin that lit up silent movie screens. A couple of decades later, Hanna-Barbera's Tom and Jerry helped popularize the cartoon cat trend by portraying the slapstick plight of a domestic shorthair who's continually toyed with by a tiny brown mouse.
In a similar style, the same animation house brought us the misadventures of Mr. Jinks, an orange feline constantly thwarted by a couple of dapper mice, while the studio's Top Cat character kept the shenanigans running through the '60s as he headed up a rag-tag crew of New York City alley cats continually harassed by Officer Dibble. Slinking over to the Looney Tunes world, we can't forget Sylvester, a tall tuxedo cat with a lisp who can usually be found hot on the chase of Tweety Bird.
Embracing the less energetic side of the spectrum is Garfield, a proudly portly creation of the cartoonist Jim Davis. With his slothful and cynical outlook on the world, plus propensity to overindulge and overeat, Garfield has kinda come to symbolize the excess of the '80s.
Jumping forward a decade, Ren and Stimpy performed a similar trick, with the off-kilter brainchild creation of John Kricfalusi channeling the MTV era by presenting a skewed view of life through the lens of an animated Chihuahua and his well-meaning but goofy feline pal.
Moving on to the '90s and the early aughts, CatDog switches up the formula to conjoin a cat and a canine together and bless them with opposing personalities. Naturally, Cat is the refined, more astute — and, admittedly, often cunning — side of the partnership.
Finally, we could not salute the most recognizable cats of the world without doffing a cap toward Hello Kitty, a feline whose cultural impact is so great that she has her own airline. Now that's iconic.
Follow these famous cats on Instagram
Thumbnail: Photography ©Xinhua | Alamy Stock Photos.
Phillip Mlynar spends his days writing about cats, hip-hop and food, often while being pestered by his rescue, a mackerel tabby named Mimosa. His work appears in Vice, Pitchfork, the Village Voice, Bandcamp and Catster. He's won various awards at the Cat Writers' Association Communication Contests, some of which are proudly on display at his local dive bar in New York City.
Editor's note: This article appeared in Catster magazine. Have you seen the new Catster print magazine in stores? Or in the waiting room of your vet's office? Subscribe now to get Catster magazine delivered straight to you! 
Read more cat news on Catster.com: