Looking for fun ways to spend time with your cats and get crafty at the same time?  DIY puzzles and games are fun to build and provide your cat with fantastic mental exercise. Just remember it's important that cats be supervised while playing with these games to make sure they are playing safely and appropriately.
Related: How to Entertain Your Cats During COVID-19 Pandemic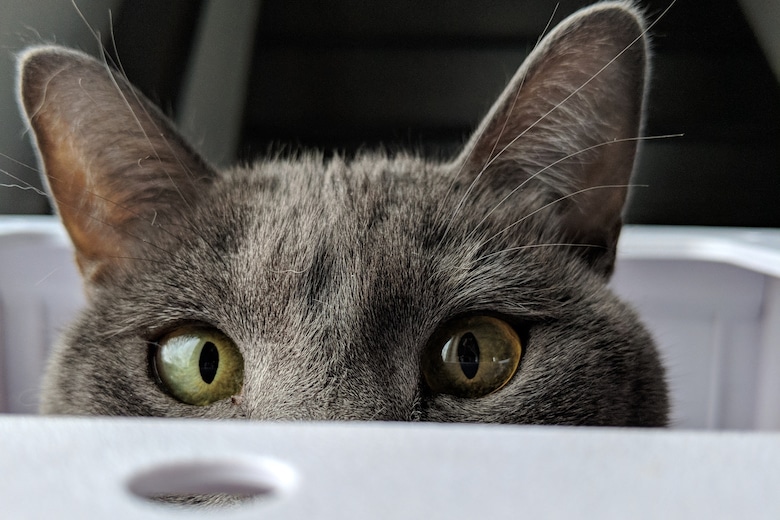 Keep your cat busy with these DIY cat puzzles 
Treat Fishing
Cat's love to use their paws to "fish" for things.  Batting at skittering food comes naturally to cats, and this game channels those natural skills. When finished, this toy will be a box filled with up-facing tubes for your cat to puzzle how to fish treats out of!
You'll need
Multiple toilet paper and/or paper towel tubes
A small box
Scissors
Cat treats
Instructions:
Take a small box that has come from deliveries, a Kleenex box or a shoebox that is the right size.
Collect several toilet paper and paper towel tubes.
 Cut down the paper towel tube into different heights of tubes.
Put the tubes into the box until the box is full and the tubes are steady.
Sprinkle a few cat treats into some of the tube holes and give the puzzle to your cat to enjoy.
Peekaboo Box 
This box is a version of the whack a mole arcade game except instead of the "moles" popping out of the holes, your cat will be reaching in to try to grab at the toys!
You'll need:
Large box
Scissors
Packing tape or duct tape
Cat toys, ping pong balls, or tennis balls
Instructions: 
Take a large box and cut different sized holes in each side of the box.
Drop balls or other cat toys into the box.
Tape the box closed.
Enjoy!
For an added challenge, make the holes in the box different sizes, with some being big enough for your cat to pull toys all the way out of and with other holes too small for toys to be pulled out of.
Treat Dispenser
Looking for a creative way to feed your cat? This easy-to-make food-dispensing toy is a great way to make kitty mealtime interactive and fun. If you don't feed kibble, you can also use this puzzle for giving your cat crunchy treats.
You'll need
Plastic water or soda bottle
Scissors
Cat treats or dry kibble
Instructions: 
Punch a few holes in the bottle.
Make sure the edges of the holes aren't sharp.
Confirm the holes you punch in the bottle are large enough to allow a treat to come through.
Put a  handful of treats or your cat's dry kibble inside.
Screw the lid back onto the bottle.
Shake the bottle and show it to your cat and let her play. As your cat bats the bottle around the room, treats will be dispensed.
As the game progresses and there are fewer treats or bits of kibble in the treat puzzle, the more work your cat will have to put into getting the treats out making the game progressively harder.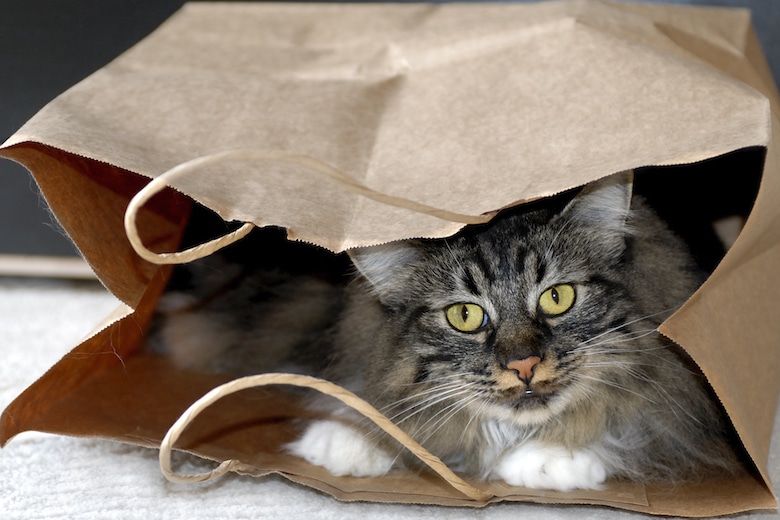 Games to keep your cat busy 
Bag Hunt
Anytime I get home from grocery shopping my cats (like most cats) are curious about the paper bags. Paper bags on their own make wonderful toys for cats to pounce onto and hide in. For added fun take a paper bag and place balls and cat toys inside. Make sure to remove any handles before your cat plays in the bag.
Corner Games
Wand toys connected by a string to a toy on the other end are popular with most cats. Follow these simple instructions to make your own and then take your gameplay to the next level. Go into one room and drape the string of the wand toy around the corner of the doorway so you aren't visible. Start to wave the wand to make the toy on the other side of the corner dance!
Bubbles! 
It's not just humans who find bubbles irresistible. When faced with floating bubbles most cats are inspired to pounce! You can purchase catnip flavored bubbles designed for cats online. Alternatively, you can get non-toxic bubbles online or at most retailers.
When you have your cat's attention, blow bubbles to give your cat the opportunity to chase and catch them. Be sure to blow bubbles away from your cat, not directly onto your cat or into your cat's face. Bubbles can be a little messy, so this game is best to play in the kitchen or in another area of your house with an easy-to-clean floor.
Top photograph: iprogressman/ Getty Images
Read Next: Should You Clean Your Cat's Paws?