Editor's note: This story originally appeared in the July/August 2015 issue of Catster print magazine. Click here to subscribe to Catster magazine.
I invented cat sushi. This innovation happened about 10 years ago, over dinner at a Japanese restaurant in Brooklyn. As the waitress was cleaning up plates scattered with discarded pieces of pickled ginger, soy sauce-saturated wasabi, and strings of daikon radish, I remarked how no one ever takes sushi leftovers home. Wouldn't it be great, I speculated, if you could ask for a tiny takeout box and put a small piece of fish in it to bring back as a treat for your cat? Clearly, this concept would be called cat sushi.
Of course, I never did anything about the flight of fancy, and I soon discovered that contrary to everything cartoons had told me growing up, it's really not cool to feed your cat raw fish for health reasons.

This happened before the days when we all started scurrying around, constantly connected to our smartphones. Had the concept popped up today, maybe I'd have taken a chance and attempted to crowdfund it — you know, the Internet-enabled way of letting the world know about your latest idea with the hope that strangers will pledge money to back it before you rack up a debt doing it yourself. After all, when it comes to crowdfunding, cats rule.
The case of Exploding Kittens
Consider this: Back in January, Elan Lee, Matthew Inman, and Shane Small became millionaires in a matter of days. They'd created a card game called Bomb Squad that they described as a version of Russian roulette, with a rogue joker being placed into the pack of cards. There was little interest in it, and they admitted it "wasn't any fun at all." So they set about retooling the rules and, crucially, recast the joker role as a series of destructive comic book-style cats. They called it Exploding Kittens.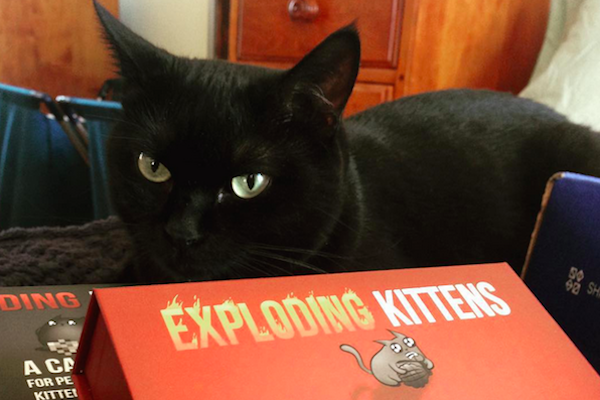 The trio launched a campaign on the Kickstarter website asking for $10,000 to get the project off the ground and into production. Within 20 minutes, it hit fully funded status. A few days later, they had received $4 million. After a month, the project ended with more than 200,000 people backing it for a total of $8,782,572. Not a bad haul for a simple card game about cats, right? (Cats' reactions were, understandably, mixed.)
Exploding Kittens isn't the first time a cat-centric idea has scored big through crowdfunding. A product called Axent Wear Cat Ear Headphones raised almost $3.5 million for what amounts to an oversized pair of headphones with pointy cat-shaped ears on them. (It's not clear whether the cord to the cans is immune from being chomped through by your own curious feline.)
Then the guys behind Mousr used crowdfunding to raise more than $100,000 to develop what they're calling the world's first artificial intelligence cat toy. New York City's first permanent cat cafe, Meow Parlour, successfully ran a smaller-scale campaign: The founders were looking for people to purchase $2,000 worth of early-entry tickets to check out the space, partly so they could control the flow of visitors and work out any early kinks in the enterprise. One hundred seventy-seven backers gleefully signed up to sip coffee and meet the kitties.
Why crowdfunding loves cats
So why are so many cat-related ideas proving amenable to the crowdfunding model? Obviously, cats are a big deal on the Internet. We love to look at pictures of them, watch videos of their antics, and engage in feline memes. If there's a kitty involved, there's a good chance it'll be a hit online. But I'd chance there's a little more going on when it comes to crowdfunding: I think people are willing to support what might seem like crazy cat ventures because it plays into the idea of fantasy that comes with cat ownership.
As soon as you bring a cat into your life, you begin to project a personality onto him. Maybe his name has a fantastical origin, or the places he sleeps or find adventures are explained away by a nonsensical backstory. Soon, this all becomes part of the cat.
Crowdfunding taps into this and allows us to support other feline fanciers who want to take what might seem like strange or kooky ideas and make them real. Sites such as Kickstarter and Indiegogo are filled with pitches for crazily designed litter boxes, kitty-shaped-pasta photo frames, and even movies starring cats. Most of the projects will never become funded, but that's not the real point — what matters is that people were inspired by the quirks of their cats and were able to share the idea. At heart, crowdfunding is just the latest way of letting us all tap into the collective cat consciousness.
How do you go about crowdfunding?
Get inspired and come up with an awesome cat-related idea.
Explain your idea to the world on the popular Kickstarter or Indiegogo websites.
Set a funding goal based on how much you think you'll need to make your idea happen. (Don't be greedy!)
Promote your idea to your friends on social media.
Hope you hit your funding goal within the time limit (usually 30 days).
If successful — or "fully funded," as they say — lavish your cat with a whole bunch of extra love and attention for inspiring your idea.
Crowdfund reality bites
What about taxes? Kickstarter and Indiegogo state on their sites that individuals are responsible for collecting/paying any taxes.
Do you have to prove you are using the money for what you say you are? Creators are meant to take "all reasonable steps" to ensure that a funded project is fulfilled — extending the deadline for producing it, staying in touch with backers, offering partial refunds if needed — and ultimately, "they may be subject to legal action by their backers."
See the crowdfund sites' Terms of Use for more information.
About the author: Phillip Mlynar likes to consider himself the world's foremost expert on rappers' cats. When not chronicling the antics of his own cat, Mimosa, on Catster.com, his musings on music can be found at NYLON, Red Bull Music Academy, the Village Voice, and Deadspin. He tweets at @phillip_mlynar and rues the day he used an underscore in his Twitter handle.