Imagine this: It's Christmas Eve and you're wrapping packages and signing gift tags. Your sweet kitty comes over to play with your loose spool of ribbon and suddenly it dawns on you … you forgot to buy the cat a gift! Gasp, and shame on you!
It's happened to all of us at this hectic time of the year, so don't beat yourself up. This week's Catster Picks have all been sourced from big-chain pet shops that most of us have nearby. Now jump in your car or on the bus and go get them!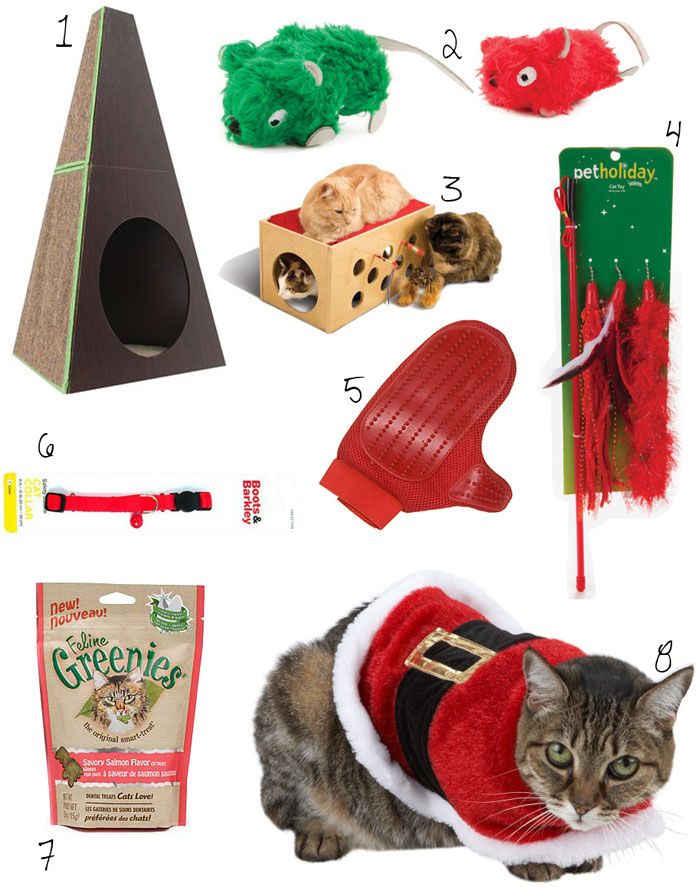 1. Pyramid Cat Scratcher ÔÇö The modern design looks great, and the height on this cat scratcher will force your kitty to do something she loves anyway ÔÇö stretch!
2. Kong Holiday Mouse Cat Toy ÔÇö These are so ugly they're cute. And they contain a hidden vial of catnip. Yes!
3. SmartCat Bootsie's Bunk Bed and Playroom ÔÇö Have more than one kitty? This bunkbed and playroom will offer good times for all.
4. Holiday Cat Teaser ÔÇö What cat doesn't love a feather toy? This no-brainer gift will be much appreciated.
5. Four Paws Magic Coat Love Glove ÔÇö You'll love how great your cat's coat will look when you're done using this grooming glove, and your cat will love the petting session.
6. Boots & Barkley Webbed Cat Collar ÔÇö Keep your kitty's holiday look festive with a simple red breakaway collar complete with jingle bell.
7. Feline Greenies ÔÇö Stuff your cat's stocking with a few bags of these. They're a healthy treat your cat will love.
8. Whisker City Cat Santa Coat ÔÇö Not all cats will be into this, but if you have a kitty who doesn't mind dressing up, this coat is just too cute to pass up!
Follow Catster's Picks of the Week on Pinterest!