I briefly lived in the Bible Belt as a kid, often surrounded by children from fundamentalist Christian backgrounds. It was around the time All Dogs Go to Heaven was all the rage and a child in my class took it upon himself to say that it wasn't true, that only people go to Heaven. Deeply distraught at the prospect of my beloved cats, Butterscotch and Wart, disappearing into nothingness upon their deaths, I asked my mother if animals went to Heaven, to which she replied, "Of course they do." When I asked how she knew, the not-especially-pious woman replied confidently, "Because God wouldn't convince anyone to come if they didn't."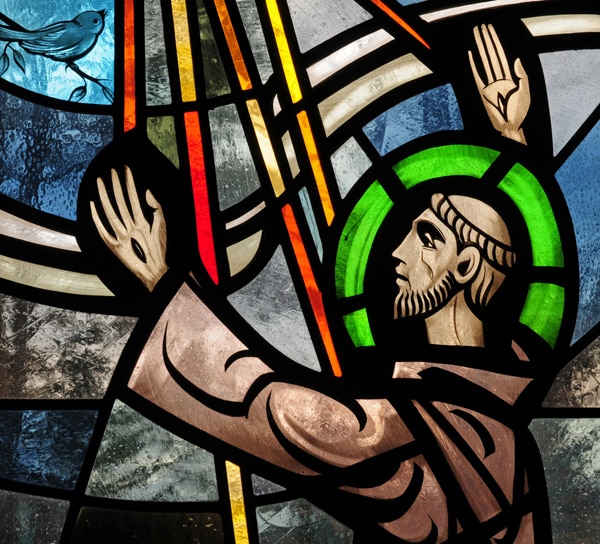 I think of this episode often around the feast of St. Francis of Assisi. How deeply connected we are to our animal companions that Paradise would be no such thing without them. In the Anglo-Catholic tradition and others, we celebrate this connection with our fellow citizens of creation and the saint himself with the Blessing of the Animals.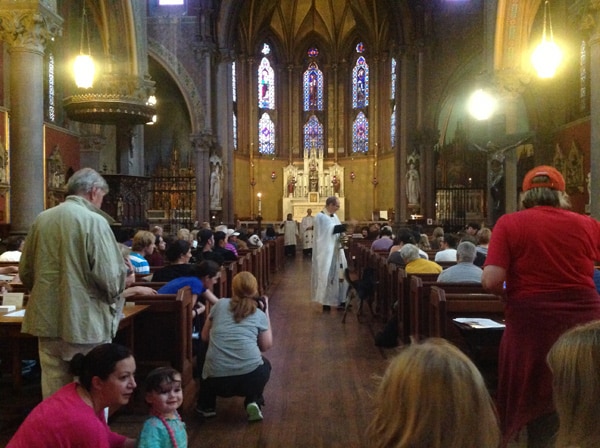 To some, it sounds like a cruel parade of churchy types dragging animals from the comfort of home to indulge in a meaningless ritual that the animals couldn't care less about. But the energy in the sanctuary, filled with cats, dogs, an assortment of rodents, and even a fish, was one of unmistakable joy and celebration from humans and animals alike. Also, my cat Keith came to me through a woman at my church who had rescued him during the middle of a heat wave, so I owe a lot to churchgoing cat lovers. I interviewed a handful of them at the blessing last Sunday.
I have a master's degree in religion, so my (foolish) first thought was that people would provide lofty theological answers about being conduits for Christ's unconditional love through cat companionship, acting as stewards of creation through adoption, etc. What I gathered from these cat lovers was much simpler and more attuned with the true spirit of the saint's contribution to the world.
I met Tiger only briefly as his family was unable to stay for the reception for the animals (yes, there was a reception for the animals). When I asked the cat's name, the kids in the family said, "Tiger! Tiger!" with an urgency similar to that of children with newborn siblings that they are beaming about. The occasion serving this particular family was a simple way to introduce a member of their family to a community that might not know him otherwise. So far, no replies pertaining to Gospel-centered living and the like. Go figure.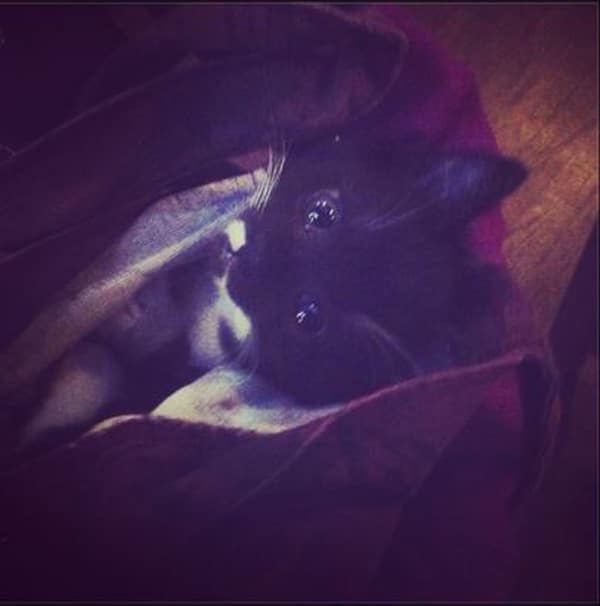 Two sisters around the ages of six and three, Marley and Inari, who brought their newly rescued kitten, Shufraka, were similarly eager to talk about the latest addition to their family. Marley told me, "She needed a mother and … and she loved me. And I loved her back." When I asked Inari why she loved Shufraka, she replied, "I love her because I love her."
While I am generally loath to infuse tremendous depth and meaning to what is actually just the inarticulateness of small children, I couldn't help but think that their response got to the heart of why we care about our pets the way we do. There is a need to be filled and there is love to fill it with. There is no "why" when it comes to this kind of love. From the mouths of babes, as they say.
One would think that an adorable kitten named Shufraka and her impossibly cute family would be the breakout stars of this event, but there was one pair of dudes who was really owning that sanctuary. Ladies and gentlemen, I give you Muneco: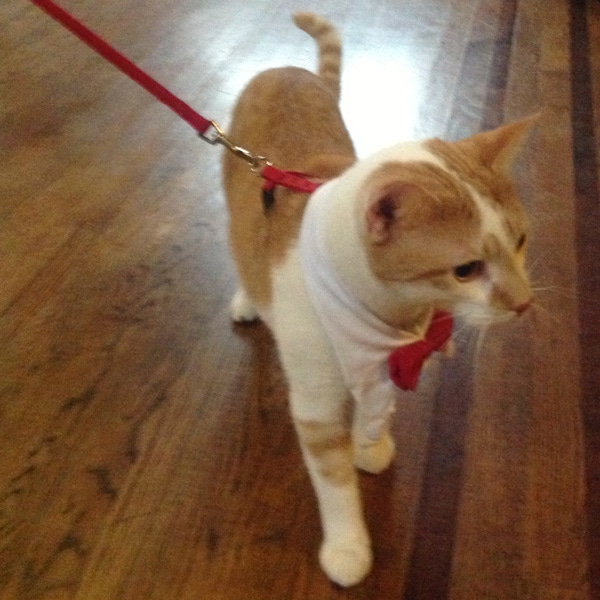 Muneco was rescued from a cat hoarder in Brooklyn by Israel, an imposingly tall but remarkably gentle man, who said of Muneco, "He has literally changed my life. I think that God brought Muneco into my life."
Muneco was unfazed by being outnumbered 10 to 1 by dogs at the event, as he showed off his dapper outfit to adoring attendees while his dad kept a close eye on him. Later, after the sanctuary cleared, I saw Israel holding Muneco in front of a large crucifix in the center of the church, both gazing silently up at the Christ figure. And while I am again apologetic for infusing meaning when there might be none, there seemed to be recognition by Muneco that what he was looking at was something special, something worthy, something to pause and contemplate for a moment.
I spoke to the rector of the church, Father Peter, after most of the guests had left. He is a thoughtful man who takes care with his words, so he hesitated when I asked him how cats come to play a role in the spiritual lives of their people. After a few moments he told me, "For people who love cats, this is the occasion in life where they often recognize beauty, the beauty of motion, of color, the beauty of a living thing. It is fragility and it is strength."
It is always a helpful reminder to hear a person of faith reflect on the physical beauty of the world. To remember that for those who believe in God, the physical reality of creation is just as beautiful and significant as the spiritual and emotional reality of our relationships within it, and that the two realities inform one another.
It was also an elegant description of how those of us who adore our cats have an appreciation of the world's beauty facilitated by the mere existence of our cats. That though we may not be conscious of it in our everyday interaction with them, we can sometimes be blindsided by just how beautiful and complex they really are. And that even if we do not believe the Earth and her creatures were gifts given by God, we can still behold something about them that is significant, perhaps even holy.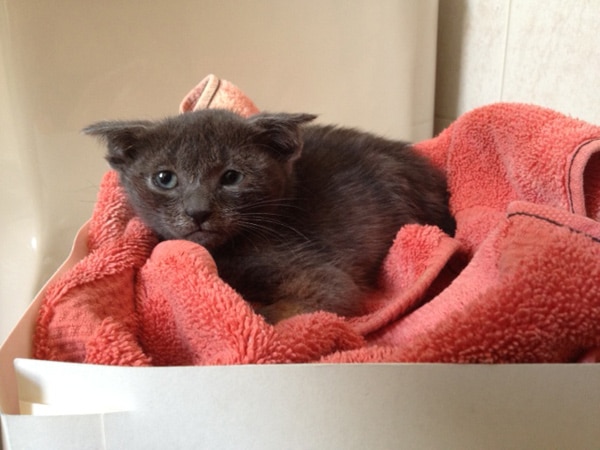 Father Peter continued, "They give us a reason to come home, awakening in us the responsibility to care for another. Animals have a great gravitas that way. Any type of relationship with an 'other' is like that. They know us the way nobody else knows us."
For many, the adoption and care of a cat is the most selfless and loving commitment they have ever made to another living thing. It is an experience that taps a previously unknown care and commitment to another, which asks for nothing in return. And while it may not meet the exact qualification of an "exemplary life of goodness and virtue worthy of imitation" that is required for sainthood, it is a certainly a good place to start.
Did you attend a Blessing of the Animals celebration? Tell us about it in the comments.
Read more about cats and spirituality … and some other things: